Blog/Market Talk
Posted May 13, 2019 by marty armstrong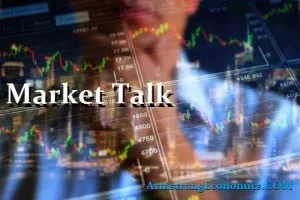 ASIA:
No real surprises coming off the news of Friday and over the weekend. China announced they will be increasing tariffs on approximately $60 billion worth of U.S. goods up to 25% on June the 1st. Earlier in the day, US President Trump tweeted that if China were to retaliate it would continue to escalate issues between the two countries. He added his longstanding point that China had been benefiting from U.S. trade for many years.
The Japanese government said today that its key composite index of economic indicators shows that the Japanese economy is "worsening" for the first time in more than six years, indicating that Japan may have entered a recession.
U.S. company Lockheed Martin said that it will not sell its F-21 fighter jet to any other country if it secures India's $18 billion-dollar tender for 114 fighter jets. Boeing, Dassault Aviation, MIG35, and Saab are all in the running.
The major Asian stock markets had a negative day: SENSEX decreased 372.17 points (-0.99%) to 37,090.82; NIKKEI 225 decreased 153.64 points (-0.72%) to 21,191.28; ASX 200 decreased 13.3 points (-0.21%) to 6,297.60; Shanghai decreased 35.50 points (-1.21%) to 2,903.71; KOSPI decreased 29.03 points (-1.38%) to 2,079.01. Hang Seng was closed today due to the public holiday in Hong Kong.
The major Asian currency markets had a mixed day today: AUDUSD decreased 0.0057 or 0.81% to 0.6943; NZDUSD decreased 0.0030 or 0.46% to 0.6567; and USDJPY decreased 0.8010 or 0.73% to 109.1390. USDCNY took the opposite route and increased 0.07059 or 1.03% to 6.91239.
Gold increased 14.1USD/t oz. or 1.10% to 1,301.37 and silver increased 0.03 USD/t. oz or 0.20% to 14.749.
Some economic news:
New Zealand:
FPI (MoM) (Apr) decreased from 0.5% to -0.1%
Japan:
Foreign Reserves (USD) (Apr) increased from 1291.8B to 1293.5B
Australia:
Home Loans (MoM) (Mar) decreased from 2.0% to -2.5%
Some economic news on Monday:
Japan:
Coincident Indicator (MoM) (Mar) decreased from 0.8% to -0.9%
Leading Index decreased from 97.1 to 96.3
Leading Index (MoM) (Mar) decreased from 0.7% to -0.8%
India:
CPI (YoY) (Apr) increased from 2.86% to 2.92%
EUROPE:
European ministers are expressing concerns over escalating tensions between Iran and the West. U.S. Secretary of State Pompeo flew into Brussels today to warn of the threats Iran presents. The British foreign secretary said that an armed conflict could be sparked "by accident" between the two nations. This comes on the back of two Saudi oil tankers being damaged yesterday off the coast of the UAE. The U.S. has sent an aircraft carrier and B-52 bombers to the Persian Gulf to counter alleged threats from Tehran. Meanwhile, President Rouhani called on Saturday a unity amongst Iranian political factions to overcome conditions due to the sanctions imposed by the U.S. He stated that the conditions could be harder than that of the 1980s war with Iraq.
In Germany, Angel Merkel has expressed that she does not want to be considered for the next post as head of European Commission or European Council when she steps down in 2021. German voters are seeing climate change as the biggest challenge for the European Union, and the EU recently put forward a clean energy transition to decarbonize EU's economy and will require 25% of spending to go under the new seven-year EU budget plan.
Turkey's largest military exercise has taken place today. The Navy exercise called Sea Wolf (Deniz Kurdu) included 31 warships, 57 warplanes, and 33 helicopters.
The major European stock markets had a negative day today: CAC 40 decreased 64.86 points or -1.22% to 5,262.57; FTSE 100 decreased 39.61 points or -0.55% to 7,163.68; and DAX decreased 183.18 points or -1.52% to 11,876.65.
The major European currency markets had a mixed day. GBPUSD decreased 0.0045 or 0.34% to 1.2954 and USDCHF decreased 0.0056 or 0.55% to 1.0060. EURUSD took the opposite route and increased 0.0003 or 0.03% to 1.1236.
Some economic news:
Norway:
GDP (QoQ) (Q1) decreased from 0.6% to -0.1%
GDP Mainland (QoQ) (Q1) decreased from 1.1% to 0.3%
US / AMERICAS:
As the trade war turns, so does the stock market. Many had argued the U.S. equities had properly priced in trade risk, but performance last week and again today challenge that theory. The Dow dropped over 700 points at one point today, closing only slightly better off down -617.38 points (-2.38%) before closing the day at 25,324.99. The S&P 500 lost 69.53 points (-2.41%), finishing the session at 2,811.87. On a percentage basis, the Nasdaq had the roughest day – falling 269.92 points (-3.41%) and closing at 7,647.02. On the small-mid cap front, the Russell 2000 lost 49.99 points (-3.18%) with a close of 1,523.
Not surprisingly, most sectors were notably down for the day – led by Technology (-3.71%), with Consumer Discretionary (-2.95%), Financials (-2.87%), Industrials (-2.84%), Communication Services (-2.52%), and Materials (-2.18%) all suffering abnormal losses greater than 2%. Utilities was the only sector (+1.11%) in positive territory for the day. As for the Dow, those with China-related fears were the laggards: Apple (-5.81%), Boeing (-4.88%), Caterpillar (-4.6%), among others.
Regarding China, President Trump took to Twitter often over the weekend, and again into Monday in attempt to bait China's leadership, while then attempting to ease concerns over Chinese-imposed tariffs – suggesting the average American household will not suffer from the tariff hike. He further added that tariffs could be avoided if consumers simply purchase from non-tariffed countries. "Many tariffed companies will be leaving China for Vietnam and other such countries in Asia. That's why China wants to make a deal so badly!" Trump declared. "There will be nobody left in China to do business with," he further added.
As mentioned, China will retaliate by increasing its own set of tariffs on $60 billion worth of U.S. goods on June 1. However, it has been suggested China could retaliate in a more significant way given it owns over $1 trillion in U.S. Treasuries, making it one of the largest holders of U.S. government debt. Would China stop purchasing or sell off some of its U.S. debt? Unclear, but for now it is assumed that is unlikely given the US dollar remains the safest option for parking money. Numerous analysts suspect that China has long attempted to peg the yuan to the dollar, hence explaining their large U.S. debt holdings. However, if the dollar lost its spot as the safe-haven of currencies, the yuan, and others, would move elsewhere.
Looking elsewhere, Uber, similar to its competitor Lyft, has disappointed investors since going public on the NYSE last Friday. The stock fell another 10.8% today, closing at $37.10 – a 17% decline from its IPO of $45. But again, this is very early and consideration must be given the larger environment in the markets.
Looking north, WestJet, Canada's second-largest airline, has been privatively purchased for $2.6 billion. One Corp., an equity firm owned by Gerry Schwartz, attempted to buy Canada's biggest airline (Air Canada) long ago but failed. WestJet originally began as a budget-friendly airline but has begun offering premium options, such as business class seating, and has purchased larger, newer planes. Onex Corp. will pay a 67% premium for the airline and plans to revamp WestJet's branding over the next few years.
The Canadian markets were also down on the day, but not nearly as bad as its southern neihbor. The TSX Composite fell -0.64%, closing at 16,193.41 while the more narrow TSX 60 declined slightly more by -0.83%, finishing the day at 969.92.
In Brazil, the Bovespa declined again 2,531.02 points (-2.69%), closing the day at 91,726.54.
ENERGY:
The attack on Saudi tankers over the weekend helped push the price of oil up. Additionally, the tankers damaged near Iran could push tensions up in the region. The U.S.-China trade deal and concerns for global growth helped the market in the opposite way for the rest of the trading day.
The oil markets had a negative day: Crude Oil decreased 0.77 USD/BBL or -1.25% to 60.7793; Brent decreased 0.63 USD/BBL or -0.89% to 69.8508; Natural gas decreased 0.003USD/MMBtu or -0.11% to 2.6109; Gasoline decreased 0.0156 USD/GAL or -0.78% to 1.9722; and Heating oil decreased 0.0093 USD/GAL or -0.45% to 2.0416.
Top commodity gainers: Wheat (1.61%), Gold(1.16%), Steel (1.13%), and Sugar (0.77%). The biggest losers: Oat (-11.56%), Cotton (-4.38%), Palladium (-2.63%), and Copper (-2.05%).
The above data were collected around 13:05 EST on Monday.
BONDS:
Japan -0.04%(+1bp), US 2's 2.27% (+0bps), US 10's 2.40%(-6bps), US 30's 2.87%(+0bps), Bunds -0.05% (+0bp), France 0.33% (-2bp), Italy 2.72% (+6bp), Turkey 20.31% (+0bp), Greece 3.58% (-44bp), Portugal 1.16% (+3bp), Spain 0.99% (+1bp) and UK Gilts 1.10% (-3bp).
US 3-Month Bill Auction decreased from 2.380% to 2.360%
US 6-Month Bill Auction decreased from 2.380% to 2.355%
French 3-Month BTF Auction increased from -0.567% to -0.562%
French 6-Month BTF Auction increased from -0.573% to -0.562%
French 12-Month BTF Auction decreased from -0.552% to -0.567%