Blog/Market Talk
Posted May 12, 2020 by Martin Armstrong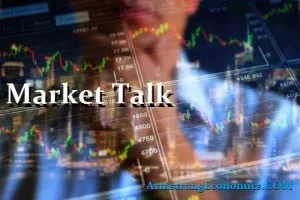 ASIA:
China has suspended imports of red meat from four Australian abattoirs in a move analysts say was "politically motivated punishment" for Australia's call for an inquiry into the origins of COVID-19. The Chinese embassy in Canberra did not respond to a request for comment.
Israeli Prime Minister Benjamin Netanyahu will force additional checks on whether a Hong Kong-based company will be allowed to bid for the construction of a $1.5bn desalination plant, according to three Israeli officials, buckling to pressure from US officials.
China's CCTV said on Tuesday it has no intention of resuming the airing of NBA games. The NBA on Monday named Michael Ma as the new CEO of NBA China. Michael Ma's hiring led to speculation in China that the connection could help reunite the television giant with the NBA, which has been off the air all season.
The Indian government has announced an economic package of 265 billion USD, which is almost 10% of India's GDP to stem the fallout of coronavirus pandemic. This package focuses on tax breaks for small businesses as well as incentives for domestic manufacturing, which includes land, labor, liquidity, and laws. Finance Minister Nirmala Sitharaman will spell out details for each sector over the next few days.
India's contact tracing app Aarogya Setu, which was developed to counter the spread of COVID-19 in the country, has topped more than 100 million downloads in last 41 days as most countries across the globe scramble to build an app to trace the spread of coronavirus. The app, available on Android and iOS, allows people to self-assess whether they have caught the infectious disease by answering a set of questions. It then uses this information to alert users if they have come in contact with someone who might be infected. It is also available for feature-phone users through an USSD system.
India's automakers have warned that total automobile sales could fall as much as 45% in the current fiscal year in a worst-case scenario as economic growth slumps due to the COVID-19 pandemic. They are seeking government help through the crisis.
Japan on Tuesday raised its travel alert for 13 countries to its second-highest level, warning against any trips to these areas as new coronavirus infections continue to spread globally. Foreign Minister Toshimitsu Motegi told a press conference that foreign travelers who have been in the 13 nations, which include five South and Central American countries, will be denied entry following the upgraded advisory. With Tuesday's measure, the number of countries and regions with a level 3 advisory now stands at 100.
The major Asian stock markets had a negative day today:
NIKKEI 225 decreased 24.18 points or -0.12% to 20,366.48
Shanghai decreased 3.25 points or -0.11% to 2,891.56
Hang Seng decreased 356.38 points or -1.45% to 24,245.68
ASX 200 decreased 58.20 points or -1.07% to 5,403.00
Kospi decreased 13.23 points or -0.68% to 1,922.17
SENSEX decreased 190.10 points or -0.60% to 31,371.12
The major Asian currency markets had a mixed day today:
AUDUSD increased 0.00075 or 0.12% to 0.64897
NZDUSD increased 0.00187 or 0.31% to 0.60922
USDJPY decreased 0.36 or -0.33% to 107.27
USDCNY decreased 0.00283 or -0.04% to 7.10369
Precious Metals:
Gold increased 4.05 USD/t oz. or 0.24% to 1,702.55
Silver increased 0.03 USD/t. oz or 0.18% to 15.4900
Some economic news from last night:
China:
CPI (MoM) (Apr) increased from -1.2% to -0.9%
CPI (YoY) (Apr) decreased from 4.3% to 3.3%
PPI (YoY) (Apr) decreased from -1.5% to -3.1%
Japan:
Foreign Reserves (USD) (Apr) increased from 1,366.2B to 1,368.6B
Australia:
NAB Business Confidence (Apr) increased from -66 to -46
NAB Business Survey (Apr) decreased from -21 to -34
Some economic news from today:
India:
CPI (YoY) (Apr) decreased from 5.91% to 5.84%
Cumulative Industrial Production (Mar) decreased from 0.90% to -0.70%
Industrial Production (YoY) (Mar) decreased from 4.6% to -16.7%
Manufacturing Output (MoM) (Mar) decreased from 3.1% to -20.6%
Indonesia:
Retail Sales (YoY) (Mar) decreased from -0.8% to -4.5%
Japan:
Coincident Indicator (MoM) (Mar) decreased from -0.3% to -4.9%
Leading Index (MoM) (Mar) decreased from 1.0% to -8.1%
Leading Index decreased from 91.7 to 83.8
EUROPE/EMEA:
The European Commission is setting out a plan to reopen the borders to allow for tourism within Europe. The European Commission suggests opening similar risk profile countries together, for example, Latvia, Estonia, and Lithuania will reopen their borders with each other on the 15th of May. Greece is trying to open a corridor that will allow Germans to travel there as they are heavily reliant on tourism to survive.
Austrian Chancellor Sebastian Kurz criticized Italian debt by stating that the only way Italy can shed their debt burden would be to get help from the EU members. But he said that it was not the right solution for Austria to help.
The EU foreign policy chief said that now is not the time to reduce military spending even with the pressure of the coronavirus.
The third and final round of talks started this week between the UK and the EU. During the June summit, both parties must agree if there will be an extension to the transition period post-Brexit.
The major Europe stock markets had a mixed day today:
CAC 40 decreased 17.72 points or -0.40% to 4,472.50
FTSE 100 increased 55.04 points or 0.93% to 5,994.77
DAX 30 decreased 5.49 points or -0.05%% to 10,819.50
The major Europe currency markets had a mixed day today:
EURUSD increased 0.00461 or 0.43% to 1.08541
GBPUSD decreased 0.00501 or -0.41% to 1.22829
USDCHF decreased 0.00415 or -0.43% to 0.96879
Some economic news from Europe today:
Norway:
GDP (QoQ) (Q1) decreased from 1.5% to -1.5%
GDP Mainland (QoQ) (Q1) decreased from 0.1% to -2.1%
US/AMERICAS:
Consumer prices in the US fell to Great Recession levels this April, according to data released by the Labor Department this Tuesday. The consumer price index (CPI) fell -0.8% in April after experiencing a -0.4% decrease in March. In-store data collection was not incorporated into April's data due to the COVID-19 shutdown.
The core personal consumption expenditures (PCE), which the Federal Reserve uses to gauge inflation, increased 1.7% in March YoY. The core PCE price index for April will be released in the coming weeks.
The US Securities and Exchange Commission (SEC) issued a $5 million fine to Morgan Stanley Smith Barney, a unit of Morgan Stanley, for allegedly deceiving investors. The SEC alleged that the company provided false information regarding transaction costs, trade executions, and retail wrap fees. Morgan Stanley maintains that they were not involved in any wrongdoing. The $5 million collected will be redistributed to investors who experienced losses caused by deceptive practices.
Tesla's outspoken CEO Elon Musk announced yesterday that he is reopening his manufacturing plant in California despite the lockdown. Musk said that he plans to join the production line in solidarity with his workers, and urged the state government to only arrest him if they found wrongdoing. States with looser lockdown restrictions, such as Texas, Nevada, Georgia, and Oklahoma are now lobbying for Tesla to move their headquarters. President Trump voiced his opinion this Tuesday, urging California to allow Tesla to reopen "fast and safely."
Kentucky Sen. Rand Paul criticized Dr. Anthony Fauci for aiding in the implementation of a "one-size-fits-all" approach to locking down the nation over the coronavirus outbreak. "So I think we ought to have a little bit of a humility in our belief that we know what's best for the economy, and as much as I respect you, Dr. Fauci, I don't think you're the end-all. I don't think you're the one person that gets to make the decision. We can listen to your advice, but there are people on the other side saying there's not going to be a surge and that we can safely open the economy, and the facts will bear this out," Paul said to Fauci. Fauci responded that he does not make suggestions for economic-related decisions, despite the lockdown having a direct impact on the global economy.
US Market Closings:
Dow declined 457.21 points or -1.89% to 23,764.78
S&P 500 declined 60.2 points or -2.05% to 2,870.12
Nasdaq declined 189.79 points or -2.06% to 9,002.55
Russell 2000 declined 45.7 points or -3.46% to 1,275.54
Canada Market Closings:
TSX Composite declined 222.06 points or -1.47% to 14,881.16
TSX 60 declined 12.79 points or -1.39% to 904.1
Brazil Market Closing:
Bovespa declined 1,192.65 points or -1.51% to 77,871.95
ENERGY:
Saudi Arabia told the markets that they would slash 1 million barrels of production per day in June. WTI moved up close to 6% today after more positives regarding easing lockdown measures worldwide and reduction in supply.
The oil markets had a mixed day today:
Crude Oil increased 1.86 USD/BBL or 7.71% to 26.0000
Brent increased 0.44 USD/BBL or 1.48% to 30.0700
Natural gas decreased 0.114 USD/MMBtu or -6.24% to 1.7140
Gasoline decreased 0.0154 USD/GAL or -1.65% to 0.9187
Heating oil decreased 0.0439 USD/GAL or -5.00% to 0.8335
The above data was collected around 15.21 EST on Tuesday.
Top commodity gainers: Crude Oil (7.71%), Cotton (2.98%), Live Cattle (5.11%), and Feeder Cattle (2.79%)
Top commodity losers: Natural Gas (-6.24%), Heating Oil (-5.00%), Cocoa (-5.36%), and Coffee (-3.49%)
The above data was collected around 15.25 EST on Tuesday.
BONDS:
Japan 0.00%(-1bp), US 2's 0.17% (-1bps), US 10's 0.68%(-5bps); US 30's 1.37%(-7bps), Bunds -0.51% (+1bp), France -0.02% (-1bp), Italy 1.91% (+2bp), Turkey 12.77% (-9bp), Greece 2.15% (-2bp), Portugal 0.95% (-0bp); Spain 0.87% (+5bp) and UK Gilts 0.25% (-2bp).
Japan 10-Year JGB Auction decreased from 0.023% to -0.001%
Spanish 3-Month Letras Auction decreased from -0.291% to -0.451%
Italian 12-Month BOT Auction decreased from 0.534% to 0.248%
US 10-Year Note Auction decreased from 0.782% to 0.700%