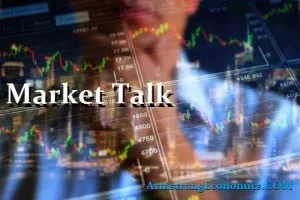 An uneasy session in the US Thursday, following poor mainline stores data which led a mixed day for Asian markets. We saw losses for the Nikkei, ASX and SENSEX and gains for the Hang Seng, NZ and Shanghai. Volumes were light all around but that does not seem to be much of an anomaly these days and more a common occurrence. One sign that things are increasing is the split between foreign and domestic monies that play in local markets. Talk is that India's, SENSEX, has seen a large swing into mutual funds that has driven both the market to fresh highs but more importantly removes the currency uncertainty as international players decline in flow. After a difficult week for the Shanghai early losses (-0.7% in morning trade) were reversed to close better on the day. We shall hear more news concerning the $500bn infrastructure plan soon, will should steady the recent losses.
All core European indices closed positive in Friday trading even after the disappointing US data. Main talk for today (was US data ahead of lunchtime but that changed after the release) is the G7 meeting in Italy over the weekend. Found it quite funny that no-one was talking Trade – as a key discussion topic – until Steve Mnuchin arrived! Germany reported 0.6% GDP growth (as expected) which is probably disappointing as most are looking at them to continue the growth drive following marginally better figures. Talk of large fund flow in European equity markets recently which looks encouraging; nice the big buyer took them all out of their bonds.
US started the day with a large Retail Sales miss +0.4%, CPI not that bad (+0.2%) but market had hoped for a number they could really play on. Later this afternoon we saw the Consumer Sentiment rose slightly with unemployment at 4.4%. Large Dept stores (Macy's and Nordstrom) hit badly again today with price around 12% lower on the day. Interesting the continued change in spending patterns with department stores -3.7% while online increases +11.9%. Given the almost reluctance to take the market in either direction., the VIX continues to drift and this afternoon remains around the 10% level. The disappointing data did provide a boost for the bond market with 10's falling 7bp.
2's closed 1.29% (-4bp), 10's 2.32% (-7bp), 30's 2.99% (-4bp), Germany 0.39% (-4bp) closes the spread +193bp (-3bp). France 0.84% (-3bp), Italy 2.24% (-4bp), Greece 5.54% (+1bp), Turkey 10.39% (-1bp), Portugal 3.33% (-2bp) and Gilts 1.08% (-8bp).