Blog/Market Talk
Posted May 11, 2017 by Martin Armstrong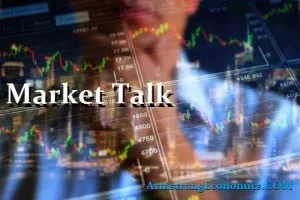 A positive day across the board for Asian equity indices with KOSPI setting the pace (+1.16%) creating new records as it goes and with the ASX just managing a small +0.5% profit. The Nikkei continued its run (+0.3%) but remains under the psychological 20k mark, even as the Yen traded with a 114 handle. The Shanghai closed with similar (+0.3%) returns, which actually was pretty impressive after a poor opening – while the Hang Seng managed a marginally better run of +0.45%. NZ (+0.9%) did well, but saw the balance when the currency lost a similar percentage. Asian equities look set to continue some blue sky but their currencies look to remain heavy as we approach the all important Friday US data. Finally, we are seeing Asian players fighting back in the Wealth Management space. Much of the Asian market has been reputedly dominated by UBS so nice to see competition buying into that market after OCBC bought NAB's Singapore and HK business.
Asia's positive mood was lost around lunchtime in Europe when prices and sentiment turned negative. The Bank of England didn't really help matters after Mark Carney announced they have no plans for a disorderly BREXIT negotiation – as rates were left unchanged in a 7-1 decision. These comments obviously hit GBP but had negligible effect on the FTSE however – the old days of this stock market reflecting domestic economic health are long gone. UK data (Trade Data and Industrial Production) released less than expected. Still very little job creation with wages still waiting to rise despite expanding real inflation.
Early US scares reversed in the final hours having seen a 140 point drop at one stage. Retailers were the big decliners but then we have been seeing this for some time. This is going to make Fridays data quite interesting especially as we have CPI releasing also. Treasuries are in a bind as they know they should be drifting lower (price lower – higher yield) but with stock valuations stretched (well, traditionally if that's how you like to look at it) and many still calling for a correction, it will suddenly dawn on them the fixed-income game is over. That said, it is worthwhile keeping an eye on corporate bond spreads especially in Europe when the peripherals start to fade.
2's closed 1.33% (-1bp), 10's at 2.39% (-2bp), 30's at 3.03% (u/c). Bunds at 0.43% (+1bp) which closes 10/10's at +196bp (-3bp), France 0.87% (+3bp), Italy 2.28% (+4bp), Greece 5.53% (+2bp), Turkey 10.4% (+6bp), Portugal 3.35% (u/c) and UK Gilts at 1.16% (u/c).