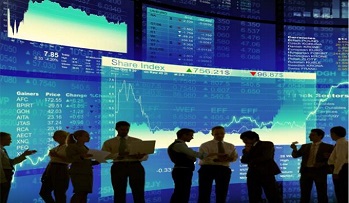 A positive opening for the Nikkei, trading up +1% at the opening bell but sadly could not hold onto the gains and we eventually closed little changed on the day. The Hang Seng was the poor performer closing down almost 1% whilst Shanghai was a touch better. Asia really had little top topics but we have seen futures take Asian markets lower in sympathy with global exchanges. Currently, we see HSI, Nikkei and China 300 all lower between 0.3 and 0.6% weaker.
With Asia not providing a direction for the European opening, dealers focused on sentiment and the concerns all Asian indices were closing at or close to their lows. The majority of the day saw all indices in negative territory with the only exception being the UK FTSE which even managed a small positive close. A couple of negatives driving European markets were mixed earnings in an array of sectors but hitting sentiment again was the Banking shares. In Austria shares of Raiffeisen Bank Intl were hit (down 10% today) after its parent (Raiffeisen Zentralbank, not listed) expressed the intention to merge to bolster capital reserves. Also, again in Italy we hear of banking concerns and saw Banco Popolare down 9% (after a Q1 loss) and also Banca Popolare di Milano lose 6%.
Utilities were the only sector to return a positive day in the US S+P today, in a day were we saw the DOW down over 200 points (-1.15%) and the NASDAQ down 0.95% concluding the worst day since 2011. Consumer spending concerns are weighing on markets but we have to wait until Friday for some data releases. Disney and Macy's certainly led the mood in markets today with Macy's responding with a negative 15% return today. VIX closed 14.4.
We saw another day of curve flattening in the US Treasury market today. 2's were 1bp higher at the close yielding 0.73% while 10's closed 1.73% a 3bp decline. 2/10 closed +100bp.  In Europe the German curve was limited in its movement with 10's closing 0.125%; 2's remain -0.52%. The US/German spread closed this evening +160.5bp. Italy 10yr closed 1.47% (-3bp), Greece 7.30% (-18bp), Turkey 9.73% (-8bp), Portugal 3.21% (-10bp) and Gilts 1.39% (-1bp).
Metals closed neutral on our momentum and trend indicators as did the Dow and the Euro.