Blog/Market Talk
Posted May 11, 2020 by Martin Armstrong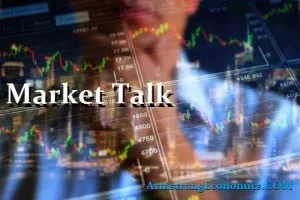 ASIA:
China on Monday threatened to retaliate against a US rule tightening visa restrictions on Chinese journalists in an escalating row after Beijing expelled more than a dozen American reporters. Citing China's treatment of the reporters, the US Homeland Security Department issued new regulations on Friday, limiting visas for Chinese journalists to a maximum 90-day stay with the possibility to request an extension.
UBS in a report said that China's second quarter economic data will be worse than expected a month ago, but that is mainly because its main markets are in quarantine. Things like local auto sales are down, but only down around 10%.
China is introducing renewed restrictions after two cities reported new cases of the virus. Shulan, in Jilin province in the country's far northeast, has been put under lockdown, following 11 newly confirmed cases. New clusters of infections were also reported in Wuhan, which was the epicenter of virus outbreak.
Prime Minister Narendra Modi today interacted with the heads of all Indian states via videoconference to discuss measures to lift the lockdown post-May 17, 2020. A central economic package to offset the revenue losses during the lockdown to combat coronavirus and autonomy in color-coding the virus-hit districts were the two key demands of the states. He has asked the head of states to share a blueprint by May 15 on lockdown exit plans.
The Indian government may announce the next round of a financial relief package to tackle the economic fallout of the coronavirus pandemic this week. To prepare the financial system for the big next move, Finance Minister Nirmala Sitharaman is expected to meet CMDs and CEOs of public sector banks this week. Economic Affairs Department under the Finance Ministry had indicated that funds for the long-awaited financial relief package were going to come from additional borrowing from the market. It had declared that it would raise its borrowing by over 50% of Budgetary Estimate (BE) during 2020-21, which may result in increasing the fiscal deficit to 5.5% of GDP for the current financial year.
The major Asian stock markets had a mixed day today:
NIKKEI 225 increased 211.57 points or 1.05% to 20,390.66
Shanghai decreased 0.54 points or -0.02% to 2,894.80
Hang Seng increased 371.89 points or 1.53% to 24,602.06
ASX 200 increased 70.10 points or 1.30% to 5,461.20
Kospi decreased 10.42 points or -0.54% to 1,935.40
SENSEX decreased 81.48 points or -0.26% to 31,561.22
The major Asian currency markets had a mixed day today:
AUDUSD decreased 0.00472 or -0.72% to 0.64822
NZDUSD decreased 0.00667 or -1.09% to 0.60674
USDJPY increased 1.25 or 1.17% to 107.75
USDCNY increased 0.01347 or 0.19% to 7.10602
Precious Metals:
Gold decreased 3.65 USD/t oz. or -0.21% to 1,697.00
Silver decreased 0.02 USD/t. oz or -0.10% to 15.4350
Some economic news from last night:
New Zealand:
Electronic Card Retail Sales (YoY) (Apr) decreased from -1.8% to -47.5%
Electronic Card Retail Sales (MoM) (Apr) decreased from -4.6% to -46.8%
Some economic news from today:
China:
M2 Money Stock (YoY) (Apr) increased from 10.1% to 11.1%
New Loans (Apr) decreased from 2,850.0B to 1,700.0B
Outstanding Loan Growth (YoY) (Apr) increased from 12.7% to 13.1%
EUROPE/EMEA:
Markets were in general down today, with only the UK's FTSE 100 positive out of the major indices today. A lot of news today surrounding the weakness of the European Union project and how the coronavirus has helped exposed the lack of unity and solidarity amongst its members.
The UK PM Boris Johnson spoke on Sunday evening about reducing measures of the lockdown, but the general public was a little confused by the message. He advised those who could not work remotely to try and get back to work, but also said to avoid public transportation. The PM would like to open up the economy fully by July 1 at the earliest, stressing that the lockdown needs to be eased, not stopped immediately, and a decision would be based upon numbers.
The UK-EU will hold another round of video conferencing talks before the UK-EU summit held in June. By the end of June, the UK and the EU must determine whether the December 31st deadline is reasonable. The UK has already maintained that regardless of whether the EU requests an extension, their answer will be no.
The Belarusian president has been outspoken on the coronavirus in recent days. First, he boldly allowed a parade to take place over the weekend with over 15,000 people, and secondly, he accused the world of being manipulated by the likes of George Soros and Bill Gates to vaccinate us and essentially run businesses to the ground to pick them up for a low price.
The cryptocurrency Bitcoin will halve its reward from tomorrow, thus making it more difficult to create new bitcoin, tightening the ongoing supply.
The major Europe stock markets had a mixed day today:
CAC 40 decreased 59.42 points or -1.31% to 4,490.22
FTSE 100 increased 3.75 points or 0.06% to 5939.73
DAX 30 decreased 79.49 points or -0.73%% to 10,824.99
The major Europe currency markets had a mixed day today:
EURUSD decreased 0.00243 or -0.22% to 1.08160
GBPUSD decreased 0.00685 or -0.55% to 1.23356
USDCHF increased 0.00127 or 0.13% to 0.97220
Some economic news from Europe today:
Norway:
Core CPI YTD (Apr) increased from 2.1% to 2.8%
Core Inflation (MoM) (Apr) increased from 0.3% to 1.1%
CPI (YoY) (Apr) increased from 0.7% to 0.8%
CPI (MoM) (Apr) increased from 0.0% to 0.4%
PPI (YoY) (Apr) decreased from -12.6% to -16.1%
France:
French Reserve Assets Total (Apr) increased from 211,671.0M to 219,697.0M
Italy:
Italian Industrial Production (MoM) (Mar) decreased from -1.0% to -28.4%
Italian Industrial Production (YoY) (Mar) decreased from -2.3% to -29.3%
US/AMERICAS:
Treasury Secretary Steven Mnuchin is "comfortable" with the government's record spending on coronavirus relief efforts due to historically low rates, Mncuchin told CNBC this Monday. Mnuchin said the government will be able to lock in the $3 trillion worth of new debt for "a very long period of time," which is in accordance with most governments' strategies of rolling over debt. "We obviously don't want to disturb the markets too much, but we're going to take advantage of refinancing all of our debt to make sure that we have very low rates. I think that's something that's a great opportunity for us," he continued. Additionally, the secretary feels that the US has " tremendous opportunities without having to buy back debt."
Over the weekend, President Trump shared a Daily Caller article online titled, "China Asked The WHO To Help Cover Up Coronavirus, German Intelligence Concludes." The US government has not confirmed the validity of this claim but has launched investigations into both the WHO and China to determine if either falsified data to curtail the severity of the initial coronavirus outbreak in Wuhan, China.
Over two million Canadians lost their livelihoods this April, causing unemployment to spike to 13% from 7.8% the month prior. Twice the number of Canadians filed for unemployment in March compared to April, which brings the total number of jobs lost due to the coronavirus slowdown to over 3 million. However, Statistics Canada did not factor in the 1.1 million citizens who did not seek unemployment. If factored, the unemployment rate would have reached 17.8%.
Statistics Canada reported this Monday that grocery sales are returning to normal levels, signaling an end to pandemic panic buying. "As Canadian consumers adapt to staying at home, new behaviours and shopping habits are evolving to reflect the new reality," the report stated. Panic buying reached peak levels during the first three weeks of March when consumers were concerned about supply shortages.
US Market Closings:
Dow declined 109.33 points or -0.45% to 24,221.99
S&P 500 advanced 0.39 of a point or 0.01% to 2,930.19
Nasdaq advanced 71.02 points or 0.78% to 9,192.34
Russell 2000 declined 8.4 points or -0.63% to 1,321.24
Canada Market Closings:
TSX Composite advanced 136.66 points or 0.91% to 15,103.22
TSX 60 advanced 11.34 points or 1.25% to 916.89
Brazil Market Closing:
Bovespa declined 1,198.75 points or -1.49% to 79,064.60
ENERGY:
There seems to be no stopping the volatility as Crude dropped even as Saudi announced they will cut production further in June. Saudi recently announced they will triple their VAT in order to compensate for government spending amid the crisis.
The oil markets had a mixed day today:
Crude Oil decreased 0.04 USD/BBL or -0.16% to 24.7000
Brent decreased 0.89 USD/BBL or -2.87% to 30.0800
Natural gas increased 0.018 USD/MMBtu or 0.99% to 1.8430
Gasoline decreased 0.0203 USD/GAL or -2.13% to 0.9337
Heating oil decreased 0.0221 USD/GAL or -2.45% to 0.8800
The above data was collected around 15.49 EST on Monday.
Top commodity gainers: Oat (1.26%), Milk (1.39%), Rice (4.85%), and Cocoa (2.61%)
Top commodity losers: Orange Juice (-4.44%), Feeder Cattle (-3.36%), Steel (-3.65%), and Brent (-2.87%)
The above data was collected around 15.50 EST on Monday.
BONDS:
Japan 0.02%(+2bp), US 2's 0.18% (+3bps), US 10's 0.72%(+4bps); US 30's 1.44%(+6bps), Bunds -0.51% (+2bp), France -0.01% (+3bp), Italy 1.90% (+11bp), Turkey 12.86% (+17bp), Greece 2.17% (-1bp), Portugal 0.96% (+3bp); Spain 0.91% (+4bp) and UK Gilts 0.28% (+4bp).
US 3-Month Bill Auction increased from 0.110% to 0.125%
US 6-Month Bill Auction increased from 0.130% to 0.155%
French 3-Month BTF Auction decreased from -0.475% to -0.549%
French 6-Month BTF Auction decreased from -0.455% to -0.505%
French 12-Month BTF Auction decreased from -0.462% to -0.496%