Blog/Market Talk
Posted May 11, 2018 by Martin Armstrong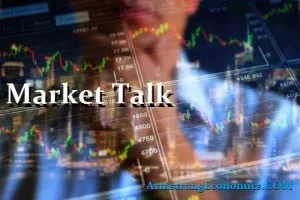 Shanghai finished the day with a small loss (-0.35%) and the ASX closed almost unchanged, but all other core markets saw very strong returns. The Nikkei led the bunch with an impressive +1.2% gain, whilst the Hang Seng and SENSEX both added around 1%. Hong Kong's rally today completed five days of positive returns taking the YTD to 4% and a One Year change on near 25%. Has been a great week for energy and a fine recovery for technology shares. The Nikkei has seen a very impressive run, jumping 10% over the past month but only taking the index to flat YTD. The Yen has been the key indicator for much of the recent recovery, which has attracted much interest when it flirted with a 110 handle. The INR has seen a similar weakening trend over the past month and does not look to be turning anytime soon.
A quiet day for Europe even with Mario Draghi calling for the potential increase in fiscal powers for the Eurozone. Italy continues to command much of the conversation as FTSEMIB has traded heavy all week. Italian bonds (BTP's) were hit for much of the week but saw prices tighten against core by the end as demand appeared not to be too price sensitive. Given the decline seen in the Euro over the week, it was no surprise we saw similar gains for stocks. The Euro hit its low Wednesday and so finished back in the mid 119's. Interesting that over the past month Sterling has lost a little over 5% against the US Dollar and looks to be suffering along with emerging market currencies.
Energy and Technology shares have been the key driver for all markets this week, but coupled with some of the currencies has seen equity results all around. This weeks performance takes most US indices back into the positive for the year, despite the fact that they had close to double back in early January! All core US markets played around unchanged for much of today even though we had seen 150 point gain for the DOW in early trading. The 2.5% peak to trough range for the DOW has been in light volume, even after the central bank, large treasury auctions and inflation data. Talk is that there is a huge amount of money floating in the US Money Market funds with last week alone increasing by $5.5bln, taking the total assets to $2.77tln. Could get interesting when that starts to move.
Japan +0.06%, US 2's closed 2.53% (u/c), 10's 2.97% (u/c), 30's 3.10 (-2bp), Bunds 0.56% (+1bp). France 0.78% (-1bp), Italy 1.86% (-7bp), Greece 3.97% (-6bp), Turkey 13.26% (+13bp), Portugal 1.66% (-4bp), Spain 1.25% (-5bp), and Gilts 1.44% (+1bp).