Blog/Market Talk
Posted May 10, 2017 by Martin Armstrong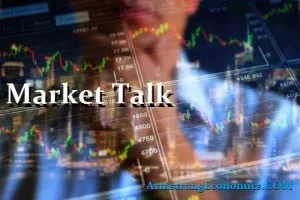 Asian markets were unsure in what to do when the news of Comey's dismissal arrived over the tapes and will probably be debating that again in Thursdays trading. Core markets closed mixed today with a positive close for the Nikkei (+0.3%) accompanied by the Hang Seng (+0.5%) and the ASX (+0.6%), but saw a negative day for mainland Shanghai index (-0.9%). Talk in China of continued deleveraging and speculation for Globalization "2" (President Xi's New Silk Road Forum) weighs on domestic investments which also includes the currency. In India the SENSEX saw an impressive +0.9% rally today as talk of record monsoon rain is forecasted. In currencies, the Yuan and the Yen both lost ground against the basket and the USD – this trend looks to be setting up nicely and right on time.
The turbulence seen in the price of oil continued today after stockpiles were reported lower than expected. WTI rallied over 3% today and was last seen trading around the $47.30 level. It was what the market needed both in price but also encouragement as there was a chance things were getting too one-sided; everybody needs someone to trade against. Inventories fell 5.25Mln barrels which was more than double the expected 2Mln forecasted. The UK's FTSE was the best core return index today helped by a 2.2% rally in Barclays on retaining Jes Staley but there were also speculation that a Middle Eastern buyer could be interested in the share again. Given the oil rally energy stocks performed well which gave a boost to the general market sentiment. European sentiment was also boosted today after Mario Draghi spoke in the Dutch parliament saying the economy has turned the corner and now seen as a broad based upswing.
US stocks were mixed today as many discussed what to make of the firing of FBI Director James Comey. Many speculated that this action could lead to a delay of key administration plans, quoting deregulation, tax changes and infrastructure projects. Oil price action helped energy stocks, but given the whole market continues to play around record levels all clues are sort be they economic data or FED speakers – both which we get by the end of the week. Retail Sales are probably already been discounted (with the exception of Walmart and Amazon) but CPI and Sentiment could be the catalyst the market has been setting up for.
2's closed 1.35% (+1bp), 10's at 2.41% (+2bp), 30's at 3.03% (+1bp). Bunds closed 0.42% (-1bp) which closes US/Germany at +199bp (+3bp). France closed 0.84% (-2bp), Italy 2.24% (-2bp), Greece 5.51% (u/c), Turkey 10.34% (+5bp), Portugal 3.35% (-6bp) and UK Gilt 10's at 1.16% (-4bp).