Blog/Market Talk
Posted May 1, 2018 by Martin Armstrong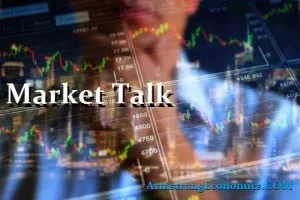 More national holidays today (India, China, Hong Kong, Singapore) which makes volume trades more difficult or even held until volume returns. The Nikkei climbed from a weak morning session to make just a modest (+0.2%) return. It is Golden Week in Japan and so will be closed Thursday and Friday also. The Yen, although light volume trading, remains heavy in the mid to high 106's but is probably more a result of Dollar strength than finally taking hold on against many currencies. This move is evident in the A$ which broke the 0.75cents mark in early US trading hours and is now at its weakest level since June 2017.
May Day holidays in Europe also, so some key markets (France, Spain, Germany) closed for the day. Most o the talk surrounded the UK today with manufacturing growth slowing (18 month low), they hit an already weak Sterling. Breaking what any called key support (1.37) early in the day just led to even more long liquidation driving values down even more. Towards the end of US session we were trading with a 1.35 handle and witnessing a decline on the day of around 1.5%. The currency decline did help FTSE but lots the mornings gains into the close, managing just +0.15%. Confidence has certainly been dented recently in the UK, with all the bickering between the Lords and Parliament. The markets look as though they have started to take the probability of a fresh vote away and the likelihood of a no-deal. The latest UK data looks to have postponed any chance of immediate rate increases and could even have pushed them into Q4 or even Q1 2019. The Euro also broke the psychological 1.20 mark losing -0.7% on the day.
The first day of May and despite the early decline most core recovered to close better. At one point we had seen the DOW off nearly 400 points, but a recovery in Tech lifted the NASDAQ on talk that Apple results (reporting just after the bell) maybe better than expected helped all indices. Comments from US Trade representative Lighthiser explained he did not wish to see a US/China trade war certainly helped markets off their lows. US inflationary indicators are building which will have all looking at the FED. The FX market is showing its interpretation with a huge rally in the DXY. An impressive bounce from the lows but we will be interested to watch Europe's reaction tomorrow to both the currency, Bonds and the FED.
After the bell T-Mobile released better than expected results (earnings and revenue) with Apple numbers unchanged on units sold (small price reduction however) but a beat in revenue and sees its shares up +5% in after hours trading. The stock had suffered on earnings concerns recently, so this should restore those fears.
Japan 0.035%, US 2's closed 2.51% (+3bp), 10's 2.97% (+1bp), 30's 3.14% (+3bp), Bunds 0.57% (u/c), France 0.79% (+1bp), Italy 1.78% (u/c), Greece 3.81% (u/c), Turkey 12.22% (u/c), Portugal 1.64% (u/c), Spain 1.27% (u/c), and Gilts 1.40% (-2bp). As most of core Europe was closed today, we are best to await tomorrows trading to see where we stand.