Blog/Market Talk
Posted Mar 9, 2022 by Martin Armstrong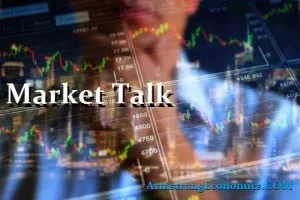 ASIA:
India has signed contracts to export about 500,000 tonnes of wheat in recent days, traders said, cashing in on a sharp rally in international prices and signaling a big uptick in overseas sales from the world's second biggest producer of the grain. Traders said last week they had received inquiries from buyers seeking alternatives to Black Sea cargoes as Russia's invasion of Ukraine threatened supplies from two producers which together account for 30% of world wheat exports. After five consecutive record annual crops, India has large wheat inventories, and traders are keen to capitalize on any export opportunity. A high domestic price guaranteed by the government tends to deter exports unless world prices are high.
The major Asian stock markets had a mixed day today:EUROPE/EMEA:
• NIKKEI 225 decreased 73.42 points or -0.30% to 24,717.53 • Shanghai decreased 37.14 points or -1.13% to 3,256.39 • Hang Seng decreased 138.16 points or -0.67% to 20.627.71 • ASX 200 increased 72.70 points or 1.04% to 7,053.00 • Kospi closed • SENSEX increased 1,223.24 points or 2.29% to 54,647.33 • Nifty50 increased 331.90 points or 2.07% to 16,345.35 The major Asian currency markets had a mixed day today: • AUDUSD increased 0.00605 or 0.83% to 0.73287 • NZDUSD increased 0.00377 or 0.55% to 0.68387 • USDJPY  decreased 0.013 or -0.01% to 115.717 • USDCNY  decreased 0.00073 or -0.01% to 6.32391 Precious Metals: • Gold decreased 61.14 USD/t oz. or -2.98% to 1,991.27 • Silver decreased 0.579 USD/t. oz or -2.19% to 25.809 Some economic news from last night: China: CPI (MoM) (Feb) increased from 0.4% to 0.6% CPI (YoY) (Feb) remain the same at 0.9% PPI (YoY) (Feb) decreased from 9.1% to 8.8% Japan: GDP (YoY) (Q4) decreased from 5.4% to 4.6% GDP (QoQ) (Q4) decreased from 1.3% to 1.1% GDP Capital Expenditure (QoQ) (Q4) decreased from 0.4% to 0.3% GDP External Demand (QoQ) (Q4) increased from 0.0% to 0.2% GDP Price Index (YoY) decreased from -1.2% to -1.3% GDP Private Consumption (QoQ) (Q4) increased from -1.3% to 2.4% M2 Money Stock (YoY) remain the same at 3.6% M3 Money Supply (Feb) increased from 2,016.6T to 2,019.4T Australia: Westpac Consumer Sentiment (Mar) decreased from -1.3% to -4.2% New Zealand: Manufacturing Sales Volume (QoQ) (Q4) increased from -6.4% to 8.2% Some economic news from today Japan: Machine Tool Orders (YoY) decreased from 61.4% to 31.6% India: M3 Money Supply decreased from 9.0% to 8.7%
The European Union said on Wednesday it was stepping up sanctions over Russia's invasion of Ukraine, including targeting more Russian individuals and adding banks in Moscow's ally Belarus. The 27-nation bloc is blacklisting 160 more Russian parliamentarians and oligarchs, was banning exports of maritime navigation technology to Russia, and was including crypto-assets under its punitive measures, European Commission President Ursula von der Leyen said.
The major Europe stock markets had a green day:US/AMERICAS:
• CAC 40 increased 424.87 points or 7.13% to 6,387.83 • FTSE 100 increased 226.61 points or 3.25% to 7,190.72 • DAX 30 increased 1,016.42 points or 7.92% to 13,847.93 The major Europe currency markets had a mixed day today: • EURUSD increased 0.01308 or 1.20% to 1.10230 • GBPUSD increased 0.00758 or 0.58% to 1.31680 • USDCHF decreased 0.00214 or -0.23% to 0.92785 Some economic news from Europe today: France: French Non-Farm Payrolls (QoQ) (Q4) decreased from 0.5% to 0.4% Italy: Italian Industrial Production (YoY) (Jan) decreased from 4.8% to -2.6% Italian Industrial Production (MoM) (Jan) decreased from -1.1% to -3.4%
Joe Biden signed an executive order today demanding a closer examination into cryptocurrencies. Cryptos surpassed the $3 trillion market cap last year, and around 16% of Americans (40 million people) have or are currently investing in digital currencies. While government involvement defeats the original intention of blockchain technology, the US is now researching and developing a Central Bank Digital Currency (CBDC). The Federal Reserve, according to the executive order, will now begin to research and develop a US digital currency.
Republican House Minority Leader Kevin McCarthy is criticizing the Biden Administration for planning to source oil from Venezuela instead of Russia. "Why would you take the billions of dollars you provide to [Russian President Vladimir Putin] and just give it to another dictator that funds terrorism around the world with Iran and Venezuela?" McCarthy said this Wednesday. Biden simply said "Russia is responsible" for rising gas prices and that he "can't do much now."
US Market Closings:
Dow advanced 653.61 points or 2% to 33,286.25
S&P 500 advanced 107.19 points or 2.57% to 4,277.89
Nasdaq advanced 460 points or 3.59% to 13,255.55
Russell 2000 advanced 53.28 points or 2.71% to 2,016.29
Canada Market Closings:
TSX Composite advanced 261.2 points or 1.23% to 21,493.23
TSX 60 advanced 16.07 points or 1.25% to 1,301.34
Brazil Market Closing:
Bovespa advanced 2,696.89 points or 2.43% to 113,900.34
ENERGY:
The United Arab Emirates (UAE) favors an oil production increase and will be encouraging OPEC to consider higher output, the UAE's ambassador to Washington said on Wednesday. US Secretary of State Antony Blinken also said on Wednesday that the UAE was giving support for increased oil production. The Organization of the Petroleum Exporting Countries and its allies, including Russia, known as OPEC+, has been restoring 5.8 million barrels per day in production cuts over the last several months, with another 400,000-bpd due in April, to restore supply cuts dating to the 2020 pandemic outbreak. However, the group has resisted calls from the United States and allies to ramp up output as oil prices have surged to more than $120 per barrel.
The oil markets had a mixed day today:BONDS:  Japan 0.1590%(+0.5bp), US 2's 1.66% (+0.063%), US 10's 1.9166% (+7.62bps); US 30's 2.26% (+0.045%), Bunds 0.191% (+8.4bp), France 0.647% (+8.8bp), Italy 1.6780% (+7.7bp), Turkey 24.28% (-81bp), Greece 2.3790% (+4.7bp), Portugal 1.002% (+7.5bp); Spain 1.144% (+8.5bp) and UK Gilts 1.515% (+6.8bp).
• Crude Oil decreased 7.73 USD/BBL or -6.25% to 115.9600 • Brent decreased 9.03 USD/BBL or -7.06% to 118.9500 • Natural gas increased 0.023 USD/MMBtu or 0.51% to 4.5500 • Gasoline decreased 0.2225 USD/GAL or -6.04% to 3.4601 • Heating oil decreased 0.6550 USD/GAL or -14.76% to 3.7823 The above data was collected around 12:35 EST on Wednesday  • Top commodity gainers: Coal (2.47%) and Palm Oil (10.26%), Rubber(1.91%), Bitumen (5.12%) • Top commodity losers: Heating Oil (-14.76%), Wheat (-7.13%), Brent(-7.06%) and Oat(-9.61%) The above data was collected around 12:48 EST on Wednesday.