Blog/Market Talk
Posted Mar 9, 2021 by Martin Armstrong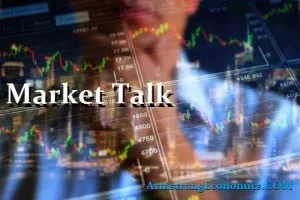 ASIA:
Microsoft has blamed a huge attack on its Exchange email service on a group linked to China, which has affected hundreds of thousands of customers worldwide. The American tech giant revealed last week that a hacking group called Hafnium exploited Microsoft Exchange and was able to gain access to computers. The company said the group is "assessed to be state-sponsored and operating out of China." The hack puts Microsoft in an uncomfortable spot. While its China sales account for just a fraction of its total revenue, the company has still touted the country as one of its most important "strategic" markets.
Bad loans and credit costs are expected to rise at Indian banks as easy money policies to shore up a pandemic-battered economy may start to tighten, Fitch Ratings said on Monday. The coronavirus lockdowns last year slammed an already struggling financial sector, but recent quarterly reports have shown an improvement in profits and asset quality. Noting that the recent improvement masked underlying pandemic stress, Fitch said banks would increasingly feel the pinch from the continued impact on small businesses and rising unemployment. Fitch added it sees high risk of a "protracted deterioration" in asset quality with more pressure on loans to retail and stressed small and medium-sized enterprises. India's central bank, The Reserve Bank of India had in January warned here that banks may see bad loans double to 14.8% under a severe stress scenario. The ratings agency estimates state-owned lenders need $15-58 billion in capital, under various stress scenarios.
The major Asian stock markets had a mixed day today:
NIKKEI 225 increased 284.69 points or 0.99% to 29,027.94
Shanghai decreased 62.12 points or -1.82% to 3,359.29
Hang Seng increased 232.40 points or 0.81% to 28,773.23
ASX 200 increased 31.60 points or 0.47% to 6,771.20
Kospi decreased 19.99 points or -0.67% to 2,976.12
SENSEX increased 584.41 points or 1.16% to 51,025.48
Nifty50 increased 142.20 points or 0.95% to 15,098.40
The major Asian currency markets had a mixed day today:
AUDUSD increased 0.0054 or 0.71% to 0.77107
NZDUSD increased 0.00309 or 0.43% to 0.71631
USDJPY decreased 0.45 or -0.41% to 108.49
USDCNY decreased 0.03531 or -0.54% to 6.51607
Precious Metals:
Gold increased 34.64 USD/t oz. or 2.06% to 1,715.88
Silver increased 0.89 USD/t. oz or 3.56% to 25.983
Some economic news from last night:
Japan:
Average Cash Earnings (YoY) increased from -3.2% to -0.8%
Household Spending (YoY) decreased from -0.6% to -6.1%
Household Spending (MoM) decreased from -1.6% to -7.3%
Overall wage income of employees (Jan) increased from -3.0% to -0.8%
Overtime Pay (YoY) (Jan) increased from -8.60% to -6.60%
GDP (QoQ) (Q4) decreased from 5.3% to 2.8%
GDP (YoY) (Q4) decreased from 22.9% to 11.7%
GDP Capital Expenditure (QoQ) (Q4) increased from -2.4% to 4.3%
GDP External Demand (QoQ) (Q4) increased from 1.0% to 1.1%
GDP Private Consumption (QoQ) (Q4) remain the same at 2.2%
M2 Money Stock (YoY) increased from 9.4% to 9.6%
M3 Money Supply (Feb) increased from 1,939.4T to 1,952.5T
South Korea:
Current Account (Jan) decreased from 11.51B to 7.06B
Australia:
NAB Business Confidence (Feb) increased from 10 to 16
NAB Business Survey (Feb) increased from 7 to 15
New Zealand:
Manufacturing Sales Volume (QoQ) (Q4) decreased from 17.2% to 0.5%
ANZ Business Confidence decreased from 7.0 to 0.0
NBNZ Own Activity decreased from 21.3% to 17.4%
Indonesia:
Retail Sales (YoY) (Jan) increased from -19.2% to -16.4%
Some economic news from today:
Japan:
Machine Tool Orders (YoY) increased from 9.7% to 36.7%
EUROPE/EMEA:
The UK can see the light at the end of the Covid-19 tunnel, but the economy will never fully return to its pre-pandemic pattern, the governor of the Bank of England has said. Speaking at an event organized by the Resolution Foundation thinktank, Andrew Bailey said the shifts in spending and working patterns seen since the country first went into lockdown measures a year ago would prove permanent. Bailey said the UK needed to increase investment in order to limit the long-term damage but said the bank would be cutting its forecast for the peak in unemployment after the decision to extend the furlough scheme until the end of September. The bank's February monetary policy report predicted unemployment would peak at 7.5% later this year, but Bailey said that forecast would be updated following the budget.
Business conditions in the Arab world's two largest economies improved at a slower pace in February as coronavirus cases crept up and employment figures dipped. The UAE's PMI, compiles by IHS Markit fell to 50.6 in February versus 51.2 in the previous month. Weaker demand, faltering sentiment and job cuts weighed on non-oil private sector activity in the United Arab Emirates and neighboring Saudi Arabia according to Purchasing Managers' Indexes compiled by IHS Markit. The overall benchmarks remained above the 50 mark that separates growth from contraction. Saudi Arabia's PMI dropped to 53.9 in February from January's recent high of 57.1.
The major Europe stock markets had a green day:
CAC 40 increased 21.98 points or 0.37% to 5,924.97
FTSE 100 increased 11.21 points or 0.17% to 6,730.34
DAX 30 increased 57.03 points or 0.40% to 14,437.94
The major Europe currency markets had a mixed day today:
EURUSD increased 0.00462 or 0.39% to 1.18972
GBPUSD increased 0.0068 or 0.49% to 1.38926
USDCHF decreased 0.00784 or -0.84% to 0.92847
Some economic news from Europe today:
France:
French Non-Farm Payrolls (QoQ) (Q4) increased from -0.2% to -0.1%
Germany:
Gemran Current Account Balance n.s.a (Jan) decreased from 25.9B to 16.9B
German Exports (MoM) (Jan) increased from 0.4% to 1.4%
German Imports (MoM) (Jan) decreased from -0.1% to -4.7%
German Trade Balance (Jan) increased from 16.4B to 22.2B
Italy:
Italian Industrial Production (MoM) (Jan) increased from 0.2% to 1.0%
Italian Industrial Production (YoY) (Jan) decreased from -1.6% to -2.4%
Norway:
Norges Bank regional network Survey increased from 0.10 to 0.92
Euro Zone:
Employment Change (QoQ) (Q4) decreased from 1.0% to 0.3%
Employment Change (YoY) (Q4) increased from -2.3% to -1.9%
Employment Overall (Q4) increased from 157,927.0K to 157,947.8K
GDP (YoY) (Q4) decreased from -4.3% to -4.9%
GDP (QoQ) (Q4) decreased from 12.4% to -0.7%
UK:
BRC Retail Sales Monitor (YoY) (Feb) increased from 7.1% to 9.5%
US/AMERICAS:
Student loan debt in America reached new highs during the pandemic, according to data released by Experian. From 2015 to 2019, student loan debt in the US grew 6% annually on average. However, during the past year overall student loan debt doubled to 12%. The current outstanding student debt now stands at $1.57 trillion, which marks a $166 billion increase YoY. President Joe Biden previously said he would consider eliminating up to $10,000 in individual student debt, although some of his party members were pushing for $50,000.
Associate Attorney General nominee Vanita Gupta said that, if appointed, she will crack down on big tech and antitrust laws. Gupta said that based on her history working with big tech, she "would highly doubt that they would be necessarily excited about my confirmation." "If I am confirmed as associate attorney general, I will bring the full force of our country's antitrust laws to bear to protect competition which is so core to our economy and to protecting consumers," she stated.
Although the Canadian government authorized the use of Johnson & Johnson's new one-dose vaccine last week, there are manufacturing challenges preventing the rollout. The government pre-ordered 10 million vaccinations but does not have a set delivery date. "We have heard in many conversations with Johnson & Johnson that there are challenges around production of the Janssen vaccine, but we will continue to engage with them and we look forward to receiving doses as soon as possible," Prime Minister Trudeau said during a briefing.
US Market Closings:
Dow advanced 30.3 points or 0.1% to 31,832.74
S&P 500 advanced 54.09 points or 1.42% to 3,875.44
Nasdaq advanced 464.66 points or 3.69% to 13,073.83
Russell 2000 advanced 42.07 points or 1.91% to 2,245.06
Canada Market Closings:
TSX Composite advanced 141.41 points or 0.77% to 18,599.19
TSX 60 advanced 5.32 points or 0.57% to 1,107.82
Brazil Market Closing:
Bovespa advanced 719.04 points or 0.65% to 111,330.62
ENERGY:
Oil prices jumped last Thursday after OPEC and its oil-producing allies said the group would keep production largely steady through April. Saudi Arabia also said that it would extend its one million barrels per day voluntary production cut into April. The group approved the continuation of current production levels for April, except that Russia and Kazakhstan will be allowed to increase production by 130,000 and 20,000 barrels per day, respectively. Analysts had broadly expected OPEC+ to reverse some of the output cuts it made last year.
The oil markets had a mixed day today:
Crude Oil decreased 0.96 USD/BBL or -1.48% to 64.0900
Brent decreased 0.68 USD/BBL or -1.00% to 67.5600
Natural gas decreased 0.012 USD/MMBtu or -0.45% to 2.6520
Gasoline increased 0.0025 USD/GAL or 0.12% to 2.0512
Heating oil decreased 0.0007 USD/GAL or -0.04% to 1.9078
Top commodity gainers: Platinum (3.13%), Gold (2.06%), Silver (3.56%) and Feeder Cattle (1.33%)
Top commodity losers: Copper (-1.54%), Bitumen (-3.00%), Sugar (-1.67%), and Crude Oil (-1.48%)
The above data was collected around 14:47 EST on Tuesday.
BONDS:
Japan 0.13%(+2bp), US 2's 0.17%(+0.004%), US 10's 1.55%(-5bps); US 30's 2.26%(-0.041%), Bunds -0.28% (+4bp), France -0.06% (-2bp), Italy 0.70% (-7bp), Turkey 13.55% (+2bp), Greece 0.90% (-5bp), Portugal 0.27% (-3bp); Spain 0.38% (-3bp) and UK Gilts 0.72% (-4bp).
Spanish 3-Month Letras Auction increased from -0.558% to -0.557%
US 3-Year Note Auction increased from 0.196% to 0.355%