Blog/Market Talk
Posted Mar 9, 2020 by Martin Armstrong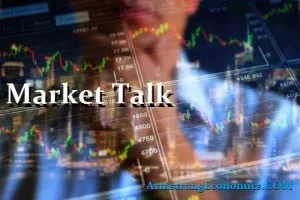 ASIA:
The Indian Bureau of Immigration announced that those flying in from Italy and South Korea will need a medical certificate saying they are corona-free to enter India. Italian and South Korean nationals who have been granted fresh India visas issued after March 5, 2020, and have been issued a medical certificate from the designated laboratories of Italy and South Korea, are eligible to enter into India.
India's largest public sector bank State Bank of India said on Saturday it would need to invest up to 331 million USD to buy a 49% stake in Yes Bank Ltd as part of the initial phase of a rescue deal for the troubled lender. India's central bank has taken control of Yes Bank, one of the biggest private lenders of the country and imposed limits on withdrawals to protect investors and said it would work on a revival plan.
Tesla Inc. is likely to make and sell as many vehicles in China as it had hoped, as per an analyst Dan Ives at Wedbush. Tesla's goal to sell 500,000 vehicles in 2020 remains "an achievable bogey to hit" as Tesla is likely to see a rebound in demand in China in the second and third quarters "with Europe remaining at healthy levels and thus neutralizing some of the negative headwinds in the U.S. market," Ives said. Shares of Tesla have gained 120% in the past 12 months, compared with gains of 1% for the S&P 500 index and versus a drop of 5.5% for the Dow Jones Industrial Average in the same period.
Apple sold fewer than half a million iPhones in China in February, government data showed on Monday, as the coronavirus outbreak in the country halved demand for smartphones. Shares of the iPhone maker fell about 6% amid a broader slump in Wall Street on rising fears of a recession due to a steep fall in oil prices and the fast-spreading virus.
South Korea is currently facing the second-largest coronavirus outbreak after mainland China. More than 7,300 coronavirus infections have been confirmed throughout South Korea, killing more than 50.
The major Asian stock markets had a negative day today:
NIKKEI 225 decreased 1,050.99 points or -5.07% to 19,698.76
Shanghai decreased 91.22 points or -3.01% to 2,943.29
Hang Seng decreased 1,106.21 points or -4.23% to 25,040.46
ASX 200 decreased 455.60 points or -7.33% to 5,760.60
Kospi decreased 85.45 points or -4.19% to 1,954.77
SENSEX decreased 1,941.67 points or -5.17% to 35,634.95
The major Asian currency markets had a mixed day today:
AUDUSD decreased 0.0018 or 0.27% to 0.6600
NZDUSD increased 0.0002 or 0.03% to 0.6359
USDJPY decreased 3.19 or -3.03% to 102.14
USDCNY increased 0.0250 or 0.36% to 6.9501
Precious Metals:
Gold increased 3.55 USD/t oz. or 0.21% to 1,677.25
Silver decreased 0.32 USD/t. oz or -1.85% to 17.0200
Some economic news from last night:
Japan:
Adjusted Current Account decreased from 1.85T to 1.63T
Bank Lending (YoY) (Feb) increased from 1.9% to 2.1%
Current Account n.s.a. (Jan) increased from 0.524T to 0.612T
GDP (YoY) (Q4) decreased from -6.3% to -7.1%
GDP (QoQ) (Q4) decreased from -1.6% to -1.8%
GDP Capital Expenditure (QoQ) (Q4) decreased from -3.7% to -4.6%
GDP External Demand (QoQ) (Q4) remain the same at 0.5%
GDP Price Index (YoY) decreased from 1.3% to 1.2%
GDP Private Consumption (QoQ) (Q4) increased from -2.9% to -2.8%
Indonesia:
Consumer Confidence (Feb) decreased from 121.7 to 117.7
Some economic news from today:
Japan:
Economy Watchers Current Index (Feb) decreased from 41.9 to 27.4
Singapore:
Foreign Reserves USD (MoM) (Feb) increased from 278.6B to 283.0B
EUROPE/EMEA:
The European markets had one of their most difficult days since the 2008 financial crisis. The FTSE dropped 7.7%, wiping out 125bn from their market cap, signifying the fifth-worst day in the history of the index. The German and Irish government already announced financial packages to help contain the economy. German, Spanish and French indexes all closed around 8% down.
Turkish President Erdogan met with EU officials today to discuss Turkish new open door policy regarding migrants. Turkey believes the EU has failed on their side of the deal. Turkey repeatedly warned the EU that they needed aid to contain the migrants. Today, Erdogan stated that he wants to improve relations with the EU.
The Italian PM banned public gatherings today and said that the government will impose restrictions traveling around Italy. He said only essential travel such as for work and emergencies are permitted. Israel also added measures today stating that anyone traveling to Israel will be put under self-isolation for 14 days.
The major Europe stock markets had a negative day today:
CAC 40 decreased 431.20 points or -8.39% to 4,707.91
FTSE 100 decreased 496.78 points, or -7.69% to 5,965.77
DAX 30 decreased 916.85 points or -7.94% to 10,625.02
The major Europe currency markets had a mixed day today:
EURUSD increased 0.01727 or 1.53% to 1.14607
GBPUSD increased 0.0073 or 0.56% to 1.3119
USDCHF decreased 0.0126 or 1.35% to 0.9241
Some economic news from Europe today:
Swiss:
Unemployment Rate n.s.a. (Feb) decreased from 2.6% to 2.5%
Unemployment Rate s.a. (Feb) remain the same at 2.3%
Germany:
German Current Account Balance n.s.a (Jan) decreased from 24.8B to 16.6B
German Exports (MoM) (Jan) decreased from 0.2% to 0.0%
German Imports (MoM) (Jan) increased from -0.3% to 0.5%
German Industrial Production (MoM) (Jan) increased from -2.2% to 3.0%
German Trade Balance (Jan) decreased from 19.0B to 18.5B
Euro Zone:
Sentix Investor Confidence (Mar) decreased from 5.2 to -17.1
US/AMERICAS:
The top US indexes all declined over -7% this Monday after heightened coronavirus fears and an overnight oil price war between Saudi Arabia and Russia. The Dow crashed over 2,000 points during today's session, marking its worst single-day performance since the 2008 Great Recession. The S&P 500 slipped -7.6%, experiencing its worst day of trading in nine years. The Nasdaq slipped beneath the 8,000 level after dropping -7.29%. Reuters reports that over 3,500 stocks sank to 52-week lows this Monday.
NYSE President Stacey Cunningham attempted to ease fears this Monday by stating that the market is behaving in a normal manner during an uncertain time. "I'm seeing markets act normally. They react to uncertainty. They respond to uncertain events. They become more volatile," Cunningham told reporters at CNN. "It's an adjustment, it's a reaction to uncertainty."
President Trump said that the price of oil crashing will be "good for the consumer." "Saudi Arabia and Russia are arguing over the price and flow of oil. That, and the Fake News, is the reason for the market drop!" President Trump tweeted this Monday. Furthermore, he reiterated that the flu has a higher fatality rate annually than the coronavirus and blamed the media for using scare tactics to frighten the public.
Princeton University announced that all classes will temporarily be held online to prevent public gatherings amid the coronavirus scare. University president Chris Eisgruber said the school will begin a policy of "social distancing" despite Princeton University students previously benefitting from a "high touch" environment. Other schools are expected to implement similar policies.
US Market Closings:
Dow declined 2,013.76 points or -7.79% to 23,851.02
Nasdaq declined 624.94 points or -7.29% to 7,950.68
S&P 500 declined 225.81 points or -7.6% to 2,746.56
Russell 2000 declined 135.78 points or -9.37% to 1,313.44
Canada Market Closings:
TSX Composite declined 1,660.78 points or -10.27% to 14,514.24
TSX 60 declined 102.22 points or -10.59% to 863.33
Brazil Market Closing:
Bovespa declined 11,929.57 points or -12.17% to 86,067.20
ENERGY:
On Sunday, Russia refused to cut their production of oil. Saudi Arabia retaliated and increased their production. This caused the price of oil to decrease by around -30% at one point during the trading day and helped to drag financial markets around the world down for one of the worst trading days since 2008.
The oil markets had a mixed day today:
Crude Oil decreased 10.85 USD/BBL or -26.11% to 30.7100
Brent decreased 11.4 USD/BBL or -25.05% to 34.1000
Natural gas increased 0.073 USD/MMBtu or 3.97% to 1.9100
Gasoline decreased 0.2541 USD/GAL or -18.39% to 1.1280
Heating oil decreased 0.2302 USD/GAL or -16.49% to 1.1662
Top commodity gainers: Natural Gas (3.97%), Coffee (2.13%), Wheat (0.63%), and Gold (0.21%)
Top commodity losers: Crude Oil (-26.11%), Brent (-25.05%), Heating Oil (-16.49%), and Gasoline (-18.39%)
The above data was collected around 14.58 EST on Monday.
BONDS:
Japan -0.10%(-4bp), US 2's 0.38% (-13bps), US 10's 0.52%(-25bps); US 30's 0.88%(-41bps), Bunds -0.73% (-5bp), France -0.24% (-4bp), Italy 1.50% (+42bp), Turkey 11.91% (+50bp), Greece 1.88% (+43bp), Portugal 0.36% (+11bp); Spain 0.29% (+7bp) and UK Gilts 0.16% (-7bp).
US 3-Month Bill Auction decreased from 1.155% to 0.390%
US 6-Month Bill Auction decreased from 1.010% to 0.400%
French 3-Month BTF Auction decreased from -0.627% to -0.668%
French 6-Month BTF Auction decreased from -0.628% to -0.672%
French 12-Month BTF Auction decreased from -0.642% to -0.716%