Blog/Market Talk
Posted Mar 8, 2017 by Martin Armstrong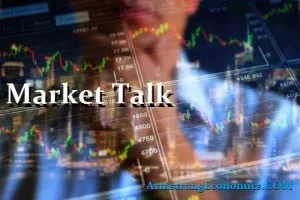 There was plenty to get excited about today, from Asia all the way through the time zones. First up came the Chinese Trade data and the surprise that Imports outpaced Exports giving them a deficit of around $9.1bn for the first time in over three years. However, many see this as a seasonal adjustment and expect to return a surplus next release. Shanghai index closed almost unchanged but the Hang Seng added 0.5% even after the geopolitical nervousness. the Nikkei continued its losing streak today closing down 0.5% while the JPY played around the 114 handle for most of the Asian session. It was not until into the US day did we see the Yen start to lose ground again and was last seen trading 114.60. CNH was last seen trading around the 6.9175 level.
Europe also had plenty to keep it busy with Germany reporting Industrial Output at 2.8% which was better than the 2.5% forecast. In France, there were apparently fresh allegation into Francois Fillon and an undeclared €50k loan, but that failed to influence the CAC that much as it closed a fraction better on the day. UK Budget was a bit of a dull affair, but it has weighed on GBP in late trading; currently down around -0.4% on the day. As this was happening the ADP report was released and that certainly woke the markets up. Against an expected +190k we saw a +298k release. Immediately, USD traded stronger, Treasuries fell (price) all while stocks really were unsure which direction to play. As it was, stock's played around unchanged for most of the day awaiting both Fridays final and next week's FED decision. Bonds also had to deal with an additional 20bn 10yrs that came at an average yield of 2.56% – was well received but at added yield.
As Treasuries were sold the hot topic was oil and the price decline today of a little over 5% loss. The inventories climbed for yet another week which is finally taking its toll on prices and continued uncertainty surround global growth. It feels like that with the FED raising rates, people are being lulled into a false sense of security expecting a recovery around the corner. This is the flow of capital and a rate increase will only accelerate the USD's run, encouraging additional optimism into an everlasting stock rally. Volumes remain light with large orders tending to move markets due to lack of resistance. Stocks did dip into the close but with the ECB tomorrow and NFP's Friday there is still plenty to get excited about.
2's closed 1.35% (+4bp), 10's 2.56% (+5bp), German 10yr Bund 0.36% (+4bp), closes the 10yr spread at +220bp (+1bp). France 1.01% (+5bp), Italy 2.24% (+6bp), Greece 6.99% (-2bp), Turkey 11.02% (+16bp), Portugal 3.94% (+1bp) and UK Gilt 10's at 1.22% (+3bp).