Blog/Market Talk
Posted Mar 9, 2019 by marty armstrong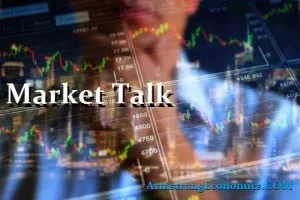 Asia:
A down day for all the major Asian stock markets due to the weak China trade data. Chinese exports for the month of February decreased from 9.1% to -20.7%. This was the biggest fall in three years. Imports also fell 5.2% in the world's second largest economy.
Chinese stocks had a biggest daily loss in last 5 months. Shanghai dropped 136.18 points (-4.38%) to 2,970 and the NIKKEI 225 decreased 430.45 points (-2.01%) to 21,026.
Hang Seng and KOSPI, declined 551.03 points (-1.91%) to 28,228 and 23.88 points (-1.10%) to 2142 respectfully. ASX200 was no exception, losing 60.10 points (-0.96%) to 6,204, and SENSEX slipped 104.12 points (-0.28%) to 36,621.
One element of hope for the Asian countries today was that the currencies actually strengthened against the dollar today. The AUD increased 0.0037 or 0.52% to 0.7050, and the NZD increased 0.0055 or 0.82% to 0.6807. The JPY and CNY also strengthened against the dollar today, the USDJPY and USDCNY decreased 0.4610 or 0.41% to 111.1190 and 0.0021 or 0.03% to 6.7301.
Gold and silver prices seemed to have found a temporary bottom today having endured subsequent down days of late. Both prices had a decent bounce today: gold increased 13.41 USD/t oz. or 1.04% to 1,301.51 and silver increased 0.33 USD/t. oz or 2.17% to 15.34.
China's Trade Balance (USD) (Feb) dropped from 39.16B to 4.12B.
Europe:
European stocks today followed Asia's general trend down today, the FTSE 100 declined 17 points (-0.24%) to 7139, CAC 40 and DAX decreased 25 points or -0.48% to 5243 and 48 points or -0.42% to 11470 respectfully.
The dollar weakening on the shock Jobs announcement, the EUR therefore increased 0.0050 or 0.45% to 1.1242, GBP and the CHF took the opposite direction decreasing 0.0071 or 0.54% to 1.3013 and 0.0038 or 0.37% to 1.0073 respectfully.
Economic news from Euro area:
Germany's Factory Orders (MoM) (Jan) dropped from 0.9% to -2.6%.(2 star news)
French Industrial Production (MoM) (Jan) increased from 0.8% to 1.3%.
Spanish Industrial Production (YoY) (Jan) increased from -5.9% to 2.4%
Italian Industrial Production (YoY) (Jan) increased from -5.5% to -0.8%
Italian Industrial Production (MoM) (Jan) increased from -0.7% to 1.7%
Italian's PPI (YoY) (Jan) decreased from 4.1% to 3.4%.
Italian's PPI (MoM) (Jan) increased from -0.5% to 0.0%.
French Exports (Jan) had a slight decrease from 42.9B to 42.5B
French Imports (Jan) increased from 46.5B to 46.7B
The French Trade Balance (Jan) dropped to -4.2B from -3.6B
U.S./Americas:
Today concludes Wall Street's most bearish week of 2019 with all major U.S. indexes declined for the fifth consecutive day. That said, markets generally closed well off the lows of the day. The Dow dropped 200 points earlier but recovered most of the losses later in the day closing down just shy of 23 points (-0.09%, 25450.24 close). The Nasdaq declined just over 13 points (-0.18% 7408.14 close), while the S&P 500 dropped over 5 points (-0.21%, 2743.07 close), and the Russell 2K declined by -0.11%, closing at 1521.88.
The Bureau of Labor and Statistics released its monthly employment report this Friday. The U.S. workforce added 20,000 new jobs during February, a notably disappointing figure compared to the 175,000 new positions that analysts had anticipated – so much so, that many speculate a significant revision to come but with the number this low, any revision is likely to still be well off expectations. Hourly earnings increased by 3.4%, which is the sharpest increase since 2009. Unemployment rates are on the decline; the rate for February was 3.8% compared to 4% the prior month.
The USD Index declined by -0.31% this Friday (last reading 97.37). Similarly, the USD/CAD declined -0.33% (last reading 1.3408).
Statistics Canada released more favorable job figures this Friday. Canada exceeded expectations for February after generating 55,900 new full-time jobs. This marks Canada's best two-month start since 1981. Unemployment figures remained rather consistent at 5.8%. Hourly wage growth reached 2.3% in February, outperforming the prior month by +0.5%.
The Canada Mortgage and Housing Corporation noted a monthly decline in new housing developments. In February, 203,554 new units were produced compared to 207,742 units in January.
Canada's TSX Composite declined -0.38% today (15996.21 close), while the TSX 60 had a slightly worse day, declining -0.46% (954.25 close)
Brazil's Bovespa increased by over a full percentage point (+1.09%) for the second consecutive day, closing at 95364.85.
Energy:
Norwegian Sovereign fund, the largest wealth fund in existence, announced it will cut oil shares today. It currently has approximately 37bn invested in oil related companies. Crude Oil dropped 0.64 USD/BBL (-1.13%) to 56.0186 and Brent decreased 1.48 USD/BBL or 2.23% to 64.71.
Top commodity losers are Gasoline (-2.78%), Crude Oil (-2.75%) and Brent (-2.65%). Gains are led by Cotton (1.59%), Silver (1.42%) and Wheat (1.04%).
Bonds:
Japan -0.03%(-3bp), US 2's 2.46% (-1bps), US 10's 2.63%(-1bps), US 30's 3.01%(-1bps), Bunds 0.07% (+0bp), France 0.40% (-2bp), Italy 2.52% (+3bp), Turkey 15.08% (+11bp), Greece 3.78% (-1bp), Portugal 1.38% (+2bp), Spain 1.06% (+1bp) and UK Gilts 1.18% (+1bp)