Blog/Market Talk
Posted Mar 7, 2016 by Martin Armstrong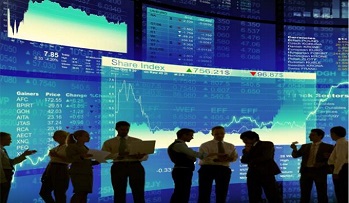 Asian equity markets open with lots of talk around the Chinese National Peoples Congress and the idea that GDP will now be an indicative target range (6.5 – 7%). The Shanghai opened over 1% firmer but did lose that as we headed into the afternoon session, only to recover and close up +0.85%. The PBOC fixed the Yuan at 6.5113 – slightly lower than Fridays 6.5284. The Nikkei had trouble holding onto the 17k level and eventually closing 103 points lower -0.6%. HSI had a quiet session closing little changed at -0.01%.
Although all core European Indices closed lower they all recovered quiet nicely from the days lows. All core finished the day around 0.3% lower which was in contrast to the 5% rally seen in the oil price; with Brent trading above $40 late in the US session. the depressed metals and energy commodities took the China news as extremely positive and saw Iron Ore trade almost 20% higher on the day.
There was plenty of scope for activity today but the DOW could only off-set the lesser performance of the NASDAQ. Despite the rally in metals and oil, the news of controlled growth from China and Fridays Payrolls report many dealers were expecting more from the US markets today so are slightly disappointed as they head home this evening.
The oil price rally started early today on news the OPEC country were looking to fix a high price before considering halting supply. Rumours are that the price being discussed is $50. In the past two months prices have seen a 40% bounce from their lows.
The Bond markets saw one of their quietist days in a while with US 10's trading in a 4BP (1.88 – 1.92%) range. The 2/10 curve did flatten 1BP as 2's closed this evening at 0.91% (closing the spread at +99BP). Over in Europe the 10yr German Bund closed 0.22% to close the US/Bund 10yr spread at +168 BP. 10yr Italy closed 1.46% (u/c), Greece 10yr 9.44% (+8BP), Turkey 10.18% (+4BP) and 10yr UK Gilt 1.48% (u/c).
US Dollar Index (DXY) closed lower this evening at 97.11 (-0.2%) as both the Euro and GBP made ground whilst the JPY lost 0.6% against it. Much headway was made in some of the commodity based currencies but their individual weightings within the basket is quite small. Both the Russian Rouble and Brazilian Real made around 0.85% gains against the USD on the back of todays commodity gains. A fine performance for the Rouble as Moody's announced they had put Russia on watch "Negative".
ECB on Thursday remains this week's highlight.