Blog/Market Talk
Posted Mar 7, 2019 by marty armstrong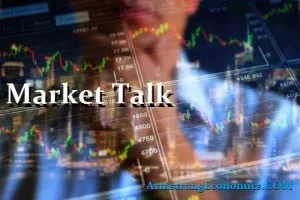 Asia:
President Trump says he is optimistic that a landmark trade deal with China is near completion, however, reports suggest that Chinese officials do not feel the same. The latest news with Huawei suing the US over a product ban does not help the overall situation.
A mixed day for Asian stocks: Shanghai rose 5 points (0.15%) to 3107, SENSEX and ASX200 increased 89.32 points (0.24%) to 36,725 and 18.30 points (0.29%) to 6,264 respectfully. NIKKEI 225, KOSPI and Hangseng took the opposite route: NIKKEI225 dropped 140.80 points (-0.65%) to 21,456; KOSPI and Hangseng decreased 10 points (-0.47%)to 2165 and 258.15 points (-0.89%) to 28,779 respectfully.
A mixed day also for Asian currencies: The AUDUSD decreased 0.0011 or 0.15% to 0.7021; The NZDUSD and the USDJPY decreased 0.0010 or 0.14% to 0.6757 and 0.2220 or 0.20% to 111.5280 respectfully. Both the USDCNY and the USDHKD had a green day, increased 0.0121 or 0.18% to 6.7279 and increased 0.0001 or 0.00% to 7.8499 respectfully.
Gold and silver prices followed the downtrend, dropping again today with gold decreasing 0.11 USD/t. oz. or 0.01% to 1,285.80 and silver decreasing 0.05 USD/t. oz or 0.32% to 15.
Some economic news from Asia:
Japan's Household Spending (MoM) (Jan) was at -0.1% previously, the Household Spending (YoY) (Jan) forecast at -0.5%, lower than previous of 0.1%.
The Adjusted Current Account expected at 1.39T, decreased 0.17 T from previous session. The current Account n.s.a. (Jan) forecast at 0.179T, lower than previous of 0.453T. The GDP (QoQ) (Q4) expected at 0.4%, higher than 0.3% at previous session. The GDP (YoY) (Q4) expected at 1.8%, higher than 1.4% at previous session.
China's Exports (YoY) (Feb) expected a big decline from 9.1% to -4.8%; China's Imports (YoY) (Feb) expected a small increasing from -1.5% to -1.4%. China's Trade Balance (USD) (Feb) expectation dropped from 39.16B to 26.38B.
Europe:
The EU has called upon the UK to provide "acceptable" ideas by Friday on the Irish border. The issue being the need for a physical border to stop unauthorized citizens entering the EU or vice versa. There are many issues with this as there are major roads which intertwine between the two nations.
The ECB acknowledged there has been a slowdown within the European economy, cutting estimates to 1.1% (vs 1.7% estimate back in December). The central bank rates will remain at the same level, "at least through the end of 2019," to help revive the  economy. The EU plans to offer cheap loans to banks to try and do just that. The EURO took a plunge today dropping 0.6% against the dollar.
In other news, Vodafone stated that any ban on Huawei would set back 5G and cost the UK greatly.
The European stocks closed in red today, FTSE100 dropped 53 points or -0.73% to 7143, CAC 40 and DAX decreased 22 points or 0.42% to 5265 and 70 points or 0.60% to 11518 respectfully.
The USDCHF increased 0.0061 or 0.60% to 1.0109. The EURUSD and The GBPUSD decreased 0.0094 or 0.84% to 1.1211 and 0.0085 or 0.64% to 1.3084 respectfully.
Some economic news from Europe:
Eurozone's Deposit Facility Rate is at -0.4%; Eurozone's ECB Marginal Lending Facility is at 0.25%, both are same as previous. Eurozone's ECB Interest Rate Decision (Mar) remain the same from previous at 0.00%.
Eurozone's GDP (YoY) (Q4) slipped from 1.2% to 1.1%; the GDP (QoQ) (Q4) remain at 0.2%. UK's Halifax House Price Index (YoY) (Feb) increased from 0.8% to 2.8%. The UK's Halifax House Price Index (MoM) (Feb) rose from -3.0% to 5.9%. Swiss Unemployment Rate n.s.a. (Feb) slipped from 2.8% to 2.7% and the Unemployment Rate s.a. (Feb) remain the same at 2.4%.
U.S./Americas:
Wall Street continued to decline for the fourth consecutive day after the ECB's pessimistic growth forecast and stagnant rate policy impacted the global marketplace. The Dow fell over 200 points during Thursday's session, closing at 25473.23 (-0.78%). The Nasdaq fell over 84 points, closing at 7421.46 (-1.13%). The S&P 500 dropped over 22 points, closing at 2748.93 (-0.81%). The Russell 2K ended over 13 points down, closing at 1523.63 (-0.86%).
On an annual basis, the Dow, S&P 500, and Nasdaq Composite are still up by around >9% despite this week's poor performance.
On the corporate front, Walgreen's closed down over 2% today after reports it had been cited by the FDA for selling tobacco products to minors. CVS has been trading in a downward pattern as well, notably decreasing by nearly 25% over the past two weeks. The company's Aetna insurance acquisition and new U.S. drug laws have drastically impacted the company's performance.
On the economic front, U.S. productivity rose 1.9% during the last quarter of 2018, according to a report released by the Labor Department Thursday afternoon. On an annual basis, productivity grew 1.3% during 2018 compared to a slightly lower growth rate the previous year of 1.1%.
The USD Index rose +0.76% (97.61) from the prior session. The USD/CAD remained relatively unchanged at 1.3448.
Perhaps responding to yesterday's unchanged rate announcement by the Canadian central bank, major Canadian indexes had a bullish performance today. The TSX Composite closed down -0.22% today (16056.51 close), while the TSX 60 slipped -0.19% (958.69 close).
Brazil's Bovespa closed in positive territory for the first time this week after increasing by +0.13% from Wednesday's session (94340.17 close).
Energy:
As OPEC furthers there cuts, a report came out suggesting that the US Will Soon Export More Oil, Liquids Than Saudi Arabia.
Crude Oil price rose 0.78%. Brent rose 0.32% and Gasoline increased 0.57% . Natural gas and Heating oil took the opposite route decreased 0.04% and 0.08%.
Top commodity losers are Cocoa(-4.72%), Rubber (-4.54%), Bitumen (-4.18%) and Cotton (-1.78%). Gains are led by Lumber (3.64%), Lean Hogs (2.63%), Steel (1.45%), and Gasoline (1.25%).
Bonds:
Japan -0.02%(-1bp), US 2's 2.48% (-4bps), US 10's 2.65%(-4bps), US 30's 3.04%(-3bps), Bunds 0.07% (-6bp), France 0.43% (-8bp), Italy 2.50% (-11bp), Turkey 14.97% (+3bp), Greece 3.83% (+7bp), Portugal 1.34% (-8bp), Spain 1.05% (-8bp) and UK Gilts 1.17% (-6bp).
French 10-year OAT Auction actual at 0.57%, exactly the same as previous session. Spanish 5-year Bonos Auction slipped from 0.164% to 0.142% and 10-year Obligation Auction dropped from 1.285% to 1.222%.
US 4-month decreased from 2.410% to 2.405% and 8-month decreased from 2.410% to 2.400%.