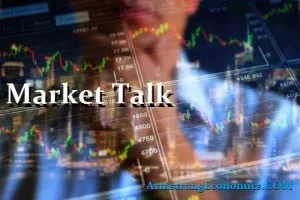 Asia:
China's Premier Li Keqiang stated that China will face a graver and more complicated environment as well as risks and challenges that are greater in both number and size (in the coming future). He also reduced GDP growth expectation for 2019 from around 6.5% last year to 6%-6.5% this year. A 2 trillion (CNY) tax cut was also announced, including VAT reductions and the target for the budget deficit increased to 2.8% from a goal of 2.6% in 2018.
Asian major stocks were mixed today, Shanghai lead the way, which added 33.57(1.12%) to 3,028. Followed by NIKKEI 225 and SENSEX rising 219.35(1.02%) to 21,822 and 362(1.00%) to 36,425 respectfully. Hang Seng increased slightly which added 2.01 (0.01%) to 28,962. However, KOSPI and ASX 200 took the opposite route, losing 11.43(-0.52%) to 2,179 and 18.10(-0.29%) to 6,199 respectfully.
Most of the major currencies in Asia decreased against USD. The AUD decreased 0.0009 or 0.12% to 0.7083 and the NZD decreased 0.0021 or 0.31% to 0.6797. The JPY increased 0.0970 or 0.09% to 111.8370 which is a 10- week low. The CNY increased 0.0007 or 0.01% to 6.7059, and The HKD increased 0.0010 or 0.01% to 7.8498 at a 25 week low level.
The Gold and Silver prices seem to be on a down trend, both prices dropped again today with Gold decreasing 3.52 USD/t oz. or 0.27% to 1,284.85 and Silver decreasing 0.01 USD/t. oz or 0.09% to 15.08.
Europe:
On the Brexit front, Britain suggested they would scrap 80-90 percent of tariffs on imported goods if they leave the European Union without a deal, but would keep the tariff on sensitive sectors such as cars, beef and lamb, to protect their industry. Meanwhile Toyota and BMW have both warned a no-deal threatens the production of their cars in the UK. European Union states have added 10 jurisdictions to a draft tax haven blacklist, including the United Arab Emirates (UAE) and Bermuda, an EU official told Reuters on Tuesday, in a move that would triple the number of listed countries.
The European major share markets were in the green today with the FTSE 100 gaining 49 points, or 0.7% to 7,183, CAC 40 increased 7 points or 0.13% to 5298 and DAX increased 26 points or 0.23% to 11621 on Tuesday March 5 from 11593.
The European major currencies declined against the USD today. The EURO decreased 0.0029 or 0.26% to 1.1308, The GBP decreased 0.0009 or 0.07% to 1.3177. The USDCHF increased 0.0056 or 0.56% to 1.0044.
Some economic news from Europe:
UK's Services PMI (Feb) actual at 51.3, higher than the previous 50.1.
German's Services PMI (Feb) actual at 55.3, slightly higher than the previous 55.1.
French Services PMI (Feb) actual at 50.2, previous 49.8.
Italian Services PMI (Feb) actual at 50.4, previous 49.7.
The GDP (QoQ) (Q4) actual at -0.1%, previous -0.2%.
The GDP (YoY) (Q4) actual at 0.0%, previous 0.1%.
Spanish Services PMI (Feb) actual at 54.5, previous 54.7.
Swiss's CPI (MoM) (Feb)actual at 0.4%, previous -0.3%.
Eurozone- Markit Composite PMI (Feb) actual at 51.9, previous at 51.4.
The Services PMI (Feb) actual at 52.8, previous at 52.3.
The Retail Sales (MoM) (Jan) actual at 1.3%, previous at -1.4%.
We can take away that the European PMI numbers are picking up from where they were last month, with the majority of the European countries beating expectations.
U.S./Americas:
Major U.S. indices had a bit of an up-and-down day, but closed relatively flat this Tuesday. The Dow closed at 25806.63 (-0.05%), the Nasdaq Composite closed at 7576.36 (-0.02%), the S&P 500 closed at 2789.65 (-0.11%), while the Russell 2K led the declines today closing at 1568.28 (-0.45%).
Some earnings continue to trickle in. Target's stock rose over 4% today after announcing higher than anticipated earnings, while Kohl's stock rose over 7% today after beating earnings expectations. These are bright spots in a changing retail landscape.
General Electric continues to be in the news, closing down nearly 5% during after CEO Larry Culp remarked that the company expects negative industrial free cash flow in 2019.
The USD index settled for the day at 96.84 (+0.16%). The USD/CAD rose +0.34% (1.3347).
The Bank of Canada will convene this Wednesday to discuss future rate movement. It is largely expected that Canada will follow the same path as the Federal Reserve by maintaining current interest rates.
Canadian cannabis stocks continue to make new highs as the TSX Composite gained +0.30% (16086.54 close), while the TSX 60 rose +0.29% (959.09 close).
The Bovespa further declined this Tuesday after slipping another -1.03% (94603.75 close).
Energy:
The news emerged that OPEC has decided to push back oil output from April until June. We did not see such a movement in the oils today, with crude oil increasing only 0.03 USD/BBL or 0.05% to 56.53; Brent increased 0.25 USD/BBL or 0.38% to 65.91.
Top commodity losers are Bitumen (-7.05%), Palladium (-1.59%) and Lumber (-3.37%). Gains are led by coffee (2.5%), Wheat (1.62%), Lean Hogs (1.05%) and Gasoline (0.96%).
Bonds:
Spanish 6-month and 12-month Letras Auction sold at -0.375% from previous at -0.372% and -0.312% from -0.307%.
Japan 0.01%(+1bp), US 2's 2.55% (+1bps), US 10's 2.73%(+0bps), US 30's 3.09%(+0bps), Bunds 0.16% (-0bp), France 0.56% (-0bp), Italy 2.73% (-1bp), Turkey 14.76% (+3bp), Greece 3.70% (+3bp), Portugal 1.46% (-2bp), Spain 1.17% (-1bp) and UK Gilts 1.28% (+1bp)