Blog/Market Talk
Posted Mar 4, 2021 by Martin Armstrong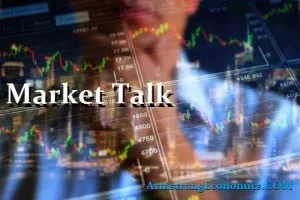 ASIA:
The latest edition of the Heritage Foundation's annual "Index of Economic Freedom," which ranks countries of world's freest economies, released Thursday, saw Hong Kong excluded from the list it once dominated because its policies are "controlled from Beijing, the agency reported. The news comes on the eve of China's annual National People's Congress, which gets underway in Beijing on Friday with greater control over the territory seemingly on the agenda. The United States, its allies and international human rights organizations have heavily criticized China over the law, which they say has undermined the city's autonomy and helped Beijing crush dissent.
The Nikkei/IHS Markit Services survey conducted shows India's dominant services activity grew at its fastest pace in a year last month, driven by an extended robust recovery in domestic demand though input costs rose at the quickest rate in eight years. The Nikkei/IHS Markit Services Purchasing Managers' Index rose to 55.3 last month from 52.8 in January, its highest since February 2020, just before the coronavirus pandemic hit the economy. The economic rebound and the solid recovery in manufacturing activity helped boost the composite PMI to a four-month high of 57.3 in February. Still, services firms reduced headcount at the sharpest pace in three months, signalling the bruised labour market will take more time to fully recover. Firms faced the strongest increase in input costs in eight years but were unable to transfer it on to customers as they tried to maintain their market share and stimulate new orders.
Singapore won't allow diesel-powered cars and taxis to be registered from 2025, five years ahead of previously scheduled, as part of its push to reduce emissions and encourage the adoption of electric vehicles. About 2.9% of passenger cars in Singapore run on diesel, while the proportion is as high as 41.5% for taxis, according to Land Transport Authority figures. Most goods vehicles and buses in the city-state run on diesel and won't be affected by the new rule, announced Thursday by the government.
The major Asian stock markets had a negative day today:
NIKKEI 225 decreased 628.99 points or -2.13% to 28,930.11
Shanghai decreased 73.41 points or -2.05% to 3,503.49
Hang Seng decreased 643.63 points or -2.15% to 29,236.79
ASX 200 decreased 57.30 points or -0.84% to 6,760.70
Kospi decreased 39.50 points or -1.28% to 3,043.49
SENSEX decreased 598.57 points or -1.16% to 50,846.08
Nifty50 decreased 164.85 points or -1.08% to 15,080.75
The major Asian currency markets had a mixed day today:
AUDUSD increased 0.00485 or 0.63% to 0.78083
NZDUSD increased 0.00333 or 0.46% to 0.72665
USDJPY increased 0.53 or 0.49% to 107.59
USDCNY decreased 0.00242 or -0.04% to 6.47572
Precious Metals:
Gold increased 1.66 USD/t oz. or 0.10% to 1,712.61
Silver decreased 0.015 USD/t. oz or -0.06% to 26.064
Some economic news from last night:
Japan:
Foreign Bonds Buying increased from -1,888.7B to -1,719.0B
Foreign Investments in Japanese Stocks decreased from 93.5B to -454.6B
South Korea:
FX Reserves – USD (Feb) increased from 442.73B to 447.56B
CPI (MoM) (Feb) decreased from 0.8% to 0.5%
CPI (YoY) (Feb) increased from 0.6% to 1.1%
GDP (QoQ) (Q4) decreased from 2.1% to 1.2%
GDP (YoY) (Q4) increased from -1.4% to -1.2%
Australia:
Exports (MoM) (Jan) increased from 3% to 6%
Imports (MoM) (Jan) remain the same at -2%
Retail Sales (MoM) (Jan) increased from -4.1% to 0.5%
Trade Balance (Jan) increased from 7.133B to 10.142B
Some economic news from today:
Japan:
Household Confidence (Feb) increased from 29.6 to 33.8
EUROPE/EMEA:
The U.S. will suspend retaliatory tariffs on U.K. products caught up in the longstanding dispute over illegal aid to Boeing Co. and Airbus SE in a boost for post-Brexit Britain's trade agenda. The tariff suspension will last four months to "focus on negotiating a balanced settlement to the disputes," the U.K. government said in a statement on Thursday. The decision means goods like Scotch whisky, biscuits and clotted cream can be imported to the U.S. from Britain without being subject to an additional 25% duty. Removing tariffs on U.K-U.S. commerce has been a priority for Prime Minister Boris Johnson's government as they seek a broader trade deal with President Joe Biden's administration. Britain dropped tariffs on some U.S. products indefinitely in January in a bid to reduce trade tensions.
German Economy Minister Peter Altmaier on Tuesday dashed hopes of business lobby groups for a quick reopening of the economy, saying the country should not rush to ease coronavirus restrictions as this could risk another wave of infections. The minister said he recognized that lots of businesses were desperate for a prospect of an end to the current lockdown, but added that Germany was proceeding with caution for fear of new coronavirus variants in neighboring countries. Altmaier told reporters after the meeting he would work closely together with businesses associations in the coming days on a proposal to set out which sectors should be allowed to re-open and under what conditions.
The major Europe stock markets had a mixed day:
CAC 40 increased 0.59 points or 0.01% to 5,830.65
FTSE 100 decreased 24.59 points or -0.37% to 6,650.88
DAX 30 decreased 23.69 points or -0.17% to 14,056.34
The major Europe currency markets had a mixed day today:
EURUSD decreased 0.00189 or -0.16% to 1.20334
GBPUSD increased 0.00568 or 0.41% to 1.39889
USDCHF increased 0.00641 or 0.70% to 0.92636
Some economic news from Europe today:
Germany:
IHS Markit Construction PMI (Feb) decreased from 46.6 to 41.0
Euro Zone:
Retail Sales (MoM) (Jan) decreased from 1.8% to -5.9%
Retail Sales (YoY) (Jan) decreased from 0.9% to -6.4%
Unemployment Rate (Jan) remain the same at 8.1%
UK:
Construction PMI (Feb) increased from 49.2 to 53.3
US/AMERICAS:
Inflation in the US is expected to rise, according to an announcement by Federal Reserve Chairman Jerome Powell this Thursday. Powell said that as the national economy begin to reopen, "we will see inflation move up through base effects. That could create some upward pressure on prices." Although the decision-making branch of the Federal Reserve is expected to meet in two weeks, Powell said he does not foresee interest rates rising at all this year until employment and inflation are back to sustainable levels. In yesterday's Beige Book release, the central bank stated that employment is of utmost concern for the US to make a full recovery,
Many Americans are in for an unpleasant surprise this tax season once they realize that the IRS is taxing unemployment benefits. Worse, while some states allowed those receiving unemployment benefits to withhold 10% in unemployment taxes, numerous states only withheld benefits on standard unemployment benefits and not the added stimulus provided under the CARES act. A recent survey by Jackson Hewitt shows that around 39% of Americans did not realize their unemployment benefits were considered income by the IRS and therefore taxable. Certain states, such as Delaware and Maryland, recently passed laws to waive the additional tax and more states are expected to follow.
A C$1.2 billion class-action lawsuit has been filed against Canadian-based RBC Dominion Securities for allegedly failing to give employees vacation pay. Leigh Cunningham of Winnipeg initially filed the lawsuit in December after noticing she had not been paid her full vacation pay in decades. RBC Insurance Communications Director Greg Skinner stated "everyone who works at any RBC company is fairly compensated. The policies that apply to the employees involved in the action state that their compensation includes vacation pay and statutory holiday pay." Still, numerous corporations may now come under fire.
US Market Closings:
Dow declined 345.95 points or -1.11% to 30,924.14
S&P 500 declined 51.25 points or -1.34% to 3,768.47
Nasdaq declined 274.28 points or -2.11% to 12,723.47
Russell 2000 declined 60.87 points or – 2.76% to 2,146.92
Canada Market Closings:
TSX Composite declined 194.95 points or -1.06% to 18,125.72
TSX 60 declined 10.53 points or -0.97% to 1,079.69
Brazil Market Closing:
Bovespa advanced 1,506.22 points or 1.35% to 112,690.17
ENERGY:
The oil markets had a mixed day today:
Crude Oil increased 3.42 USD/BBL or 5.58% to 64.6900
Brent increased 3.5 USD/BBL or 5.46% to 67.5700
Natural gas decreased 0.059 USD/MMBtu or -2.10% to 2.7570
Gasoline increased 0.067 USD/GAL or 3.43% to 2.0188
Heating oil increased 0.0748 USD/GAL or 4.07% to 1.9105
Top commodity gainers: Crude Oil (5.58%), Brent (5.46%), Gasoline (3.43%) and Heating Oil (4.07%)
Top commodity losers: Cocoa (-4.25%), Copper (-2.22%), Nickel (-8.20%), and Natural Gas (-2.10%)
The above data was collected around 12:24 EST on Thursday.
BONDS:
Japan 0.14%(+2bp), US 2's 0.00%(+0.00%), US 10's 1.51%(+4bps); US 30's 2.00%(+0.04%), Bunds -0.31% (+2bp), France -0.06% (-1bp), Italy 0.75% (-1bp), Turkey 13.27% (+21bp), Greece 0.97% (-2bp), Portugal 0.30% (+2bp); Spain 0.41% (+0bp) and UK Gilts 0.74% (-4bp).
Japan 30-Year JGB Auction increased from 0.662% to 0.691%
French 10-Year OAT Auction increased from -0.25% to -0.07%
Spanish 10-Year Obligacion Auction increased from 0.271% to 0.350%
Spanish 5-Year Bonos Auction increased from -0.360% to -0.250%
UK 10-Year Treasury Gilt Auction increased from 0.441% to 0.868%
US 4-Week Bill Auction decreased from 0.035% to 0.030%
US 8-Week Bill Auction decreased from 0.040% to 0.035%