Blog/Market Talk
Posted Mar 4, 2019 by marty armstrong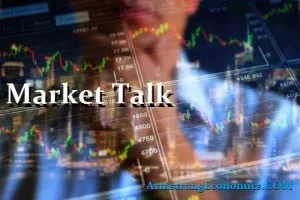 Asia:
China has accused two Canadian's of spying in what seems as to be retaliation of the extradition of Huawei executive to the US. Tensions seems to be escalating between the two countries. Huawei Meng Wanzhou, in turn, sued Canada for violation of human rights. Ironically, there are now hopes for a conclusion to the US-China trade deal by months-end due to the largely positive sentiment on both sides in recent weeks. Most of the major Asian stocks increased today, Shanghai added 33.57(1.12%) to 3,028, NIKKEI225 increased 219.35(1.02%)to 21,822, Hang Seng and ASX200 increased 147.42(0.51%) and 24.70(0.40%) to 28,960 and 6,217 respectfully. Kospi took the opposite route, losing 4.78(-0.22%) to 2,191.
Not so much volatility with the Asian currencies against the USD today with the majority of markets remaining flat. The AUD and NZD were relatively flat against the USD quoted at 0.7082 and 0.6801 respectfully. CNY was the same at 6.7113. The JPY 0.12% to 111.7660.
The negative trend in Gold and Silver persisted today. Gold decreased 6.37 USD/t oz. or 0.49% to 1,285.89 and Silver decreased 0.11 USD/t. oz or 0.74% to 15.12.
Economic news over the weekend from Asia and Pacific area:
Japan's Monetary Base (YoY) actual at 4.6%, higher than expectation 4.5% but lower than previous 4.7%.
South Korea's Nikkei Manufacturing PMI (Feb) actual at 47.2, lower than previous 48.3.
Economic news, with Singapore, China and Hong Kong releasing their PMI numbers:
Singapore 's Manufacturing PMI (Feb) actual at 50.4, lower than previous at 50.7.
China- Caixin Services PMI (Feb) previous was at 53.6, expected a small increase at 53.5.
Hong Kong 's Manufacturing PMI (Feb) was at 48.2.
Australia's RBA Interest Rate Decision (Mar) forecast at 1.5%, same as previous.
Europe:
Not too much in the way of European news today. The markets were pretty reflective of this not being drawn in any particular direction. CAC 40 and FTSE 100 increased 21 points or 0.39% to 5286 and 26 points or 0.36% to 7133 respectfully. However, DAX drifted down 9 points or 0.08% to 11592.
All the major European currencies dropped against USD: The EUR decreased 0.0043 or 0.38% to 1.1331 and the GBP decreased 0.0028 or 0.21% to 1.3174. The USDCHF increased 0.0010 or 0.10% to 0.9998.
Economic figures from Europe:
UK's Construction PMI (Feb) actual at 49.5, lower than previous 50.6.
The Spanish Unemployment Change actual at 3.3K, lower than previous 83.5K.
The Euro zone PPI (MoM) (Jan) actual at 0.4% higher than previous -0.8%.
The PPI (YoY) (Jan) actual at 3.0%, same as previous.
U.S./Americas:
Wall Street had one of the more active days in a while today, as early gains turned into notable declines, and then back again. The Dow led the way on today's trading roller-coaster, being up over 100 points in the morning, then dropping more than 400 points in midday trading before closing down just over 200 points at 25819.65 (-0.79%). After being down over 30 points at its low, the S&P 500 closed down just over 10 points for the day (2792.81 close, -0.39%) – breaking the psychological 2800 mark that investors cheered last week. The Nasdaq also closed up from its lows of the day (7577.57 close, -0.23%), while the Russell 2K had the worst close of the day on a percentage basis (1575.44 close, -0.89%).
The Commerce Department released disappointing data today, noting that construction spending declined 0.6% in December, and closing the year with a 4.1% increase – the weakest yearly performance since 2011. The overall GDP for Q4 was first released at 2.6%, but this announcement may cause a decline in overall growth once revised. Construction spending data, along with other important figures, were delayed this year due to the five-week partial government shutdown.
Despite the day-to-day noise so far this year (mixed economic data, government shutdown, US-China trade watch, etc), equities have performed quite well in the early part of the year. The S&P 500 is coming off its best start since 1991 through the first two months of the year, after posting an 11.5% gain. We'll see what March brings, but we've already warned that 2019 in general will likely be a bumpier ride than 2018.
The USD Index rose +0.09% this Monday, as the greenback continues to rise.
The Canadian markets fared slightly better than their southern companion, albeit still closing in the red. The TSX Composite closed the day at 16038.13 (-0.19%), while the TSX 60 closed Monday at 956.30 (-0.20%).
And in South America, Brazil's Bovespa declined -1.03% today, closing at 94603.75.
Energy:
The OPEC cut its production and expectation for further growth in the global manufacturing sector. Due to Chinese trade optimism, oil prices were in the green today.
Crude Oil increased 0.30 USD/BBL or 0.54% to 56.14 and Brent 0.10 USD/BBL or 0.15% to 65.28.
Top commodity losers are Lumber (-3.64%); platinum (-2.06%); sugar (-1.66%) ; Gains are led by Bitumen(4.36%) and Naphtha(2.47%).
Bonds:
A few auctions today, with the Japanese JGB issuing its 10-year bonds for -0.013%. US 3 and 6 months were issued at 2.410% and 2.460% respectfully, up slightly from previous. French 3,6 and 12-month BTF at -0.518%, -0.530% and -0.510%, demonstrating some curve flattening.
Japan 0.00%(+1bp), US 2's 2.55% (-0bps), US 10's 2.73%(-3bps), US 30's 3.10%(-2bps), Bunds 0.16% (-3bp), France 0.56% (-1bp), Italy 2.74% (+0bp), Turkey 14.74% (+3bp), Greece 3.67% (+3bp), Portugal 1.47% (-2bp), Spain 1.18% (-3bp) and UK Gilts 1.28% (-2bp).