Blog/Market Talk
Posted Mar 30, 2020 by Martin Armstrong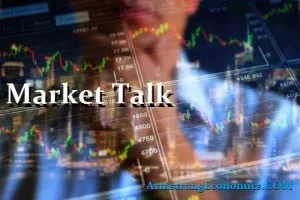 ASIA:
Prime Minister Narendra Modi sought forgiveness from the nation's poor for his 21-day nationwide lockdown. During his address on national radio on Sunday, PM Modi said there was no other option to control this pandemic. The nation-wide lockdown has resulted in the mass exodus of hundreds of thousands of migrant laborers working in the big cities of India to their native villages. The government has failed to provide adequate transport medium for these workers.
The nationwide shutdown in India because of coronavirus has left some of the world's biggest outsourcing companies racing to maintain services for global clients. Tata Consultancy Services and Infosys, India's two largest IT services companies, who provide back-office operations for many of the world's largest corporations, from banks to manufactures to pharmaceuticals, said in a statement that 80% of their workforce is working from home to provide uninterrupted support to their clients.
US senator Sen. Josh Hawley is calling for an international investigation into the Chinese government's handling of the coronavirus outbreak, and he wants Beijing to pay for the damages the pandemic has inflicted around the world. Hawley introduced a resolution in the Senate last Tuesday asking the United States and other countries to investigate how the Chinese government's actions could have contributed to the spread of the coronavirus.
A number of European governments have rejected Chinese-made equipment designed to combat the coronavirus outbreak. The Dutch health ministry announced it had recalled 600,000 face masks as the masks did not fit and their filters did not work as intended, even though they had a quality certificate. Spain's government encountered similar problems with testing kits ordered from a Chinese company. The Spanish embassy in China tweeted that the company behind the kits, Shenzhen Bioeasy Biotechnology, did not have an official license from Chinese medical authorities to sell its products.
A high court in Singapore has dismissed the appeal to make gay sex legal in the country. The presiding judge said the law was "important in reflecting public sentiment and beliefs" in Singapore. In Singapore, under Section 377A, men found guilty of homosexual acts in public or private can be jailed for up to two years. Singapore's leaders, including its current prime minister, have also refused to remove it, saying it reflects the conservative mores of the city state's society.
The major Asian stock markets had a mixed day today:
NIKKEI 225 decreased 304.46 points or -1.57% to 19,084.97
Shanghai decreased 24.99 points or -0.90% to 2,747.21
Hang Seng decreased 309.17 points or -1.32% to 23,175.11
ASX 200 increased 339.00 points or 7.00% to 5,181.40
Kospi decreased 0.61 points or -0.04% to 1,717.12
SENSEX decreased 1,375.27 points or -4.61% to 28,440.32
The major Asian currency markets had a mixed day today:
AUDUSD decreased 0.00132 or -0.21% to 0.61468
NZDUSD decreased 0.00507 or -0.84% to 0.59923
USDJPY increased 0.1 or 0.09% to 108.06
USDCNY increased 0.03349 or 0.47% to 7.11989
Precious Metals:
Gold decreased 4.4 USD/t oz. or -0.27% to 1,618.90
Silver decreased 0.472 USD/t. oz or -3.28% to 13.9300
EUROPE/EMEA:
The European markets moved up slightly after having a difficult morning. All major European markets closed higher.
EU leaders are having difficulties moving forward in unison after Germany and a few northern European countries rejected the "coronabonds" as a viable method to inject money back into the economy. Italian leaders questioned the viability of the Union and whether countries such as Germany are not able to see the interests of southern countries.
Today saw the first meeting between the UK and EU regarding post-Brexit matters via video conference. Many European leaders have called for an extension to the 12-month transition period due to the disruption of the virus.
The EU brought forward initiatives to help the economy during this period, one was easing stress on the airline industry by not requiring airlines to use all available slots, thus not operating near-empty flights. Also, the EU will pump 37 billion Euros to the worst hit areas as aid.
The major Europe stock markets had a green day today:
CAC 40 increased 27.02 points or 0.62% to 4,378.51
FTSE 100 increased 53.41 points, or 0.97% to 5,563.74
DAX 30 increased 183.45 points or 1.90% to 9,815.97
The major Europe currency markets had a mixed day today:
EURUSD decreased 0.00968 or -0.87% to 1.10382
GBPUSD decreased 0.006 or -0.48% to 1.23910
USDCHF increased 0.00842 or 0.89% to 0.95932
Some economic news from Europe today:
Swiss:
KOF Leading Indicators (Mar) decreased from 101.8 to 92.9
Spain:
Spanish CPI (YoY) decreased from 0.7% to 0.1%
Spanish CPI (MoM) decreased from -0.1% to -0.3%
Spanish HICP (YoY) (Mar) decreased from 0.9% to 0.2%
Spanish HICP (MoM) increased from -0.1% to 0.7%
Spanish Retail Sales (YoY) (Feb) increased from 1.7% to 1.8%
Spanish Business Confidence decreased from -3.9 to -7.0
Germany:
German CPI (MoM) (Mar) decreased from 0.4% to 0.1%
German CPI (YoY) (Mar) decreased from 1.7% to 1.4%
German HICP (MoM) (Mar) decreased from 0.6% to 0.1%
German HICP (YoY) (Mar) decreased from 1.7% to 1.3%
UK:
BoE Consumer Credit (Feb) decreased from 1.107B to 0.900B
M4 Money Supply (MoM) (Feb) decreased from 0.7% to 0.3%
Mortgage Approvals (Feb) increased from 71.34K to 73.55K
Mortgage Lending (Feb) increased from 3.95B to 4.00B
Net Lending to Individuals increased from 5.1B to 5.2B
Euro Zone:
Business and Consumer Survey (Mar) decreased from 103.4 to 94.5
Business Climate (Mar) decreased from -0.06 to -0.28
Consumer Confidence (Mar) decreased from -6.6 to -11.6
Consumer Inflation Expectation (Mar) increased from 21.1 to 23.0
Selling Price Expectations (Mar) decreased from 3.5 to -0.7
Services Sentiment (Mar) decreased from 11.1 to -2.2
Industrial Sentiment (Mar) decreased from -6.2 to -10.8
US/AMERICAS:
The US extended their social distancing guidelines until April 30. President Trump had hoped to end the restrictions on Easer (April 12) but it seems that is no longer a possibility as new data suggests the virus may peak in the US in two weeks. "By June 1, we will be well on our way to recovery," President Trump stated this Sunday.
The St. Louis Federal Reserve is predicting a steep decline in unemployment — 47 million or 32.1%. In an interview last week with CNBC, St. Louis Fed President James Bullard predicted the unemployment rate rapidly rising to 30%. "This is a special quarter, and once the virus goes away and if we play our cards right and keep everything intact, then everyone will go back to work and everything will be fine," Bullard said after also predicting this period to be followed by a "boom quarter" of increased production and employment.
The race is on to find a vaccine for the coronavirus. Johnson & Johnson (J&J) announced today that they are teaming up with the Biomedical Advanced Research and Development Authority (BARDA) and drug manufacturer Moderna to produce a vaccine. Moderna began live testing a vaccine earlier in the month, and BARDA plans to issue the company an undisclosed amount of funds to expedite the process. J&J negotiated a $1 billion deal with BARDA to provide vaccine manufacturing. J&J stock rose 8% this Monday while Moderna advanced 1.43%.
Venezuelan President Nicolás Maduro firmly denied the US' narco-terrorism allegations. Maduro had harsh words for President Trump, and hinted at potentially threating military action upon learning of his $15 million bounty. "While the Venezuelan people suffer, this cabal lines their pockets with drug money, and the proceeds of their corruption. And this has to come to an end," US Attorney General William Barr stated last week. Worsening international relations, Russia and China both pledge humanitarian aid to Venezuela.
US Market Closings:
Dow advanced 690.70 points or 3.19% to 22,327.48
S&P 500 advanced 85.18 points or 3.35% to 2,626.65
Nasdaq advanced 271.77 points or 3.62% to 7,774.15
Russell 2000 advanced 26.33 points or 2.33% to 1,158.32
Canada Market Closings:
TSX Composite advanced 350.76 points or 2.76% to 13,038.50
TSX 60 advanced 26.48 points or 3.43% to 798.60
Brazil Market Closing:
Bovespa advanced 1,210.70 points or 1.65% to 74,639.48
ENERGY:
Crude markets moved down 6%, with WTI closing just above the 20 USD mark. The big news of the day was Saudi agreeing to increase production by 600k barrels per day in May.
The oil markets had a mixed day today:
Crude Oil decreased 1.33 USD/BBL or -6.18% to 20.1800
Brent decreased 2.19 USD/BBL or -8.78% to 22.7400
Natural gas increased 0.024 USD/MMBtu or 1.26% to 1.9310
Gasoline decreased 0.009 USD/GAL or -1.33% to 0.6654
Heating oil decreased 0.0471 USD/GAL or -4.36% to 1.0332
Top commodity gainers: Palm Oil (1.11%), Natural Gas (1.26%), Palladium (1.75%), and Coffee (2.55%)
Top commodity losers: Lean Hogs (-7.15%), Lumber (-4.59%), Brent (-8.78%), and Crude Oil (-6.18%)
The above data was collected around 14.48 EST on Monday.
BONDS:
Japan 0.01%(+0bp), US 2's 0.23% (-3bps), US 10's 0.63%(-11bps); US 30's 1.21%(-13bps), Bunds -0.53% (-5bp), France -0.10% (-3bp), Italy 1.50% (+17bp), Turkey 13.13% (+27bp), Greece 1.64% (+6bp), Portugal 0.68% (+5bp); Spain 0.61% (+7bp) and UK Gilts 0.33% (-3bp).
US 3-Month Bill Auction increased from 0.000% to 0.085%
US 6-Month Bill Auction increased from 0.080% to 0.100%
French 3-Month BTF Auction increased from -0.528% to -0.486%
French 6-Month BTF Auction increased from -0.535% to -0.478%
French 12-Month BTF Auction increased from -0.534% to -0.494%