Blog/Market Talk
Posted Mar 30, 2017 by Martin Armstrong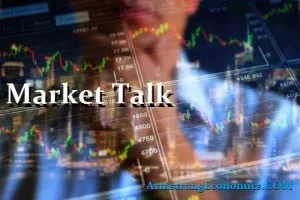 It was all reverse today with the DXY trading above par, the JPY back into mid 111's, and stocks all negative after the BREXIT concerns were claimed. Asian investors, like many Western investors, continue to look for safe-havens as the geopolitical landscape looks increasingly uncertain. Stocks lost ground today with all core down around -0.75%, with money finding its way into fixed-income, but also USD's. Markets appear to be juggling the fact that rate increases in the states are actually positive for the stock market together with the currency. A move into this has helped the treasury curve flatten recently but weighed on commodities. Meanwhile in China, the PBOC is expected to raise the cost of short-term funds again later in the year. This rumor continues to play in Asia.  In late trading the CNH is weaker at 6.885.
Today,  currency was the talk in Europe rather than anything else. Although, there was talk of the Bund markets reluctance to sympathize with Treasuries, watching that spread trade wider yet again. Following the Euros -0.65% decline core equity markets returned a +0.5% gain. Many in the market placed blame for the Euro weakness firmly with the ECB after they reiterated their plans to keep the easy money policy around for a while yet! Economic data released earlier supported market actions after the German CPI disappointed at 1.6% (against an expected 1.9%) while the US Claims number came in higher than expected and GDP a tad stronger at 2.1%.
US markets opened strong, faded mid-session and then closed at the highs of the day and were led by Energy and Banks. It was an emotional days trading, said one dealer, after the news yesterday that main players are turning to AI and away from personalized decision making. Dealers are now feeling the heat and are having to pitch their skills against machines. Volatility is still way down as is volume but the best performing sector has been tech for this quarter. Banks had a tremendous start to the year, but lost all of those gains and is closing around 3% lower.
2's closed 1.28% (+1bp), 10's 2.41% (+3bp), Bunds 0.33% (-1bp) which closes the spread +208bp – thanks to ECB its rumored. France 0.94% (+2bp), Italy 2.13% (+2bp), Greece 6.75% (-5bp), Turkey 10.69% (-7bp), Portugal 3.90% (-5bp) and Gilts 1.12% (-3bp).