Blog/Market Talk
Posted Mar 3, 2020 by Martin Armstrong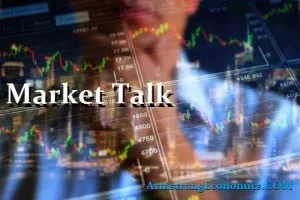 ASIA
The United Nations High Commissioner for Human Rights (UNHRC) has filed an intervention in the Indian Supreme Court on the Citizenship Amendment Act (CAA) and informed India's Permanent Mission in Geneva about it, India's Ministry of External Affairs said. This means that the global human rights body wants to be made a party in the existing pleas filed against the CAA in the Supreme Court. India maintained that the CAA is an "internal matter" and concerns the sovereign right of the Indian Parliament to make laws.
Major international banks such as Citigroup, Deutsche Financial Institution, and HSBC have betted on the native lenders to take a position in a market that has a lengthy held promise but tended to under-deliver. Easing laws and a surge in online banking are driving the change, with a number of abroad lenders growing funding plans for India to win prosperous shoppers away from home rivals, senior bankers instructed. As per Deloitte India, with transaction banking going very sturdy and retail banking choosing up the tempo, a lot of foreign banks globally at the moment are specializing in India and registering higher efficiency.
Major markets in Asia attempted to bounce back on Monday after sharp losses last week, even though Chinese manufacturing data released over the weekend and on Monday came in much worse than expected. Chinese stocks surged beyond 3% despite factory activity performing below expectations. Data released by the National Bureau of Statistics on Saturday showed the official PMI falling to 35.7 in February. Meanwhile, the "bad" Chinese PMI numbers have also raised expectations that the People's Bank of China could take action.
Nikkei 225 in Japan recovered from an earlier slip to rise 0.95% on the day to 21,344.08. Shares of Sharp were up 2.2% following reports from Japanese media late last week that the firm is set to start making face masks amid a shortage caused by the coronavirus outbreak.
The major Asian stock markets had a mixed day today:
NIKKEI 225 decreased 261.35 points or -1.22% to 21,082.73
Shanghai increased 21.97 points or 0.74% to 2,992.90
Hang Seng decreased 6.86 points or -0.03% to 26,284.82
ASX 200 increased 44.20 points or 0.69% to 6,435.70
Kospi increased 11.64 points or 0.58% to 2,014.15
SENSEX increased 479.68 points or 1.26% to 38,623.70
The major Asian currency markets had a mixed day today:
AUDUSD increased 0.0058 or 0.88% to 0.6599
NZDUSD increased 0.0031 or 0.50% to 0.6294
USDJPY decreased 1.35 or -1.25% to 106.94
USDCNY decreased 0.0032 or 0.05% to 6.9528
Precious Metals:
Gold increased 50.8 USD/t oz. or 3.19% to 1,642.85
Silver increased 0.4001 USD/t. oz or 2.38% to 17.2200
Some economic news from last night:
South Korea:
CPI (MoM) (Feb) decreased from 0.6% to 0.0%
CPI (YoY) (Feb) decreased from 1.5% to 1.1%
GDP (YoY) (Q4) increased from 2.0% to 2.3%
GDP (QoQ) (Q4) increased from 0.4% to 1.3%
Japan:
Monetary Base (YoY) increased from 2.9% to 3.6%
Australia:
HIA New Home Sales (MoM) increased from 2.0% to 5.7%
Building Approvals (MoM) (Jan) decreased from 3.9% to -15.3%
Current Account (Q4) decreased from 6.5B to 1.0B
Net Exports Contribution (Q4) decreased from 0.2% to 0.1%
Private House Approvals (Jan) decreased from 1.0% to 0.3%
RBA Interest Rate Decision (Mar) decreased from 0.75% to 0.50%
Some economic news from today:
Japan:
Household Confidence (Feb) decreased from 39.1 to 38.4
Singapore:
Manufacturing PMI (Feb) decreased from 50.3 to 48.7
New Zealand:
GlobalDairyTrade Price Index increased from -2.9% to -1.2%
EUROPE/EMEA:
Italy's large elderly population poses a challenge in slowing the number of coronavirus deaths in the worst-affected country in Europe. The virus has killed 79 people in Italy, all aged between 63 and 95 with underlying serious illnesses. The death toll, provided by officials on Tuesday night, marked an increase of 27 in 24 hours. Twenty-three percent of the Italian population is over 65, making it the oldest in the world after Japan.
France's education minister, Jean-Michel Blanquer, said around 120 schools have been ordered to close, most in Brittany and the Oise region north of Paris, which have been hit hard by COVID-19, the disease caused by the new coronavirus. He also told that there is a possibility that more schools could close and confirmed that he had ordered a freeze on all school trips. But he cautioned against rushing to a general shutdown of the education system.
Germany is taking its first steps to build an economy based on hydrogen instead of fossil fuels. The nation is seeking to deliver both green growth and to avoid being trapped by a small cartel of suppliers. Chancellor Angela Merkel government is looking to meet goals under the Paris Agreement on climate change.
The major Europe stock markets had a green day today:
CAC 40 increased 59.66 points or 1.12% to 5,393.17
FTSE 100 increased 63.31 points, or 0.95% to 6,718.20
DAX 30 increased 127.52 points or 1.08% to 11,985.39
The major Europe currency markets had a mixed day today:
EURUSD increased 0.004 or 0.36% to 1.11880
GBPUSD increased 0.0034 or 0.27% to 1.2803
USDCHF decreased 0.0012 or 0.12% to 0.9570
Some economic news from Europe today:
Swiss:
GDP (QoQ) (Q4) decreased from 0.4% to 0.3%
GDP (YoY) (Q4) increased from 1.1% to 1.5%
France:
French Government Budget Balance (Jan) increased from -92.8B to -20.0B
Spain:
Spanish Unemployment Change decreased from 90.2K to -7.8K
Italy:
Italian Monthly Unemployment Rate (Jan) remain the same at 9.8%
UK:
Construction PMI (Feb) increased from 48.4 to 52.6
Euro Zone:
Core CPI (MoM) (Feb) increased from 0.1% to 0.4%
Core CPI (YoY) (Feb) increased from 1.1% to 1.2%
CPI (YoY) (Feb) decreased from 1.4% to 1.2%
CPI (MoM) (Feb) increased from -1.0% to 0.2%
CPI ex Tobacco (MoM) (Feb) increased from -1.0% to 0.4%
CPI ex Tobacco (YoY) (Feb) increased from 1.3% to 1.4%
CPI, n.s.a (Feb) increased from 104.37 to 104.59
HICP ex Energy & Food (YoY) (Feb) increased from 1.3% to 1.4%
HICP ex Energy and Food (MoM) (Feb) increased from -1.3% to 0.4%
PPI (MoM) (Jan) increased from 0.1% to 0.4%
PPI (YoY) (Jan) increased from -0.6% to -0.5%
Unemployment Rate (Jan) remain the same at 7.4%
US/AMERICAS:
The Federal Reserve dropped rates 50 bps this Tuesday in an emergency move to curtail the damage from the coronavirus sell-off. In its first emergency rate cut since the 2008 Great Recession, the Fed dropped the benchmark to a range of 1% to 1.25%. "The spread of the coronavirus has brought new challenges and risks," Federal Reserve Chairman Jerome Powell stated during a press conference. Although he maintains that the US economy remains strong, Powell stated that the effects of the coronavirus will "weigh on economic activity, both here and abroad, for some time." The decision to drop rates was unanimous among Federal Open Market Committee (FOMC) voters who are due to meet again later in the month. Numerous analysts anticipate that the FOMC will vote to drop rates yet again during their next meeting.
President Donald Trump took to Twitter to encourage the Federal Reserve to drop rates further. Chairman Powell addressed the expected criticism, "We're never going to consider any political considerations whatsoever. It's very important for the public to understand that."
G7 finance ministers met to discuss containing the outfall of the coronavirus on the global economy. "G7 finance ministers are ready to take actions, including fiscal measures where appropriate, to aid in the response to the virus and support the economy during this phase. G7 central banks will continue to fulfill their mandates, thus supporting price stability and economic growth while maintaining the resilience of the financial system," the US Treasury issued a statement.
Brazil saw a $3.1 billion trade surplus this February, doubling Reuters economists' expectations of a $1.5 billion surplus. Undersecretary for foreign trade statistics Herlon Brandão said that the effects of the coronavirus "is probably gradual and is heterogeneous across sectors." Brandao said that the effects of the virus may be felt in March, but February's figures showed no signs of contraction. In fact, exports increased last month by 15.5% YoY and imports jumped 16.7% YoY.
US Market Closings:
Dow declined 785.91 points or -2.94% to 25,917.41
S&P 500 declined 86.86 points or -2.81% to 3,003.37
Nasdaq declined 268.08 points or -2.99% to 8,684.09
Russell 2000 declined 32.41 points or -2.13% to 1,486.08
Canada Market Closings:
TSX Composite declined 129.64 points or -0.78% to 16,423.62
TSX 60 declined 9.54 points or -0.96% to 979.43
Brazil Market Closing:
Bovespa declined 1,088.27 or -1.02% to 105,537.14
ENERGY:
The oil markets had a mixed day today:
Crude Oil increased 0.1342 USD/BBL or 0.29% to 46.9000
Brent decreased 0.4586 USD/BBL or -0.88% to 51.5900
Natural gas increased 0.032 USD/MMBtu or 1.71% to 1.8980
Gasoline decreased 0.0333 1USD/GAL or -2.16% to 1.5063
Heating oil decreased 0.0408 USD/GAL or -2.62% to 1.5159
Top commodity gainers: Gold (3.19%), Ethanol (7.63%), Palm Oil (3.48%), and Coffee (4.06%)
Top commodity losers: Gasoline (-2.16%), Heating Oil (-2.62%), Cotton (-2.49%), and Lumber (-3.46%)
The above data was collected around 14.25 EST on Tuesday.
BONDS:
Japan -0.10%(-4bp), US 2's 0.69% (-20bps), US 10's 1.00%(-9bps); US 30's 1.69%(-2bps), Bunds -0.62% (-1bp), France -0.24% (-4bp), Italy 1.01% (-14bp), Turkey 12.08 % (-34bp), Greece 1.28% (-7bp), Portugal 0.22% (-9bp); Spain 0.20% (-9bp) and UK Gilts 0.39% (-3bp).
Japan 10-Year JGB Auction decreased from -0.051% to -0.100%
Spanish 6-Month Letras Auction decreased from -0.476% to -0.509%
Spanish 12-Month Letras Auction decreased from -0.454% to -0.497%