Blog/Market Talk
Posted Mar 3, 2017 by Martin Armstrong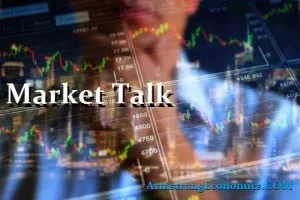 Yen weakness continues to push the Nikkei, which helped the exporters but also the inflation outlook appears more positive. Todays CPI release was came in a smidgen better than the zero forecast at 0.1%, with National at 0.4%. In Shanghai and in the Hang Seng we saw declines ahead of Janet Yellen speech later in the US day but also on Sunday China's government top advisory body starts Sunday. Will be interesting to see what their growth projection number will be! Headlines from that will probably commence ahead of market opening Monday morning. In late US trading all core Asian futures were 0.2%-0.6% better.
We saw IBEX and CAC close roughly up +0.7% whilst DAX and FTSE both ended lower around -0.2%. French market continue to move on political headlines but we have seen a small narrowing of the OAT/Bund spread after the recent move. Le Pen remains the wild card and as we saw in the UK and the States markets will not believe until they see it. Inflation data was better than the previous 1.8% releasing at 2%. Janet Yellen is to speak later this evening in Chicago and so core are happy for a quiet ending for the Friday afternoon trade.
We saw a weaker opening for the US indices as we awaited Janet Yellen's Chicago speech and even that only confirmed what they had alluded to. The beginning of the week the market mutter was it could be a bluff, then midweek Duffy and others mentioned a hike in passing and today we probably heard the confirmation. Next week we see the NFP's and a release anything close to the headline expected (+190k) will confirm the following weeks detail. Stocks today climbed from early losses but then so did treasury prices (higher prices mean lower yields).
2's closed unchanged at 1.31%, 10's also unchanged at 2.48%. Bunds however, are starting to lose ground rallying 4bp today to close 0.35%; that closes the US/Germany spread at +213bp. France 10's closed 0.93% (+1bp), Italy 2.09% (-3bp), Greece 6.86% (+5bp), Turkey 10.97% (+21bp) and Gilts 1.18% (-3bp). As we are approaching the next move for the FED the peripheral plays will probably take centre stage next week especially as Bunds are starting to lose their dominance.