Blog/Market Talk
Posted Mar 28, 2016 by Martin Armstrong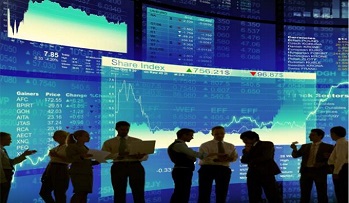 The Nikkei was the bright spot in Asian equity markets today closing up 0.8% whilst the JPY decline would have cost 0.3% of that gain. It was far better than the declines we saw in mainland China which closed -1.7%. Yuan gained small ground today and was last seen 6.5212. Given the majority of the markets were closed Friday and many remained closed today, volumes were expectedly light. In late US trading the China 300 (futures) trades +0.7% higher than the cash close earlier today.
European futures were in play today with DAX eventually losing a lot of the recovered ground in the morning session only to close the day small down. Volumes were again very light but that is to be expected when core markets are absent. Most core cash markets closed.
Stocks in the US were quiet also trading within a very tight range. This ahead of a very busy week of speakers, data and supply. Oil was down around 0.8% at one stage but that came back into line just by the close. Gold saw a $7 rally to close $1220 around the highs of the day.
US Treasuries gained (in price, lower yield) ahead of tomorrow speech by FED Chair Janet Yellen but also after supply. Earlier we saw $26bln of 2yr notes at an average yield of 0.877%. The bid to cover was only 2.58%, lowest in over 8yrs. 10yr notes also better bid on the day closing 1.88% (-2bp from last week). The curve 2/10 closed 101bp (2bp flatter than last Thursday. We have had a few FED speakers recently alluding to an April rate increase so the market will listen with bated breath as Yellen speaks tomorrow on economic and monetary policy.
USD suffered a little today after softer economic data than expected. Inflation cooled last month dipping 0.1% in Consumer Spending after a +0.1% release in January. We await further direction tomorrow but todays was a reason the DXY lost 0.3%. Core losses were against GBP and Swiss 0.75% and 0.5% respectively.
Gold opened below our opening pivot and traded up to it to test resistance after making a new low this week from the March high. We remain in a critical staging position in many markets as we approach the end of the first quarter on Thursday. We have reached the point of no return which separates the men from the boys in many markets. The Fed is still struggling between surrendering its domestic policy objectives for international policy lobbying. With capital still in flight to the dollar overall as evidenced by the Dow not penetrating last year's low compared to the S&P500 and the NASDAQ and the BREXIT vote coming up as the European Migrant Invasion continues to tear the EU apart at the seams, the Fed will have to deal with the consequences of international political chaos impacting capital flows.