Blog/Market Talk
Posted Mar 28, 2017 by Martin Armstrong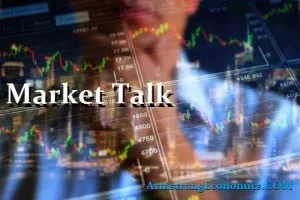 An impressive performance on Monday for US core indices as they recovered into the close that lead to a bounce for Asia and the return of Yen weakness. With healthy gains being made from Financials and Basic Resources the Nikkei made an impressive 1.1% clawing back much of Mondays losses. With the rally so came the return of confidence accompanied by a bounce in the DXY. The energy market remained heavy in Asian trading but many were looking for headlines coming from OPEC. These were to come but not until later in the western trading day. The Hang Seng also enjoyed the bounce whilst the Shanghai index traded heavy again.
Europe also enjoyed the enthusiasm rolled from Asia despite the concerns over what Wednesdays BREXIT event may incur. The USD continued its run into the European session with losses coming from GBP, EURO and CHF mostly on the back of strong Consumer Confidence data release. Expected at 114 for March the number came-in at 125.4. Wednesday the UK PM Theresa May will contact (via a letter) Donald Tusk and then address Parliament of the notification. This is the first time any country has invoked the Article but the markets will be sure to respond to any headline. Todays weakness in GBP (-0.8%) is probably to be expected but rumours were around that there had been one large support bid – at times. All core indices closed around 1% higher on the day.
US loved the Confidence release and saw its largest one day bounce in a few weeks. Again, Basic Resources, Financials and Autos were the big gainers with energy on the back of a rumoured H2 OPEC cut and talk of a pipeline closure in Libya. All core indices closed around +0.6% firmer on the day coupled with solid currency gains.
2's closed 1.30% (+5bp) and 10's 2.42% (also +5bp), Bunds closed 0.38% (-2bp) taking the spread to +204bp. France 0.95% (-2bp), Italy 2.14% (-3bp), Greece 6.94% (-17bp), Turkey 10.63% (+4bp), Portugal 4.01% (-2bp) and Gilts 1.19% (+3bp). The big buyer continues to play the lead role so will be interesting where we go from here following tomorrows events.