Blog/Market Talk
Posted Mar 27, 2017 by Martin Armstrong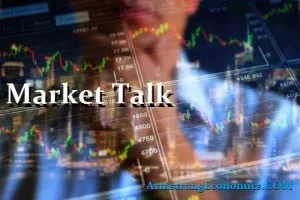 The result of the pulled Healthcare vote late on Friday trading was a weak Asian open, with many concerned this may be the beginning of US Dollar weakness. The market saw this as a defeat for President Trump and begins to question the extent to which he will have liberty and support to pursue his plans for infrastructure and proposed regulatory changes. All of this wobbled the markets sending the Nikkei down around 1.4% but the JPY to new recent highs of "almost" sub 110. the Hang Seng and Shanghai market were also hit but a small recovery for the CNH to around 6.850. However, after a relatively constructive US session, we are seeing a healthy bounce in all of the Asian futures markets with solid gains of around 0.6% across the board.
We saw a split performance today in Europe between the DAX and FTSE both dropping -0.6% while the IBEX and CAC both closed virtually unchanged. The fear continued for the DAX today after a sell recommendation on the index from a large domestic house titled expensive comparing price to book and low dividend yields. All this despite the IFO releasing a solid number. FTSE came off also but then we did see an +0.7% rally in GBP. Markets are nervous from this week as UK Prime Minister Theresa May is expected to trigger Article 50 on Wednesday and address Parliament on Thursday.
Many dealers were sounding concerns as we opened for US trading, but within the first hour of trading these concerns were side-lined and optimism returned. By mid-afternoon, trading the NASDAQ had made it back into the green and the DOW had only marginal losses. Banks, Energy stocks, and Raw Materials were the drag from the open but reversed much of this towards the close. The USD also managed a recovery into the close but the key EUR and GBP remain in good health ahead of Wednesday.
2's closed this evening unchanged at 1.25% but 10's 4bp better at 2.37%. Bunds closed 0.40% which closes the US/Germany spread at +197bp. France 0.97% (-1bp), Italy 2.17% (-3bp), Greece 7.11% (-10bp), Turkey 10.59% (+11bp), Portugal 4.03% (-6bp) and UK Gilts 1.16% (-3bp).