Blog/Market Talk
Posted Mar 26, 2020 by Martin Armstrong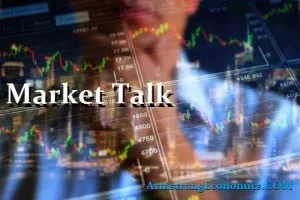 ASIA:
India announced an economic stimulus package worth $22.5 billion on Thursday to help millions of low-income households cope with a 21-day lockdown due to the coronavirus outbreak. The package will be disbursed through food security measures for poor households and through direct cash transfers to the beneficiaries' bank accounts directly.
India banned exports of a malaria drug backed by US President Donald Trump amid a run on supplies globally, even as preliminary findings emerge that the medication is not better than regular care in the treatment of the coronavirus. Exports of hydroxychloroquine will be limited to fulfilling existing contracts, while certain shipments on humanitarian grounds may also be allowed on a case-by-case basis, according to a statement issued Wednesday by the Directorate General of Foreign Trade. The ban also does not apply to factories in its special export zones.
A survey conducted by the Beijing-based American Chamber of Commerce in China on 119 companies from March 13 to 18 found that American companies in China are still betting on the local consumer, even if business disruptions from the coronavirus are dragging down revenues. Many companies who participated in the survey reported they are experiencing significant revenue declines increased to 50% — that's up from 28% last month.
The major Asian stock markets had a mixed day today:
NIKKEI 225 decreased 882.03 points or -4.51% to 18,664.60
Shanghai decreased 16.68 points or -0.60% to 2,764.91
Hang Seng decreased 174.85 points or -0.74% to 23,352.34
ASX 200 increased 115.20 points or 2.30% to 5,113.30
Kospi decreased 18.52 points or -1.09% to 1,686.24
SENSEX increased 1,410.99 points or 4.94% to 29,946.77
The major Asian currency markets had a mixed day today:
AUDUSD increased 0.01471 or 2.49% to 0.60471
NZDUSD increased 0.015 or 2.59% to 0.59500
USDJPY decreased 1.32 or -1.19% to 109.59
USDCNY decreased 0.03468 or -0.49% to 7.09312
Precious Metals:
Gold increased 22.05 USD/t oz. or 1.37% to 1,630.60
Silver increased 0.198 USD/t. oz or 1.38% to 14.5450
Some economic news from last night:
Japan:
Corporate Services Price Index (CSPI) (YoY) decreased from 2.3% to 2.1%
Foreign Bonds Buying increased from -590.9B to -65.7B
Foreign Investments in Japanese Stocks decreased from -1,241.8B to -1,462.1B
Singapore:
GDP (QoQ) (Q1) decreased from 0.6% to -10.6%
GDP (YoY) (Q1) decreased from 1.0% to -2.2%
Some economic news from today:
Singapore:
Industrial Production (YoY) (Feb) decreased from 3.5% to -1.1%
Industrial Production (MoM) (Feb) decreased from 18.7% to -22.3%
Hong Kong:
Exports (MoM) (Feb) increased from -22.7% to 4.3%
Imports (MoM) (Feb) increased from -16.4% to -0.1%
Trade Balance decreased from -30.6B to -38.6B
EUROPE/EMEA:
The coronavirus numbers in Europe have grown to 50,000 affected and 15,000 deaths in total today. The markets handled the news pretty well, with most major European indices rising. Dax index just closed above 10k.
European leaders condemned US President Trump's ban on all flights heading into the US from Europe. The European leaders asked for cooperation on the matter.
The European leaders met virtually to discuss ways forward with tackling the virus spread. There were talks of introducing a "coronabond" which will help raise assets for the crisis. A proposal is said to be prepared now to be presented in a fortnight.
The number of confirmed coronavirus cases in Pakistan jumped to 1,106 on Thursday after new cases were reported in Baluchistan, Punjab, Sindh, and Khyber Pakhtunkhwa. So far, eight coronavirus infected patients have died in Pakistan while 21 have recovered. Unlike the rest of the world, most coronavirus cases in Pakistan are young adults. 24 percent of confirmed cases in the country are patients between 21 and 30 years.
UAE government has issued a mandatory three-day lockdown from Thursday, March 26, through Sunday, March 29, while it conducts a general sterilization campaign with the aim of controlling the spread of the coronavirus (COVID-19) in the country. The lockdown will begin as of 20:00 (local time) on March 26, and will be lifted at 06:00 on March 29.
The major Europe stock markets had a green day today:
CAC 40 increased 111.28 points or 2.51% to 4,543.58
FTSE 100 increased 127.53 points, or 2.24% to 5,815.73
DAX 30 increased 126.70 points or 1.28% to 10,000.96
The major Europe currency markets had a mixed day today:
EURUSD increased 0.01239 or 1.14% to 1.10099
GBPUSD increased 0.02446 or 2.07% to 1.20736
USDCHF decreased 0.01006 or -1.03% to 0.96634
Some economic news from Europe today:
UK:
Core Retail Sales (MoM) (Feb) decreased from 1.8% to -0.5%
Core Retail Sales (YoY) (Feb) decreased from 1.3% to 0.5%
Retail Sales (MoM) (Feb) decreased from 1.1% to -0.3%
Retail Sales (YoY) (Feb) decreased from 0.9% to 0.0%
BoE MPC vote cut (Mar) decreased from 2 to 0
BoE MPC vote hike (Mar) remain the same at 0
BoE MPC vote unchanged (Mar) increased from 7 to 9
BoE QE Total (Mar) remain the same at 645B
BoE Interest Rate Decision (Mar) remain the same at 0.10%
Germany:
GfK German Consumer Climate (Apr) decreased from 8.3 to 2.7
France:
French Business Survey (Mar) decreased from 101 to 98
Italy:
Italian Trade Balance Non-EU (Feb) increased from 0.94B to 5.10B
Euro Zone:
M3 Money Supply (YoY) (Feb) increased from 5.2% to 5.5%
Loans to Non Financial Corporations (Feb) decreased from 3.2% to 3.0%
Private Sector Loans (YoY) increased from 3.7% to 3.8%
US/AMERICAS:
The US stimulus package to offset the coronavirus decline will include a clause that prevents companies from buying back stocks, according to the most recent draft of the Senate bill. The bar on buybacks would last for an additional year after the loan is paid back. The bill also would bar companies from paying dividends for the same time duration.
The Canadian government is allocating $52 billion in funds to help citizens impacted by the coronavirus. The Canada Emergency Response Benefit will provide C$2,000 per month for up to four months. "It is during these difficult times that Canadians should not have to choose between protecting their health and continuing to support their families. We recognize this, and are there for them," stated Carla Qualtrough, Minister of Employment, Workforce Development and Disability Inclusion.
Last week, the International Monetary Fund (IMF) denied Venezuela's request for a $5 billion USD loan to combat the coronavirus. The IMF denied distributing the funds by stating that they do not have "clarity on recognition" of Maduro's government. President Maduro has suspended all rent payments (commercial and residential) as well as capital and loan payments for the next six months. Venezuela requested that the US lift sanctions to help their economy grow, which is highly unlikely after the news that was released today.
The Department of Justice (DOJ) charged President Maduro with conspiracy to commit narco-terrorism. The DOJ alleged that Venezuela's president aided in smuggling narcotics into the US and is offering a multi-million dollar reward for the capture of Maduro and his co-conspirators. The penalty for this crime is 50 years imprisonment, which would be a life sentence for the 57-year-old president.
US Market Closings:
Dow advanced 1,351.62 points or 6.38% to 22,552.17
S&P 500 advanced 154.51 6.24% to 2,630.07
Nasdaq advanced 413.24 points or 5.6% to 7,797.54
Russell 2000 advanced 69.95 points or 6.3% to 1,180.32
Canada Market Closings:
TSX Composite advanced 231.94 points or 1.77% to 13,371.17
TSX 60 advanced 13.68 points or 1.7% to 816.23
Brazil Market Closing:
Bovespa advanced 2,754.09 points or 3.67% to 77,709.66
ENERGY:
Mixed performance in crude with Brent dropping close to 5% and closing below the 30 USD mark. WTI however climbed 2.39%.
The oil markets had a mixed day today:
Crude Oil decreased 0.82 USD/BBL or -3.37% to 23.5000
Brent decreased 0.31 USD/BBL or -1.13% to 27.1400
Natural gas decreased 0.036 USD/MMBtu or -1.97% to 1.7940
Gasoline increased 0.0555 USD/GAL or 8.65% to 0.6974
Heating oil decreased 0.0157 USD/GAL or -1.42% to 1.0904
Top commodity gainers: Ethanol (15.78%), Gasoline (8.65%), Gold (1.37%), and Silver (1.38%)
Top commodity losers: Lean Hogs (-4.34%), Crude Oil (-3.37%), Oat (-2.09%), and Live Cattle (-2.97%)
The above data was collected around 11.40 EST on Thursday.
BONDS:
Japan 0.00%(-4bp), US 2's 0.31% (-8bps), US 10's 0.79%(-6bps); US 30's 1.37%(-2bps), Bunds -0.29% (+4bp), France 0.06% (-15bp), Italy 1.45% (-11bp), Turkey 12.91% (+59bp), Greece 2.13% (-32bp), Portugal 0.73% (-28bp); Spain 0.70% (-18bp) and UK Gilts 0.40% (-5bp).
US 4-Week Bill Auction decreased from 0.030% to 0.000%
US 8-Week Bill Auction decreased from 0.030% to 0.000%
US 7-Year Note Auction decreased from 1.247% to 0.680%