Blog/Market Talk
Posted Mar 25, 2019 by marty armstrong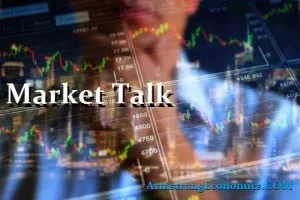 Asia:
Little in the way of news from Asia. China promises wider financial access for foreign investors as US-China trade war talks enter a crucial stage.
In an announcement to the UN in Geneva, Japan's ambassador said his country has not developed fully autonomous weapons systems and has no plans to do so.
Most of the major Asian stock markets had a red day on Monday: NIKKEI 225 decreased 650.23 points (-3.01%) to 20,977.11; Hang Seng decreased 590.01 points (-2.03%) to 28,523.35; Shanghai decreased 61.12 points (-1.97%) to 3,043.03; ASX 200 decreased 69.00 points (-1.11%) to 6,126.20; KOSPI and SENSEX decreased 42.09 points (-1.92%) to 2,144.86 and 355.70 points (-0.93%) to 37,808.91 respectfully.
A mixed day for the major Asian currency markets:  The AUDUSD increased 0.0030 or 0.43% to 0.7112; the NZDUSD and The USDJPY increased 0.0036 or 0.53% to 0.6911 and 0.2310 or 0.21% to 110.1410 respectfully. However, the USDCNY took the opposite route decreased 0.0059 or 0.09% to 6.7161.
Both gold and silver markets had a green day today. Gold increased 7.92 USD/t oz. or 0.60% to 1,323.57 and silver increased 0.15 USD/t. oz or 0.94% to 15.56.
Some economic news from Japan and Singapore:
Japan's All Industries Activity Index (MoM) increased from -0.6% to -0.2%
Singapore's CPI (YoY) (Feb) increased from 0.4% to 0.5%
Europe:
Italy's former prime minister doesn't approve of the current government's newly inked partnership with China, calling the decision "unwise." However, France and China have planned to sign trade deals worth billions of euros, which emanated during a visit by Chinese President Xi Jinping. However, France aims to work against Beijing's "Belt and Road" infrastructure initiative. It does seem as if Europe is warming up to China in terms of deal flow.
Business concerns regarding Brexit, with JP Morgan asking 300 staff members to move to one of the bank's other offices in the EU if no Brexit deal is announced.
A negative day for the major European stock markets: CAC 40 decreased 9.27 points or -0.18% to 5260.64; the FTSE 100 decreased 30.01 points or -0.42% to 7,177.58, and DAX decreased 17.52 points or -0.15% to 11346.65.
The major European currency markets had a mixed day today: The GBPUSD decreased 0.0038 or 0.29% to 1.3171 and The USDCHF decreased 0.0010 or 0.10% to 0.9925. However, the EURUSD took the opposite route, increasing 0.0003 or 0.02% to 1.1316.
Some economic news from Europe:
Spanish PPI (YoY) increased from 1.8% to 1.9%
German Business Expectations increased from 94 to 95.6
German Current Assessment increased from 103.6 to 103.8
German Ifo Business Climate Index increased from 98.7 to 99.6
U.S./Americas:
Wall Street had a mixed session Monday as most indices experienced only minor changes. The Dow finished up 14.51 points (0.06%, 25515.83 close), while the S&P 500 and Nasdaq Composite both saw slight declines after closing at 2798.36 (-0.08%) and 7637.54 (-0.07%). The Russell 2000 outperformed other major U.S. indices today, up 0.46% (1512.86 close).
Today's media was consumed by three topics: (1) Mueller report reaction, (2) New services announcements from Apple, Inc. and (3) Michael Avenatti (Stormy Daniels attorney) charged on an alleged $25 million extortion attempt of Nike, Inc.
While we'll wait on further developments regarding the Mueller report, we did want to mention a few highlights coming out of Apple's announcement today. The company plans to release its own credit card, dubbed the Apple Card, that will primarily operate from the Apple Wallet app, and tied to Apple Pay (but offers a titanium card that can be used as a traditional credit card as well) – this could be very interesting to the company long-term if they can get any meaningful percent of their customers paying for services through Apple Card. Separately, the company announced plans for Apple News + (bundled offering of magazines and news, including LA Times and Wall Street Journal), Apple TV + (application that aggregates popular streaming services from HBO, Starz and others, combined with some original content from Apple).  and Apple Arcade (a formal entry into the "gaming" platform space, right through its current App Store). This could prove a seminal moment in the company's existence, but for today, the stock declined 1.21% to $188.74 (after a notable run up from just over $157 in January to over $190 at the end of last week).
The U.S. 10-year Treasury note fell to its lowest level today since December 2017. The 3-month Treasury yield first exceeded longer-term securities last week (aka "yield curve inversion") largely thought to foreshadow an economic recession.
The USD index fell -0.11% (last reading 96.54). The USD/CAD fell -0.19% (last reading 1.339).
The Canadian markets began the week on a bearish note. The TSX Composite dropped -0.15% (16065.86 close) and the TSX 60 dropped -0.20% (956.26).
Brazil's Bovespa was fractionally lower today, declining -0.08% (93662.01 close).
Energy:
BP and Shell, the two largest oil producing companies in the U.S. Gulf of Mexico, have seen an increase in purchases domestically by local refiners in an attempt to reduce the deficit that the sanctions on Venezuela has caused. U.S. refiners are said to prefer the medium sour Mars grade from the Mars platform operated by Shell with partner BP a favorite.
The oil market had a mixed day on Monday: Crude Oil decreased 0.09 USD/BBL or 0.15% to 59.0318; natural gas and gasoline decreased 0.009 USD/MMBtu or 0.33% to 2.7398 and 0.003 USD/GAL or 0.16% to 1.9224 respectfully. However, Brent and heating oil took the opposite route, increasing 0.14 USD/BBL or 0.21% to 67.2319 and 0.0096 USD/GAL or 0.49% to 1.9756 respectfully.
Top commodity gainers were Cocoa (3.10%), Platinum (1.61%), and Silver (0.95%). The biggest losers were Palm Oil (-1.34%), Rubber (-1.31%), and Lumber (-1.22%).
Bonds:
Last week, the yield on the U.S. 10-year Treasury note dipped below the yield on the 3-month paper. Today we have an auction where the 3- and 6-month yields were auctioned at 2.410% and 2.415% respectfully.
Japan -0.08%(-2bp), US 2's 2.29% (-8bps), US 10's 2.44%(-8bps), US 30's 2.89%(-7bps), Bunds -0.03% (-6bp), France 0.37% (+2bp), Italy 2.51% (+1bp), Turkey 16.72% (+48bp), Greece 3.77% (+12bp), Portugal 1.30% (+3bp), Spain 1.11% (-3bp) and UK Gilts 1.01% (-5bp)
US 3-MONTH BILL AUCTION remain the same at 2.410%
US 6-MONTH BILL AUCTION decreased from 2.450% to 2.415%
French 3-Month BTF Auction decreased from -0.525% to -0.528%
French 6-Month BTF Auction increased from -0.527% to -0522%
French 12-Month BTF Auction decreased from -0.521% to -0.531%