Blog/Market Talk
Posted Mar 24, 2017 by Martin Armstrong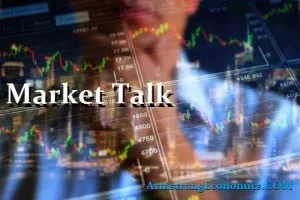 Most core Asian markets recorded positive returns today and even saw the JPY trade back above the 111 level. Banking and Consumers were the leaders in the pack with the obvious losers being Healthcare stocks affected even in Asia by the US postponed insurance bill vote.  Shanghai and Hang Seng both had little change even after the late US news, but the Nikkei is suffering (down roughly -0.7%) and is seeing the flight to JPY taking that back to mid 110's. Within the last 30  minutes of US cash trading, the news was that the president pulled the bill which saw nerves return to the market.
Europe was encouraged by better than expected PMI's in the Germany, France, and Euro area and is the firmest in over six years. Most core European markets closed small mixed, but most of the volatility was seen in the last 30 minutes of trading seen for New York. Gold and oil played in a tight range but did close around the day's highs. Treasuries/Bunds rallied towards the close of the week after a lacklustre session had failed to inspire movement. One of the only instruments to move was the VIX and even that was through nerves with eyes on a rallying fixed-income market.
US are all waiting to see how "influential" the new Trump government is going to do. This is the first big vote and is being viewed as a possible start to the infrastructure journey and how far they could go. As we close, we are expecting House Speaker Paul Ryan to address the public and as a result the US cash indices closed positive making gains in the final minutes to close positive on the day. Next week we will be looking at numbers for Month and Quarter end so will be able to view trends for many markets – this could be very interesting for the rest of 2017.
2's closed 1.25% (+0bp), 10's closed 2.41% (+1bp), Bunds 0.40% (-1bp) spread US/Germany closes +201bp. France 0.98% (-6bp), Italy 2.20% (-5bp), Greece 7.21% (+1bp), Turkey 10.48% (-3bp), Portugal 4.09% (+8bp), Gilts 1.19% (+2bp).