Blog/Market Talk
Posted Mar 24, 2020 by Martin Armstrong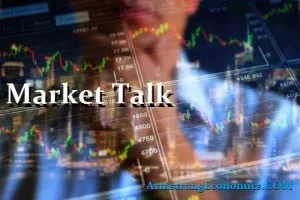 ASIA:
India announced a nationwide lockdown starting at midnight to contain the novel coronavirus. The duration of the lockdown will be 21 days. India also announced 21.5 million USD of fund allocation to strengthen the health infrastructure in the country. The total cases of coronavirus have surpassed 500 in India.
India's central bank, the Reserve Bank of India (RBI), stepped in to calm markets once again by bringing forward its open market purchase of bonds worth up to USD 2.14 billion while also announcing a fresh round of fund infusion via variable rate repos on Monday. To infuse liquidity in the market to tide over any frictional liquidity requirements on account of dislocations due to COVID-19, the RBI said it would conduct 16-day variable rate repo auctions for 13.2 billion USD in two equal tranches on Monday and Tuesday.
The Chinese government has lifted the lockdown from Hubei province after two months. This will allow most of its 60 million residents to leave. Wuhan, the provincial capital and the city hardest hit by the virus, will remain sealed off until April 8, though public transportation there will start running again, the government said.
An independent survey conducted by China Beige Book on 3,300 Chinese businesses in March indicates that the Chinese economy can shrink 10% in the first quarter.
Singapore's ministry of health confirmed 49 new coronavirus cases on Tuesday (March 24) as students and workers continued to return home in droves from abroad. A total of 32 of the 49 cases were imported by travelers who returned to Singapore. Of the 32, 25 are Singaporean citizens or residents, while five are long-term visitor pass holders.
The major Asian stock markets had a green day today:
NIKKEI 225 increased 1,204.57 points or 7.13% to 18,092.35
Shanghai increased 62.27 points or 2.34% to 2,722.44
Hang Seng increased 967.36 points or 4.46% to 22,663.49
ASX 200 increased 189.70 points or 4.17% to 4,735.70
Kospi increased 127.51 points or 8.60% to 1,609.97
SENSEX increased 692.79 points or 2.67% to 26,674.03
The major Asian currency markets had a mixed day today:
AUDUSD increased 0.00354 or 0.60% to 0.59084
NZDUSD increased 0.00434 or 0.76% to 0.57824
USDJPY increased 0.53 or 0.48% to 111.41
USDCNY decreased 0.02053 or -0.29% to 7.08697
Precious Metals:
Gold increased 68.64 USD/t oz. or 4.42% to 1,621.87
Silver increased 0.407 USD/t. oz or 2.98% to 14.0530
Some economic news from last night:
Australia:
Manufacturing PMI increased from 49.8 to 50.1
Services PMI decreased from 48.4 to 39.8
Japan:
Manufacturing PMI (Mar) decreased from 47.8 to 44.8
Services PMI decreased from 46.8 to 32.7
Some economic news from today:
Japan:
BoJ Core CPI (YoY) decreased from 0.3% to 0.2%
Leading Index (MoM) increased from -0.7% to -0.4%
Leading Index decreased from 91.0 to 90.5
US/AMERICAS:
Today the Dow experienced its largest single-day gain since 1933 after climbing over 2,000 points (11.37%) to 20,704.91. News of Congress potentially reaching a coronavirus relief bill mixed with sentiments from the president that the crisis may be over in a few weeks sent stocks soaring. Chevron led the Dow's rally this Tuesday after advancing 22.83%, followed by American Express (21.65%), Boeing (19.72%), and McDonalds (17.99%).
After declining -64.57% in the past three months, American Airlines showed signs of improving this Tuesday as it advanced 34.73% and aided both the Nasdaq and S&P 500. Other travel-related equities showed signs of improvement today as well. The top gainer on the S&P 500 was Norwegian Cruise Line which spiked 42.30%. MGM Resports also had an impressive performance, rising 33.01% in today's session.
During a virtual town hall meeting, President Trump told the nation that he would like the US economy to reopen by Easter, April 12, which is less than three weeks away. The president expressed concern over the current cure being worse than the problem. "We lose thousands and thousands of people a year to the flu. We don't turn the country off," Trump said.
Numerous politicians across the US dismissed the president's aspirations to reopen the economy by Easter. Maryland Governor Larry Hogan (R) called the original 15-day caution period an "imaginary clock" and said he does not expect the situation to be over by then. Governor Andrew Cuomo (D) said that the American people should not be asked to choose between their health and the economy. "No American is going to say accelerate the economy at the cost of human life," Cumo stated.
US Market Closings:
Dow advanced 2,112.98 points or 11.37% to 20,704.91
S&P 500 advanced 209.93 points or 9.38% to 2,447.33
Nasdaq advanced 557.18 points or 8.12% to 7,417.86
Russell 2000 advanced 94.12 points or 9.39% to 1,096.54
Canada Market Closings:
TSX Composite advanced 1,342.59 points or 11.96% to 12,571.08
TSX 60 advanced 85.15 points or 12.39% to 772.42
Brazil Market Closing:
Bovespa advanced 6,159.68 points or 9.69% to 69,729.30
EUROPE/EMEA:
Global markets were buoyed by the news that the US Fed was pledging an open-ended asset purchasing program to combat the COVID-19 outbreak. The winners of the day were the DAX index as well as the FTSE, moving up 11% and 9% respectively.
The EU has opened up talks with Macedonia and Albania over them joining the union after the countries reached a political agreement on opening accession talks. The commissioner in charge of enlargement of the EU took to twitter to mention that the future of the western Balkan is in the EU.
UK PM Boris Johnson told the public yesterday evening that people may leave their home to exercise once a day, travel to work if necessary, food shopping, and to fulfill any medical needs. Anyone found to be in violation could face fines by local police.
Germany has seen positives arising from their lockdown as initial numbers of infected seems to have flatened out. The other positive news was that the number of deaths in Italy is starting to fall day to day.
The UAE has suspended all passenger flights in and out of the country 24 hrs earlier than initially announced. There are many UAE residents, who for many the UAE is their only home, who are stranded around the world and unable to return. The UAE opened hotlines in order to help those affected by the lockdown.
The major Europe stock markets had a green day today:
CAC 40 increased 328.39 points or 8.39% to 4,242.70
FTSE 100 increased 452.12 points, or 9.05% to 5,446.01
DAX 30 increased 959.42 points or 10.98% to 9,700.57
The major Europe currency markets had a mixed day today:
EURUSD decreased 0.00053 or -0.05% to 1.07577
GBPUSD increased 0.01357 or 1.17% to 1.17287
USDCHF increased 0.0014 or 0.14% to 0.98350
Some economic news from Europe today:
France:
French Manufacturing PMI (Mar) decreased from 49.8 to 42.9
French Markit Composite PMI (Mar) decreased from 52.0 to 30.2
French Services PMI (Mar) decreased from 52.5 to 29.0
Germany:
German Composite PMI (Mar) decreased from 50.7 to 37.2
German Manufacturing PMI (Mar) decreased from 48.0 to 45.7
German Services PMI (Mar) decreased from 52.5 to 34.5
UK:
CBI Industrial Trends Orders (Mar) decreased from -18 to -29
Composite PMI decreased from 53.0 to 37.1
Manufacturing PMI decreased from 51.7 to 48.0
Services PMI decreased from 53.2 to 35.7
Euro Zone:
Manufacturing PMI (Mar) decreased from 49.2 to 44.8
Markit Composite PMI (Mar) decreased from 51.6 to 31.4
Services PMI (Mar) decreased from 52.6 to 28.4
ENERGY:
Crude markets continued to move up higher today, with Brent hovering just below the 30 USD mark at the time of this writing. The US Fed helped the price move up with their announcement that they will do whatever it takes to combat the economic damage caused by the virus.
The oil markets had a mixed day today:
Crude Oil decreased 0.09 USD/BBL or -0.39% to 23.2700
Brent decreased 0.65 USD/BBL or -2.37% to 26.8100
Natural gas increased 0.036 USD/MMBtu or 2.02% to 1.8170
Gasoline increased 0.0149 USD/GAL or 2.63% to 0.5814
Heating oil increased 0.0131 USD/GAL or 1.22% to 1.0881
Top commodity gainers: Ethanol (8.11%), Platinum (8.30%), Orange Juice (5.40%), and Palladium (10.36%)
Top commodity losers: Brent (-2.37%), Naphtha (-3.91%), Propane (-3.56%), and Tin (-5.02%)
The above data was collected around 14.10 EST on Tuesday.
BONDS:
Japan 0.05%(-2bp), US 2's 0.36% (+7bps), US 10's 0.84%(+7bps); US 30's 1.41%(+7bps), Bunds -0.36% (+2bp), France 0.17% (+6bp), Italy 1.60% (-1bp), Turkey 12.96% (-48bp), Greece 2.45% (-3bp), Portugal 1.03% (+9bp); Spain 0.85% (+8bp) and UK Gilts 0.44% (+2bp).
German 2-Year Schatz Auction increased from -0.660% to -0.650%
US 52-Week Bill Auction decreased from 1.270% to 0.260%
US 2-Year Note Auction decreased from 1.188% to 0.398%