Blog/Market Talk
Posted Mar 23, 2017 by Martin Armstrong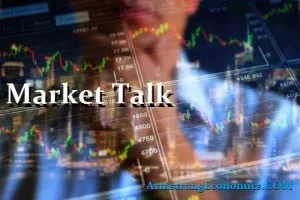 After an early dip, Asia moved back to close with gains across the board. The Nikkei played with the 19k level for most of the day but eventually closed +0.25% firmer. The safe-haven bid continued into the European session with JPY trading back to the mid 110's but will be interesting to see where we close for weekend numbers. The Shanghai and Hang Seng markets also closed better with continued optimism around earnings, but with many large caps (including banks) reporting next week, the mood remains optimistic.
The positive mood rolled into Europe also which was very welcome, but soon stalled when German Consumer Sentiment fell short of expectation. The UK however, saw better than expected Retail Sales number. The market had been forecasted at 0.4% (M/M) but was released at +1.4% which was a Y/Y release of 3.7% versus a 2.6% expected. All core finished with impressive gains from between +0.8% and +1.1%, but the surprise exception was the UK's FTSE which managed only +0.2% and also saw an improvement in the GBP. Political concerns in France waned recently after Le Pen's party seemed to be losing ground to their near rivals.
Initially we saw a healthy days trading for US markets but in the final hour we heard the healthcare vote had been delayed. Ahead of this, news indices were on course to close positive with gains of around +0.5% but the final half-hour saw stocks turn negative and a recovery into Bond pit. Losses obviously came from the healthcare companies but then this is a headline so far, still plenty to play for. Oil came under pressure again when the stockpile data was released. Closing with a -0.6% loss, dealers continue to speculate that OPEC's influence appears to be waning.
2's closed 1.24% (-1bp), 10's at 2.41% (+1bp), Bunds 0.43% (+3bp) closes the US/Bund spread at +198bp. France 1.04% (u/c), Italy 2.25% (+1bp), Greece 7.19% (-1bp), Turkey 10.49% (-2bp), Portugal 4.15% (+5bp) and UK Gilts closed 1.23% (+6bp).