Blog/Market Talk
Posted Mar 23, 2020 by Martin Armstrong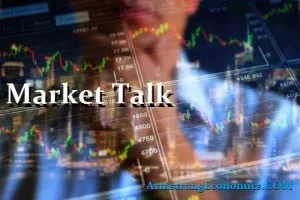 ASIA:
In an effort to counter the coronavirus outbreak in the country, 75 districts across India, including major cities such as the capital New Delhi, Mumbai, Bangalore, Chennai, Hyderabad, and Kolkata have been placed under travel, work, and movement restrictions until March 31. So far, India has reported 415 active cases of coronavirus, including 7 deaths.
Benchmark equity index Sensex posted its biggest loss ever on Monday as it tumbled 3,935 points to its lowest level since 2016. The rout in global markets continue and India is grappling with the fast-spreading coronavirus pandemic. The 30-share Sensex tumbled 13.15 percent or 3,934.72 points to close at 25,981.24, while the 50-share Nifty also posted its worst one-day fall since inception by dropping 12.98 percent or 1,135.20 points to close at 7,610.25.
China may have identified a new coronavirus case contracted within its borders. After weeks of reporting only imported cases, Chinese health officials believe one patient contracted the virus in China from another person who returned from abroad. The new case was announced Sunday by the Guangzhou Municipal Health Commission.
Chinese stocks on Monday closed at their lowest level in more than a year as worldwide lockdowns and travel curbs to counter the coronavirus pandemic stoked fears of a global recession. The blue-chip CSI300 index fell 3.4% to 3,530.31, its lowest since Feb. 22, 2019, while the Shanghai Composite Index dropped 3.1% to 2,660.17, the weakest since Feb. 11, 2019.
Japan's Prime Minister Shinzo Abe finally conceded that the COVID-19 epidemic might force the postponement of this summer's Tokyo Olympics, scheduled to start four months from now. US President Donald Trump said the United States would "be guided" by Japan's decision over whether to hold the Tokyo 2020 Olympics amid the global coronavirus outbreak as Canada, Australia quit the Summer Games.
The major Asian stock markets had a mixed day today:
NIKKEI 225 increased 334.95 points or 2.02% to 16,887.78
Shanghai decreased 85.45 points or -3.11% to 2,660.17
Hang Seng decreased 1,108.94 points or -4.86% to 21,696.13
ASX 200 decreased 270.60 points or -5.62% to 4,546.00
Kospi decreased 83.69 points or -5.34% to 1,482.46
SENSEX decreased 3,934.72 points or -13.15% to 25,981.24
The major Asian currency markets had a mixed day today:
AUDUSD decreased 0.0001 or -0.02% to 0.57620
NZDUSD increased 0.0010 or 0.18% to 0.57134
USDJPY decreased 0.0400 or -0.04% to 110.7190
USDCNY increased 0.0239 or 0.34% to 7.14490
Precious Metals:
Gold increased 27.93 USD/t oz. or 1.87% to 1,525.28
Silver increased 0.201 USD/t. oz or 1.59% to 12.8100
Some economic news from today:
Singapore:
CPI (YoY) (Feb) decreased from 0.8% to 0.3%
Hong Kong:
CPI (YoY) (Feb) increased from 1.40% to 2.20%
EUROPE/EMEA:
The decline in equities continued today with European major indices declining between -2% to -4%.
The EU ministers have agreed to end restrictions on borrowing and spending to deal with the economic turmoil caused by the coronavirus panic. This means governments could be indebted with more than 60% of their national GDP.
Germany has further tightened their measures against the COVID-19 virus to include banning meetings of more than two persons.
Europeans are criticizing the UK's choice of an open border, with other European countries facing a complete lockdown.
The European PMI numbers are due this week with much anticipation as the numbers will show the initial impact of the coronavirus in Europe.
The United Arab Emirates intensified its measures aimed at combating the coronavirus Monday, shutting down public spaces and urging residents to stay at home amid the threat of legal action if the directives are violated. The UAE has confirmed 153 cases, with 38 recoveries and two deaths.
The major Europe stock markets had a negative day today:
CAC 40 decreased 134.48 points or -3.32% to 3,914.31
FTSE 100 decreased 196.89 points, or -3.79% to 4,993.89
DAX 30 decreased 187.80 points or -2.10% to 8,741.15
The major Europe currency markets had a mixed day today:
EURUSD increased 0.00862 or 0.81% to 1.07842
GBPUSD decreased 0.00776 or -0.67% to 1.15274
USDCHF decreased 0.00509 or -0.52% to 0.98041
Some economic news from Europe today:
UK:
Steel Production (Metric Ton) (Feb) decreased from 657.50K to 585.60K
Euro Zone:
Consumer Confidence (Mar) decreased from -6.6 to -11.6
US/AMERICAS:
The US government is at odds over how to handle the coronavirus stimulus bill. This Senate halted the proposed stimulus bill in a 49-46 vote that largely cut between party lines, with Democrats preventing the bill's advancement. House Speaker Pelosi commented today that the House Democrats will create their own legislation to bypass the Republican-led Senate. Five Republican Senators are currently under self-quarantine due to the coronavirus and were unable to vote.
There were a few indications over the weekend that may imply the US quarantine will not last as long as expected. President Trump retweeted the following comment on Sunday: "15 days. Then we isolate the high risk groups and the rest of us get back to work before it's all over for everyone." On Monday, the president commented that "we cannot make the cure worse than the problem," and after the 15-day isolation period, "we will make a decision as to which way we want to go!"
Canadian Prime Minister Justin Trudeau advised all Canadians to "go home and stay home!" PM Trudeau has been quarantined in his residence Rideau Cottage ever since his wife was positively diagnosed with COVID-19. So far, the Canadian government has spent $30 million on advertisements to raise awareness of preventative measures to curb the spread of the virus. Trudeau declared the government is "going to make sure this happens, whether by educating people more on the risks, or by enforcing the rules, if that's needed. Nothing that could help is off the table."
Canada is dedicating an additional $5 billion to help Canadian agriculture during the coronavirus slowdown. The funds will be distributed through the Farm Credit Canada plan. Additionally, any farmers with Advance Payments Program loans will be granted a six-month grace period for paying off their loans.
Canada will not send Olympians to Tokyo this year for the 2020 Olympic games. "This is not solely about athlete health — it is about public health," the Canadian Olympic Committee stated. The US stated that they still plan to send Olympians to Japan this spring unless Prime Minister Abe calls off the games, which would be a huge hit to Japan's overall GDP for the year.
US Market Closings:
Dow declined 582.05 points or -3.04% to 18,591.93
S&P 500 declined 67.52 points or -2.93% to 2,23740
Nasdaq declined 18.84 points or -0.27% to 6,860.67
Russell 2000 declined 11.49 points or -1.13% to 1,002.40
Canada Market Closings:
TSX Composite declined 632.32 points or -5.26% to 11,228.49
TSX 60 declined 34.71 points or -4.81% to 687.27
Brazil Market Closing:
Bovespa declined 3,499.74 points or -5.22% to 63,869.62
ENERGY:
WTI and Brent Crude have moved up slightly today. Saudi announced that they will be reducing their government budgets in order to deal with the current crisis.
The oil markets had a mixed day today:
Crude Oil decreased 0.35 USD/BBL or -1.55% to 22.2800
Brent decreased 1.2 USD/BBL or -4.45% to 25.7800
Natural gas increased 0.021 USD/MMBtu or 1.20% to 1.7670
Gasoline decreased 0.0725 USD/GAL or -10.77% to 0.6009
Heating oil decreased 0.004 USD/GAL or -0.39% to 1.0323
Top commodity gainers: Wheat (3.40%), Lean Hogs (3.86%), Orange Juice (3.69%), and Feeder Cattle (4.62%)
Top commodity losers: Rubber (-5.83%), Cotton (-5.16%), Gasoline (-10.77%), and Ethanol (-8.68%)
The above data was collected around 12.20 EST on Monday.
BONDS:
Japan 0.08%(-3bp), US 2's 0.29% (-4bps), US 10's 0.74%(-19bps); US 30's 1.42%(-14bps), Bunds -0.37% (-3bp), France 0.11% (-1bp), Italy 1.62% (-2bp), Turkey 13.44% (+37bp), Greece 2.50% (+3bp), Portugal 0.93% (+2bp); Spain 0.77% (+0bp) and UK Gilts 0.47% (-8bp).
US 3-Month Bill Auction decreased from 0.290% to 0.000%
US 6-Month BillAuction decreased from 0.300% to 0.080%
French 3-Month BTF Auction increased from -0.608% to -0.528%
French 6-Month BTF Auction increased from -0.615% to -0.535%
French 12-Month BTF Auction increased from -0.625% to -0.534%