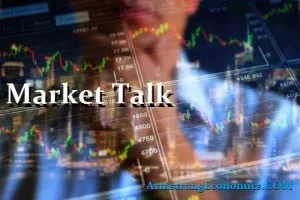 Asia:
The China-France bilateral agreement reached all-time highs. French exports such as luxury goods, agricultural, and pharmaceutical products experienced a huge growth over the past few years.
Elsewhere, more reports were released today regarding China's religious persecution of Muslims and Christians.
Japanese inflation slowed in February as can be seen in falling gasoline prices. The BOJ is targeting a 2% target rate to avoid a recession, which could prove to be hard to achieve.
Most of the major Asian stock markets had a green day on Friday: Shanghai increased 2.69 points (0.09%) to 3,104.15 points; KOSPI increased 2.07 points (0.09%) to 2,186.95; NIKKEI 225 increased 18.42 points (0.085%) to 21,627.34; ASX 200 and Hang Seng increased 28 points (0.45%) to 6,195.20 and 41.80 points (0.14%) to 29,113.36 respectfully. However SENSEX took the opposite route, decreasing 222.14 points (-0.58%) to 38,164.61.
Most of major Asian currency markets had a red day today: The AUDUSD decreased 0.0030 or 0.42% to 0.7081; the NZDUSD decreased 0.0005 or 0.07% to 0.6870, and the USDJPY decreased 0.8300 or 0.75% to 109.9700. However, the USDCNY increased 0.0198 or 0.30% to 6.7259
Gold increased 3.60 USD/t oz. or 0.27% to 1,310.18 and Silver decreased 0.06 USD/t. oz or 0.36% to 15.42.
Some economic data released yesterday late evening :
Australia's Manufacturing PMI decreased from 52.9 to 52.0
Australia's Services PMI decreased from 51.0 to 49.8
Japan's National Core CPI (YoY) (Feb) decreased from 0.8% to 0.7%
Japan's National CPI (MoM) decreased from 0.3% to 0.0%
Japan's National CPI (YoY) (Feb) remain the same at 0.2%
Japan's Foreign Bonds Buying decreased from 254.2B to -571.6B
Japan's Foreign Investments in Japanese Stocks decreased from -1157.5B to -1588.9B
Japan's Manufacturing PMI (Mar) remain the same at 48.9.
India's FX reserves, USD released, increased from 402.04B to 405.64B
Europe:
Brexit's fate is "in the hands of our British friends" after European heads of states agreed to delay the departure date by at least two weeks. Mr. Tusk said that until the 12th of April, "Anything is possible," including a much longer delay. The petition to revoke Article 50 passed 3 million signatures, although there are questions on how genuine these numbers actually are. Some suggest bots are being used to prop up the numbers. In any event, it is hard to imagine a retraction of the Brexit decision, but who knows where this train leads.
In the middle east, President Donald Trump's tweets regarding the Golan heights has sparked some backlash. Syrians are accusing the president of "blind bias," as Trump declared Israel should proceed to take sovereignty over the area. In recent years, huge amounts of oil are thought to be uncovered in the region. Yuval Bartov, the chief geologist of Genie Oil, previously stated his company thought it may have found an oil reservoir "with the potential of billions of barrels" back in 2015.
A red day for the major European stock markets:
FRANCE: CAC 40 decreased 108.92 points or -2.02% to 5269.92
UK: The FTSE 100 decreased 147.72 points, or -2.01% to 7,207.59
GERMANY: DAX decreased 185.79 points or -1.61% to 11364.1
Friday was a mixed day for major European currency markets: The GBPUSD increased 0.00963 or 0.73% to $1.32033 and the USDCHF increased 0.0028 or 0.28% to 0.9947. However, the EURUSD took the opposite route, decreasing 0.00803 or 0.71% to 1.12927.
Some economic news from Europe:
French Manufacturing PMI (Mar) decreased from 51.5 to 49.8
French Services PMI (Mar) decreased from 50.2 to 48.7
French Markit Composite PMI (Mar) decreased from 50.4 to 48.7
German Manufacturing PMI (Mar) decreased from 47.6 to 44.7
German Services PMI (Mar) decreased from 55.3 to 54.9
German Composite PMI (Mar) decreased from 52.8 to 51.5
Euro zone-Services PMI (Mar) decreased from 52.8 to 52.7
Euro zone Markit Composite PMI (Mar) decreased from 51.9 to 51.3
Euro zone Manufacturing PMI (Mar)decreased from 49.3 to 47.6
Euro zone Current Account n.s.a. (Jan) decreased from 33.0B to 9.3B
Euro zone Current Account (Jan) increased from 16.2B to 36.8B
U.S./Americas:
We had a red Friday across the major indices here, with exception of the volatility index (Vix) which spiked over 20% to 16.48. The Dow declined by over 460 points today (-1.77%), closing at 25502.32. After posting over one percent gain yesterday, the S&P 500 posted its worst close of the month, declining by -1.9%, and finishing the day at 2800.71. The Nasdaq lost nearly 200 points during today's session, a -2.5% decline, closing at 7642.67. The Russell 2000 had the worst day amongst the major US markets, falling by 3.62%, closing at 1505.92.
For the first time since 2007, the Treasury yield curve inverted (3-month rates surpassed 10-year), a sign many watch for as potentially indicative of a coming recession.
On the corporate side, Banks contributed to today's market decline: Citigroup Inc. (-4.57%), Bank of America (-4.19%), JPMorgan Chase (-3.02%), Morgan Stanley (-3.27%), Wells Fargo & Co (-3.11%) and US Bancorp (-2.78%).
Even technology and communications leaders that had been so strong of late faltered in today's session: Apple (-2.07%), Microsoft (-2.64%), Alphabet (-2.30%), Netflix (-4.46%), NVDIA (-3.50%), AMD (-5.45%), Intel (-2.53%), Workday (-3.29%), Salesforce (-3.26%), Amazon (-3.00%).
The U.S. PMI index, which previously stood at 53 in February, slid to 52.5. Analysts had expected the figure to rise to 53.5 in March. A reading about 50 is genuinely considered an indicator that the manufacturing sector is expanding, albeit not at the expected speed.
IHS Markit Flash U.S. PMI figures released this Friday:
Flash U.S. Composite Output Index at 54.3 (55.5 in February). 6-month low.
Flash U.S. Services Business Activity Index at 54.8 (56.0 in February). 2-month low.
Flash U.S. Manufacturing PMI at 52.5 (53.0 in February). 21-month low.
Flash U.S. Manufacturing Output Index at 51.6 (52.7 in February). 33-month low.
In geopolitical news, President Trump announced that he will remove additional North Korean sanctions. Trump tweeted: "It was announced today by the U.S. Treasury that additional large scale Sanctions would be added to those already existing Sanctions on North Korea. I have today ordered the withdrawal of those additional Sanctions!" This is a quick turn of events after new sanctions that had just been announced. White House press secretary Sarah Huckabee Sanders clarified the President's stance by stating, "President Trump likes Chairman Kim and he doesn't think these sanctions will be necessary."
The USD Index increased 0.16% (last reading 96.65). The USD/CAD rose 0.46% (last reading 1.342).
The Canadian markets closed in the red as well, with the TSX composite losing 155.26 points, a -0.96% decline, closing at 16089.33. The TSX 60 declined -0.94%, closing the day at 958.21.
In Brazil, the Bovespa's brief flirtation with the 100000 mark has not lasted. The index dropped -3.10% in Friday's session (93735.15 close).
Energy:
The U.S. did not import Venezuelan oil for the first time last week since the EIA reporting began. Results last week showed stock piles in the U.S. were down heavily.
The oil markets had a red day on Friday: Crude Oil decreased 1.26 USD/BBL or 2.10% to 58.8054; Brent decreased 1.32 USD/BBL or 1.95% to 66.41; Natural gas decreased 0.05 USD/MMBtu or 1.88% to 2.77; Gasoline decreased 0 USD/GAL or 0.11% to 1.91 and Heating oil decreased 0.04 USD/GAL or 2.03% to 1.95.
Top commodity gainers were Rubber (3.40%), Orange Juice (1.65%), and Cocoa (1.27%). The biggest losers were Bitumen (-3.58%), Canola (-2.99%), Palladium (-2.95%), and Copper (-2.03%).
Bonds:
Japan -0.07%(-4bp), US 2's 2.32% (-9bps), US 10's 2.46%(-8bps), US 30's 2.87%(-9bps), Bunds -0.01% (-5bp), France 0.35% (-6bp), Italy 2.48% (+3bp), Turkey 16.03% (+54bp), Greece 3.77% (+3bp), Portugal 1.27% (-2bp), Spain 1.09% (-1bp) and UK Gilts 1.01% (-5bp)