Blog/Market Talk
Posted Mar 21, 2017 by Martin Armstrong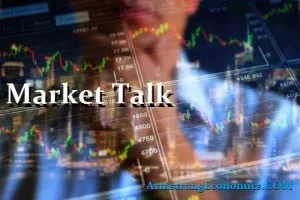 The market talk today was not really so much of Asia when you look back from US closing terms, so therefor, we shall jump to events around midday in Europe. Earlier in the London trading day we had seen UK inflation data and the surprise 2.3% reading, especially given the previous release was at 1.8%. This helped GBP rally 0.8% against the USD with the Euro also jumping on the back (+0.6%) of the heavy dollar day. Not really a great day for equity markets with their first 1% set-back since November 2016. Both FTSE and DAX fell 0.7% with CAC and IBEX both registering small losses on the day. Many of the traders remarked that the move started just as early as US trading appeared on the screens.
Interesting that rumours were running thick and fast with all sorts of reasons, given for the moves but as Treasuries started to rally, equity markets began to fall. The sector leading the decline was banks (BKX -3.8% on the day), but many talking of the Trump Rally fading. The more the longer end of the treasury curve rallied (price terms), the flattening hurt banks (BoA -5.7%, JPM -3% etc.). Energy prices were also hit with crude down over 1.25%. Basic Resources and Industrials were also trading heavy. Gold rallied to mid 1245 (+1%) whilst the DXY broke below the par level and was lasts seen around 99.55. It can be easy blaming one sector for the others move, but it has happened, so why worry what caused it! Fear and the lack of news resulted in prices closing at the day's lows which helped bonds close near their highs. The more we rallied on the back of the infrastructure and tax reforms assumed following Trumps Presidency the more optimism lifted the stock market. Now we are searching for confirmation of these assumptions before they take the market back up. Asian futures have obviously joined the sell-off with Nikkei down around 1.85% with the JPY flight to safety now trading mid 111's.
US 2's closed 1.26% (-3bp) and 10's 2.42% (-4bp) closes 2/10 curve at +116bp. Bunds closed 0.46% (+2bp) closes the spread US/Germany at +196bp. France 1.09% (-2bp), Italy 2.31% (-3bp), Greece 7.22% (-4bp), Turkey 10.53% (-11bp), Portugal 4.18% (-1bp) and UK Gilts 1.25% (+2bp).