Blog/Market Talk
Posted Mar 20, 2017 by Martin Armstrong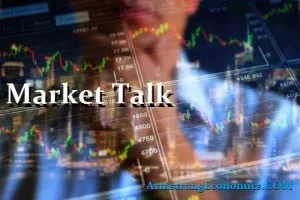 Asia performed reasonably well today if you neglect the Nikkei. Both the Hang Seng and Shanghai closed in positive territory, +0.8% and +0.4% respectively. The Nikkei, however, spot lit the party somewhat with a small -0.3% decline, but saw the JPY trade into the mid 112's. The talking point Monday morning was the lack of clear direction coming from the G20; other than the fact that they omitted to pass-on any unified call surrounding protectionism. They did warn against competitive devaluation of one currency, but did not address global trade. Oil was under-pressure for most of the day eventually closing down around 1%. In late US trading, futures have seen HS50 make a touch firmer to one into the close, while the Nikkei and China300 tended to drift a tad.
Europe could be interesting again this week as it is the last week for LTRO (@ -0.40%). Many Dealers are discussing whether the amount could exceed the €100bn mark! The final operation is due on the 23rd of March and it is unlikely the rate will be taken less negatively. Mid-day we heard that UK PM, Theresa May, will trigger Article 50 (UK's official notification of the intention to leave Europe) next week on 29th March. This put pressure on GBP which up until then was looking as though it may recover from recent weakness. However, by close of business the rate had fallen to 1.2340 near the days low (-0.4%) on the day. Because of this move FTSE was the only core index that managed a positive close today with all others down around -0.3%. France is also expected to be in the spotlight this week now that the presidential candidates are to hold a televised debate ahead of the April first round vote.
Not too much to write about as far as the US markets are concerned but talk around US ETF's. The amount of money flowed into US equity ETF's this year is rumoured to be equivalent to the past four years combined ($120bn). The DXY is holding the 100 mark and talk is of good international demand in the US Treasury market as well. US/Bund 10yr spread last seen at +202bp (was +207bp on Friday).
US 2's closed 1.29% (-3bp) with 10's at 2.46% (-4bp). Bunds closed 0.44% (+1bp), France 1.11% (+1bp), Italy 2.34% (-1bp), Greece 7.26% (+6bp), Turkey 10.64% (-6bp), Portugal 4.19% (-4bp) and UK Gilts 1.23% (-1bp)