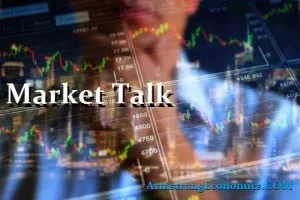 ASIA:
Bank of America economist said China stands a good chance of doubling the size of its economy by 2035 — and surpassing the U.S. as the world's largest economy along the way. Helen Qiao, head of Asia economics at BofA Global Research, said some reform measures would help China get there. Doubling of China's GDP requires an average annual growth of 4.7% for the next 15 years, which some observers said may be hard to achieve. China was one of the few economies globally that grew in 2020 despite the challenges posed by the Covid-19 pandemic. Official data showed the Chinese economy expanding by 2.3% last year, and the International Monetary Fund has forecast an 8.1% growth for China this year.
India announced new rules to regulate content on social media, making Facebook, WhatsApp, and others more accountable to legal requests for swift removal of posts and sharing details on the originators of messages. Big social media firms will be obliged to remove content within 36 hours of receiving a legal order, according to the rules. The government also said companies need to assist in probes or other cyber security-related incidents within 72 hours of receiving a request. India's IT minister said the rules would oblige the companies to reveal the originator of a message or post when legally ordered.
Japan's government cut its view on the overall economy in February for the first time since April last year as an extended state of emergency to curb coronavirus infections battered consumer spending. Analysts expect the world's third-largest economy to shrink in the current quarter as renewed restrictions rolled out in Tokyo and some prefectures last month to contain the pandemic damage businesses and household spending. The government slashed its assessment on consumer spending for a third straight month in February, saying it has shown weakness recently, as the emergency hurt the retail industry as people avoided eating out and traveling.
The major Asian stock markets had a mixed day today:
NIKKEI 225 decreased 255.33 points or -0.86% to 29,408.17
Shanghai decreased 42.81 points or -1.21% to 3,508.59
Hang Seng decreased 356.71 points or -1.21% to 29,095.86
ASX 200 decreased 27.30 points or -0.40% to 6,762.30
Kospi increased 30.92 points or 1.03% to 3,043.87
SENSEX increased 447.05 points or 0.90% to 50,296.89
Nifty50 increased 157.55 points or 1.07% to 14,919.10
The major Asian currency markets had a mixed day today:
AUDUSD increased 0.00557 or 0.72% to 0.78232
NZDUSD increased 0.00232 or 0.32% to 0.72914
USDJPY decreased 0.08 or -0.07% to 106.74
USDCNY increased 0.00672 or 0.10% to 6.47353
Precious Metals:
Gold increased 11.3 USD/t oz. or 0.66% to 1,735.14
Silver increased 0.18 USD/t. oz or 0.68% to 26.693
Some economic news from last night:
Japan:
Jobs/applications ratio (Jan) increased from 1.06 to 1.10
Unemployment Rate (Jan) remain the same at 2.9%
Capital Spending (YoY) (Q4) increased from -10.6% to -4.8%
Monetary Base (YoY) increased from 18.9% to 19.6%
South Korea:
Industrial Production (YoY) (Jan) increased from 2.5% to 7.5%
Industrial Production (MoM) (Jan) decreased from 2.7% to -1.6%
Retail Sales (MoM) increased from 0.1% to 1.6%
Service Sector Output (MoM) (Jan) increased from -1.1% to -0.2%
Nikkei Manufacturing PMI (Feb) increased from 53.2 to 55.3
Australia:
Building Approvals (MoM) (Jan) decreased from 12.0% to -19.4%
Current Account (Q4) increased from 10.0B to 14.5B
Net Exports Contribution (Q4) increased from -1.9% to -0.1%
Private House Approvals (Jan) decreased from 15.8% to -12.2%
RBA Interest Rate Decision (Mar) remain the same at 0.10%
New Zealand:
Terms of Trade – Exports Prices (Q4) increased from -8.3% to -0.4%
Terms of Trade – Exports Volume (QoQ) (Q4) decreased from 5.6% to 3.3%
Terms of Trade – Imports Prices (Q4) increased from -3.7% to -1.7%
Terms of Trade Index (QoQ) (Q4) increased from -4.7% to 1.3%
Some economic news from today:
India:
Exports (USD) (Feb) increased from 27.24B to 27.67B
Imports (USD) (Feb) decreased from 41.99B to 40.55B
Trade Balance (Feb) increased from -14.54B to -12.90B
Singapore:
Manufacturing PMI (Feb) decreased from 50.7 to 50.5
New Zealand
GlobalDairyTrade Price Index increased from 3.0% to 15.0%
EUROPE/EMEA:
UK annuity firms are unlikely to lower the assumptions for life expectancy that they factor into their reserves despite a substantial increase in mortality rates due to Covid-19, Fitch Ratings says. In recent years, UK annuity writers released significant amounts from their reserves to reflect a clear slowdown in life expectancy improvements. Even though life expectancy was still increasing, the rates of increase were less than those factored into reserves, leading to reserve surpluses that could be released. We estimate that the industry released well over GBP1 billion in 2018 and 2019 combined.
UK Chancellor Rishi Sunak is to launch a new fast-track visa scheme to help Britain's fastest-growing companies recruit highly skilled workers, as part of a drive to build an "agile" post-Brexit economy. Sunak sees the fintech industry, which employs more than 75,000 people in the UK, as emblematic of the kind of economy he wants to support when he sets out his Budget next week. Under the proposal, highly skilled migrants with a job offer from a UK scale-up would qualify for
a fast-track visa without the need for sponsorship or third-party endorsement. Fintech contributes £11bn to the UK economy.
The major Europe stock markets had a green day:
CAC 40 increased 16.94 points or 0.29% to 5,809.73
FTSE 100 increased 25.22 points or 0.38% to 6,613.75
DAX 30 increased 26.98 points or 0.19% to 14,039.80
The major Europe currency markets had a mixed day today:
EURUSD increased 0.00327 or 0.27% to 1.20807
GBPUSD increased 0.00455 or 0.33% to 1.39679
USDCHF decreased 0.0011 or -0.12% to 0.91395
Some economic news from Europe today:
Germany:
German Retail Sales (YoY) (Jan) decreased from 2.8% to -8.7%
German Retail Sales (MoM) (Jan) increased from -9.1% to -4.5%
German Unemployment Change (Feb) increased from -37K to 9K
German Unemployment Rate (Feb) remain the same at 6.00%
German Unemployment (Feb) increased from 2.743M to 2.752M
German Unemployment n.s.a. (Feb) increased from 2.901M to 2.904M
Spain:
Spanish Unemployment Change decreased from 76.2K to 44.4K
Euro Zone:
Core CPI (YoY) (Feb) decreased from 1.4% to 1.1%
Core CPI (MoM) (Feb) increased from -0.5% to 0.1%
CPI (YoY) (Feb) remain the same at 0.9%
CPI, n.s.a (Feb) increased from 105.32 to 105.54
HICP ex Energy & Food (YoY) (Feb) decreased from 1.4% to 1.2%
HICP ex Energy and Food (MoM) (Feb) increased from -0.3% to 0.1%
UK:
Nationwide HPI (YoY) (Feb) increased from 6.4% to 6.9%
Nationwide HPI (MoM) (Feb) increased from -0.2% to 0.7%
US/AMERICAS:
The White House announced that Merck & Co. will team up with Johnson & Johnson to produce the recently approved one-dose vaccine. According to Reuters, Johnson & Johnson has promised to deliver 12 million doses before March, but had a supply of less than 4 million. The new aim is to deliver 16 million doses by the original deadline as Merck will now use two US manufacturing facilities to exclusively create the vaccine.
Fed Governor Lael Brainard said on Tuesday that the central bank must remain "patient" and watch how current economic conditions unfold. Brainard expects there to be a strong economic recovery in 2021 due to increased vaccinations and accommodative policies. However, unemployment and prolonged restrictions pose a potential for volatility. "Various measures of financial conditions are broadly accommodative relative to historical levels and should remain so. The labor market should strengthen, perhaps significantly, as the virus recedes, social distancing comes to an end, and the service sector springs back to life," Brainard stated.
In a joint decision, the US and EU have sanctioned Russia for allegedly using a nerve agent to poison Putin's opposition Alexei Navalny. Seven Russian officials, 14 business entities, and 13 commercial parties will now face sanctions for their alleged involvement. While some are surprised that President Biden is taking a tougher stance against Russian than former President Donald Trump, many are concerned that the move will only worsen relations. Russia's first deputy head told Russia Today that the US does not comprehend "that these sanctions won't earn any result."
Statistics Canada announced that 2020 was the worst year on record for the Canadian economy after contracting -5.4%. Although GDP rose 2.3% in Q4, the gain was not enough to offset the damage caused by the pandemic and economic output in December was -3% lower than pre-pandemic output.
US Market Closings:
Dow decreased 143.99 points or -0.46% to 31,391.52
S&P 500 decreased 31.53 points or -0.81% to 3,870.29
Nasdaq decreased 230.04 points or -1.69% to 13,358.79
Russell 2000 declined 43.81 points or -1.93% to 2,231.51
Canada Market Closing:
TSX Composite advanced 121.98 points or 0.67% to 18,421.6
TSX 60 advanced 8.69 points or 0.8% to 1,096.58
Brazil Market Closing:
Bovespa advanced 1,204.97 points or 1.09% to 111,539.8
ENERGY:
Following last week's extreme cold weather, U.S. gas prices have fallen back rapidly because the large drawdown in inventories is not expected to create a lasting shortfall later in the year. The reduction in inventories was nearly three times the average for the same week over the last five years, according to data from the U.S. Energy Information.
The oil markets had a green day today:
Crude Oil increased 0.27 USD/BBL or 0.45% to 60.9100
Brent increased 0.19 USD/BBL or 0.30% to 63.8800
Natural gas increased 0.07 USD/MMBtu or 2.52% to 2.8470
Gasoline increased 0.0195 USD/GAL or 1.00% to 1.9624
Heating oil increased 0.0165 USD/GAL or 0.91% to 1.8357
Top commodity gainers: Natural Gas (2.52%), Aluminum (3.74%), Copper (2.84%) and Corn (2.69%)
Top commodity losers: Bitumen (-3.72%), Coffee (-1.29%), Oat (-8.97%), and Palm Oil (-2.06%)
The above data was collected around 13:05 EST on Tuesday.
BONDS:
Japan 0.13%(-2bp), US 2's 0.13%(+0.004%), US 10's 1.41%(-3bps); US 30's 2.22%(-0.004%), Bunds -0.34% (+3bp), France -0.11% (-1bp), Italy 0.68% (+2bp), Turkey 12.88% (+4bp), Greece 1.00% (-3bp), Portugal 0.24% (+1bp); Spain 0.34% (+1bp) and UK Gilts 0.69% (-7bp).
UK 5-Year Treasury Gilt Auction increased from 0.039% to 0.454%
Japan 10-Year JGB Auction increased from 0.053% to 0.131%
Spanish 6-Month Letras Auction increased from -0.551% to -0.524%
Spanish 12-Month Letras Auction increased from -0.524% to -0.506%