Blog/Market Talk
Posted Mar 2, 2018 by Martin Armstrong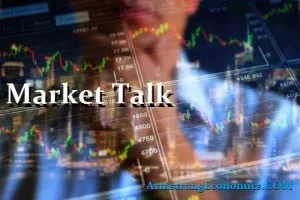 Mainland China market stood out again today but only because it did not fall as much as other core indices. Shanghai saw its days low just after the opening bell and even looked to trade positive at one stage just ahead of lunch. However, ahead of Italian elections, BREXIT discussions and President Trump's tariff announcement expecting a positive close was probably a step too far given this weekends possible headlines. So, a drop of just -0.6% almost felt like a result! Unsurprisingly, the largest decliners were the steel producers and car companies with falls on average over 4%. Japan responded through verbal intervention, but that bid not stop the Yen appreciating a big figure and now trading with a 105 handle. Obviously, not great for the Nikkei and that ended the day down 2.5% – just above the 22k level. The Hang Seng lost 1.5% with financials, tech and construction industries all declining. The SENSEX actually made a couple of attempts at positive territory only to decline -0.4% in the final minutes of trading.
Europe's answer was to cry fowl of President Trumps tariff move and threaten referring the decision to the TWO. Meanwhile BREXIT negotiations continue would both sides offering to meet in the middle just as long as both sides get there way! Earnings have not been so spectacular in Europe and with most core indices finishing the day around 2%, the mood does not feel too optimistic ahead of Sundays Italian elections. No clear winner is expected Sunday and so it all comes down to coalitions in the making. The Euro followed the Yen and made a little ground against the USD, but given that GBP was not there to lend a hand the DXY remains this evening with a 90 handle. Gold rallied almost $20 (1.25%) from yesterdays lows, but did start to give some back towards the close. The safe-haven bid took responsibility for much of this but when the currency held its own, the move gave a little back into the close. Deutsche Bank is another who has finally questioned the effectiveness of QE! It has only taken them 10years to see that so little of the created excess liquidity fails to find its way into the real economy.
With DOW futures having been trading much of the Asian and European day in negative territory it was no surprise we saw a weaker open for cash. Early cash was down almost 400 points at one stage and we had to wait until the afternoon session before it looked even close to a bounce. Then we had to wait for the final minutes of trading before the DOW printed positive. That was not the case for the S+P or NASDAQ which both turned mid-afternoon and continued to build of those gains. Broader money was seeking value at these lower levels but there was talk of some European cash raising earlier in the day. Cyclical's, transports, autos and financials all trading heavy on this cash raising rumour which is why we had to wait until the final minutes for some brighter price action. DOW almost unchanged -0.15%, S+P +0.6%, NASDAQ +1.1% and a great day for the RUSSELL gaining 1.7%.
Japan 0.07%, US 2's closed 2.24% (+3bp), 10's 2.87% (+6bp), 30's 3.14% (+4bp), Bunds 0.66% (+4bp), France 0.92% (+1bp), Italy 1.95% (+1bp), Greece 4.30% (-11bp), Turkey 11.60% (+4bp), Portugal 1.96% (+4bp), Spain 1.52% (+3bp) and Gilts 1.47% (u/c).