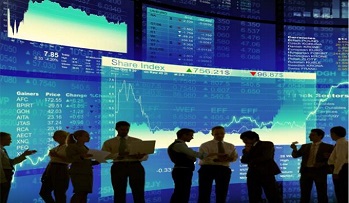 There were some big smiles across the faces of many equity traders today as we have seen some of the strongest markets gains in a while. The Nikkei closed +0.4% but could not match the performance of the Shanghai or Hang Seng Indices when they closed up at almost 2% on the day. We saw some mixed data out of Japan when the index was down over 1%, so to close higher on the day was an achievement! In late US trading, the futures contract gained an additional 3% from the cash close. We saw a little unfriendly economic data (manufacturing) earlier from China, but yesterday's cut of the RRR overshadowed all of those to achieve the 2% gain.
In Europe, the initial focus was on oil, miners, and the Eurozone Employment Report. Given the bounce in the price of oil and the healthy rally in miners, we saw strong gains for all core markets. This against the backdrop of a weaker employment number (10.3% against an expected 10.4% forecast) and a weaker euro. It was a stronger USD than a weaker euro. FTSE was the weaker of the core (+0.9%) and that was impressive when you see a core stock (Barclays) lose 9% on the day! CAC and IBEX both closed 2%+ on the day and was closely followed by the DAX that finished +1.6% higher.
Given the supporting ISM number (48.5 forecast against a 49.5% release), a healthy oil rally (+2% last seen $34.45), and some low impact data (construction spending forecast +0.4% but actual +1.5%), it was no surprise we saw strong gains across all sectors. The Dow was last seen trading over 350 points (+3%) up on the day with the broader S&P 2.4% and NASDAQ at 2.9%. What was interesting was the performance of the Financials Index in the States today, which was rumored to have benefited from some European inflow. Also good to see accompanying this rally was a pick-up in intraday volume.
Obviously, the safe-haven trade reversed and that saw sellers appear in the gold and fixed-income markets. Intraday gold did reach $1248 but drifted into the close to finish at $1235. Europe did not suffer as much as all European players are awaiting next week's ECB meeting. US 10s had its worst day since late last year when it lost 10BP and was last seen at 1.83%. 2's closed around 0.775% closing 2/10 at 105.5BP. Over in Europe, the 10yr German Bund closed 0.155% (+3BP), Italy 10yr closed 1.41% (-1BP), UK Gilt 10yr at 1.41% (+8BP).
ADP tomorrow and after the previous 205k print the forecast for Wednesday is 190k.