Blog/Market Talk
Posted Mar 19, 2020 by Martin Armstrong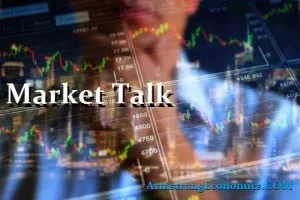 ASIA:
India reported two more deaths due to the coronavirus, bringing the death toll to five. The Indian government announced a total ban on flights by scheduled international passenger aircraft at Indian airports from March 22 to 29. Prime Minister Narendra Modi requested in his address to the nation to not come out of their homes on Sunday March 22, 2020 as part of India's initiative to maintain social distancing to counter the coronavirus outbreak in the country.
A relentless selling by investors amid rising cases of coronavirus in India brought the stock market bulls to their knees. Benchmark indexes plunged to their multi-year lows. BSE flagship Sensex was down over 1,700 points while NSE benchmark Nifty fell over 400.
China on Thursday reported no new local infections for the first time since the coronavirus crisis began three months ago. This is a milestone in its battle with the deadly outbreak that has upended daily life and economic activity around the world.
Chinese stocks fell to six-week lows on Tuesday, in line with global markets as investor sentiment remained fragile after coordinated efforts by central banks failed to ease worries over the coronavirus impact. The Shanghai Composite index closed 0.3% lower at 2,779.64, falling for the fifth trading day and hitting its lowest level since Feb. 4, when investors wiped $700 billion off the Chinese stock market on fears of an epidemic.
As of Thursday, Japan has 924 cases and 29 deaths from COVID-19. With over 81,000 cases in China and over 8,500 cases in South Korea, experts wonder if Japan has kept the virus contained or just hasn't tested enough of its population.
The major Asian stock markets had a negative day today:
NIKKEI 225 decreased 173.72 points or -1.04% to 16,552.83
Shanghai decreased 26.63 points or -0.98% to 2,702.13
Hang Seng decreased 582.69 points or -2.61% to 21,709.13
ASX 200 decreased 170.30 points or -3.44% to 4,782.90
Kospi decreased 133.56 points or -8.39% to 1,457.64
SENSEX decreased 581.28 points or -2.01% to 28,288.23
The major Asian currency markets had a green day today:
AUDUSD increased 0.01122 or 1,94% to 0.59082
NZDUSD increased 0.01427 or 2.49% to 0.58697
USDJPY increased 1.54 or 1.42% to 109.83
USDCNY increased 0.07498 or 1.06% to 7.14018
Precious Metals:
Gold decreased 12.25 USD/t oz. or -0.82% to 1,482.25
Silver decreased 0.0525 USD/t. oz or -0.43% to 12.1670
Some economic news from last night:
Australia:
Employment Change (Feb) increased from 13.5K to 26.7K
Full Employment Change (Feb) decreased from 46.2K to 6.7K
Participation Rate (Feb) decreased from 66.1% to 66.0%
Unemployment Rate (Feb) decreased from 5.3% to 5.1%
RBA Interest Rate Decision (May) increased from 0.25% to 0.50%
New Zealand:
GDP (QoQ) (Q4) decreased from 0.8% to 0.5%
GDP (YoY) (Q4) decreased from 2.3% to 1.8%
GDP Annual Average (Q4) decreased from 2.7% to 2.3%
GDP Expenditure (QoQ) (Q4) decreased from 0.6% to 0.2%
Japan:
Thomson Reuters IPSOS PCSI (Mar) decreased from 40.41 to 38.70
CPI, n.s.a (MoM) (Feb) decreased from -0.1% to -0.2%
National Core CPI (YoY) (Feb) decreased from 0.8% to 0.6%
National CPI (YoY) (Feb) decreased from 0.7% to 0.4%
National CPI (MoM) decreased from 0.0% to -0.1%
Foreign Bonds Buying decreased from 4,169.4B to -595.1B
Foreign Investments in Japanese Stocks decreased from -517.8B to -1,242.9B
China:
China Thomson Reuters IPSOS PCSI (Mar) increased from 59.86 to 64.20
Some economic news from today:
Japan:
All Industries Activity Index (MoM) increased from -0.1% to 0.8%
Indonesia:
Deposit Facility Rate (Mar) decreased from 4.00% to 3.75%
Lending Facility Rate (Mar) decreased from 5.50% to 5.25%
Interest Rate Decision decreased from 4.75% to 4.50%
EUROPE/EMEA:
The ECB and BOE have both announced major asset purchasing programs to offset the effects of the coronavirus. The ECB said it will spend up to 750 billion euros to buy both private and public instruments to ease the economy. The BOE further reduced rates to 0.1% from 0.25% as it cut rates from 0.75% last week. Government bonds reacted well as yields fell across the board. European stocks moved higher although nothing extraordinary compared to the last few days.
The EU chief Brexit negotiator has tested positive for COVID-19. He tweeted to his followers that he is in good health. But surely after the disruptions of the virus, the end of year target of a successful transition will be unrealistic.
The EU has requested streaming services such as Netflix, reduces the quality of their service in order to free up bandwidth after many people are working from home.
A town in Germany called Mitterteich is now the first in the country to go under complete lockdown as 6,500 residents agree to remain indoors.
In an extraordinary measure aimed at countering the spread of the coronavirus, the United Arab Emirates is barring entry to valid resident visas holders for a renewable period of two weeks, effective Thursday, March 19. The country is also suspending all work visa issuance and visas-on-arrival beginning Thursday and imposing a mandatory 14-day quarantine on anyone entering the country, any violations of which will be prosecuted. The only exemptions to the work visa suspension apply to Expo 2020 permit holders and intra-corporate transfer.
The major Europe stock markets had a green day today:
CAC 40 increased 100.66 points or 2.68% to 3,855.50
FTSE 100 increased 71.03 points, or 1.40% to 5,151.61
DAX 30 increased 168.72 points or 2.00% to 8,610.43
The major Europe currency markets had a mixed day today:
EURUSD decreased 0.01971 or -1.80% to 1.07579
GBPUSD increased 0.01359 or 1.17% to 1.17639
USDCHF increased 0.01245 or 1.29% to 0.97875
Some economic news from Europe today:
UK:
BoE Interest Rate Decision (Mar) decreased to 0.10%
Euro Zone:
Construction Output (MoM) (Jan) increased from -1.82% to 3.61%
ECB LTRO increased from 97.7B to 115.0B
Swiss:
Trade Balance (Feb) decreased from 4.775B to 3.573B
SNB Interest Rate Decision remain the same at -0.75%
Germany:
German Ifo Business Climate Index (Mar) decreased from 96.0 to 87.7
US/AMERICAS
The US government has come under pressure to bar companies who receive bailouts from engaging in share buybacks. President Trump suggested today that he would consider adding a clause to bar companies from using federal aid to buy back shares. The airline industry is seeking $50 billion in government aid due to the coronavirus slowdown. Delta, American Airlines, Southwest and United spent $39 billion over the last five years on buybacks, according to CNBC who referenced a tally from S&P Dow Jones Indices. Boeing alone spent $39 billion in buybacks over the last five years.
Numerous companies are expected to lower or eliminate their dividends due to the economic global slowdown. The S&P Dow Jones indexes were expected to payout a record high of $500 billion this year, according to the Wall Street Journal, but that was before the coronavirus contagion.
Uber shares jumped 38.26% this Thursday after the CEO announced the company has $10 billion in liquid assets to maintain operations despite the slowdown. Additionally, the cost of operations is very low. "About two-thirds of our cost of revenue and operating expense, excluding stock-based compensation, is variable. If a trip doesn't happen, many of these costs go away.," CEO Dara Khosrowshahi said. Although rides have slowed significantly, the company's food delivery service, Uber Eats, has seen an uptick in business. CEO Khosrowshahi also noted that Uber Eats will suspend all delivery fees from independent restaurants.
Canada announced that they are extended the deadline to file taxes to June 1. The US recently pushed back its tax deadline from April 15 to July 15. Treasury Secretary Mnuchin encouraged Americans to adhere to the April 15 deadline if possible, citing that many will receive a refund from the government.
US Market Closings:
Dow advanced 188.27 points or 0.95% to 20,087.19
S&P 500 advanced 11.29 points or 0.47% to 2,409.39
Nasdaq advanced 160.73 points or 2.3% to 7,150.58
Russell 2000 advanced 67.58 points or 6.82% to 1,058.75
Canada Market Closings:
TSX Composite advanced 449.1 points or 3.83% to 12,170.52
TSX 60 advanced 27.29 points or 3.82% to 742.03
Brazil Market Closing
Bovespa advanced 1,436.85 points or 2.15% to 68,331.80
ENERGY:
Brent Crude rallied today, closing higher by close to 14% and still hugging on to the 30 USD per barrel. WTI moved up 24%, breaking the 25 USD region. Good news regarding China's somewhat controlled measures with dealing with the virus helped shape a more positive outlook for this year.
The oil markets had a mixed day today:
Crude Oil increased 3.58 USD/BBL or 17.57% to 23.9500
Brent increased 1.75 USD/BBL or 7.03% to 26.6300
Natural gas increased 0.014 USD/MMBtu or 0.78% to 1.8020
Gasoline decreased 0.0164 USD/GAL or -2.32% to 0.6905
Heating oil decreased 0.0159 USD/GAL or -1.54% to 1.0167
Top commodity gainers: Ethanol (5.60%), Crude Oil (17.57%), Brent (7.03%), and Palladium (6.31%)
Top commodity losers: Cotton (-4.33%), Platinum (-6.63%), Rubber (-5.71%), and Bitumen (-6.17%)
The above data was collected around 12.10 EST on Thursday.
BONDS:
Japan 0.10%(+5bp), US 2's 0.44% (-10bps), US 10's 1.11%(-7bps); US 30's 1.80%(+4bps), Bunds -0.23% (+20bp), France 0.25% (-14bp), Italy 1.86% (-63bp), Turkey 13.44% (+82bp), Greece 2.39% (-146bp), Portugal 1.08% (-31bp); Spain 0.91% (-32bp) and UK Gilts 0.79% (-8bp).
US 4-Week Bill Auction decreased from 0.395% to 0.030%
US 8-Week Bill Auction decreased from 0.290% to 0030%
UK 5-Year Treasury Gilt Auction increased from 0.222% to 0.640%
French 3-Year BTAN Auction increased from -0.59% to -0.43%
French 5-Year BTAN Auction increased from -0.50% to -0.22%
Spanish 3-Year Bonos Auction increased from -0.416% to 0.024%
Spanish 10-Year Obligacion Auction increased from 0.170% to 0.660%