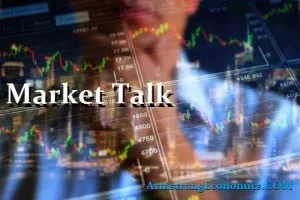 ASIA:
The US Commerce Department said on Wednesday that it has served subpoenas on multiple Chinese companies that provide information and communications technology services in the United States to see if they pose a national security risk. The subpoenas will gather information to "allow us to make a determination for possible action that best protects the security of American companies, American workers, and US national security," Commerce Secretary Gina Raimondo said in a statement. The statement did not name any companies. The Commerce Department issued an interim final rule in the final days of the Trump administration aimed at addressing information and communications technology supply chain concerns and said it would become effective after a 60-day period of public comment. The US Chamber of Commerce and groups representing major industries raised concerns in a letter to the Commerce Department in January that the interim rule gave the government "nearly unlimited authority to intervene in virtually any commercial transaction between US companies and their foreign counterparts that involves technology.
DBS Group economist's report suggests India's central bank may have to delay the start of monetary policy normalization by three months amid rising COVID-19 cases, but barring the return of stringent lockdowns, there is no significant threat to the economy's recovery. DBS has retained its assumptions for a stronger pick-up in March quarter growth versus the December 2020 quarter and expects a double-digit rebound in the fiscal year 2021/22. Though analysts are unlikely to rush to review their long-term growth forecasts, several believe policy normalization on interest rates and liquidity, may now take a backseat.
Japanese exports fell much faster than expected in February as US and China-bound shipments weakened. This could be a source of concern for the world's third-largest economy as it tries to prop up growth. Ministry of Finance data out on Wednesday showed Japanese exports fell 4.5% year-on-year in February, hurt by a decline in US-bound shipments of automobiles. It was the first decline in three months, following a 6.4% gain in January. It was also much bigger than a 0.8% drop expected by economists in a Reuters poll. U.S.-bound shipments, another key export market for Japanese goods, declined 14.0% year-on-year in February, dragged down by automobiles, airplane parts, and motors, after a 4.8% drop in the prior month and posting a fourth straight month of declines.
The major Asian stock markets had a mixed day today:
NIKKEI 225 increased 302.42 points or 1.01% to 30,216.75
Shanghai increased 17.52 points or 0.51% to 3,463.07
Hang Seng increased 371.60 points or 1.28% to 29,405.72
ASX 200 decreased 49.30 points or -0.73% to 6,745.90
Kospi increased 18.51 points or 0.61% to 3,066.01
SENSEX decreased 585.10 points or -1.17% to 49,216.52
Nifty50 decreased 163.45 points or -1.11% to 14,557.85
The major Asian currency markets had a mixed day today:
AUDUSD decreased 0.0037 or -0.48% to 0.77727
NZDUSD decreased 0.0073 or -1.00% to 0.71750
USDJPY increased 0.3110 or 0.29% to 109.19
USDCNY increased 0.0224 or 0.35% to 6.50895
Precious Metals:
Gold decreased 18.17 USD/t oz. or -1.04% to 1,726.27
Silver decreased 0.29 USD/t. oz or -1.10% to 26.047
Some economic news from last night:
Japan:
Foreign Bonds Buying decreased from 111.7B to -417.0B
Foreign Investments in Japanese Stocks increased from -136.7B to -60.1B
South Korea:
M2 Money supply (Jan) increased from 8.60% to 8.90%
Australia:
Unemployment Rate (Feb) decreased from 6.4% to 5.8%
Employment Change (Feb) increased from 29.5K to 88.7K
Full Employment Change (Feb) increased from 58.7K to 89.1K
Participation Rate (Feb) remain the same at 66.1%
New Zealand:
GDP (QoQ) (Q4) decreased from 13.9% to -1.0%
GDP (YoY) (Q4) decreased from 0.2% to -0.9%
GDP Annual Average (Q4) decreased from -2.3% to -2.9%
GDP Expenditure (QoQ) (Q4) decreased from 14.3% to -1.5%
Some economic news from today:
Indonesia:
Interest Rate Decision remain the same at 3.50%
Deposit Facility Rate (Mar) remain the same at 2.75%
Lending Facility Rate (Mar) remain the same at 4.25%
Loans (YoY) (Feb) decreased from -1.92% to -2.15%
EUROPE/EMEA:
The German government's council of economic advisers said on Wednesday it expected Europe's largest economy to shrink by roughly 2% in the first quarter of this year due to lockdown measures to contain the COVID-19 pandemic. The council cut its full-year 2021 gross domestic product growth forecast to 3.1% from 3.7% previously. It expects the economy to reach its pre-crisis level at the turn of the year 2021/22 and to grow by 4% next year.
The European Union launched legal proceedings against the United Kingdom over London's unilateral attempts to extend the Brexit grace period on food imports to Northern Ireland. The move comes after Northern Ireland Secretary Brandon Lewis announced on March 3 that the UK planned to continue to bypass bureaucratic requirements on those imports until October 1, 2021. A grace period on those checks is currently scheduled to expire at the end of March 2021. EU officials said they were blindsided by the UK's move to extend the grace period. Negotiators had been attempting to broker a compromise. On Monday, the EU sent a letter to the UK to formally notify London of its alleged breach of the Withdrawal Agreement, a move that could potentially result in the UK being taken to an arbitration panel that may result in financial sanctions.
The major Europe stock markets had a green day:
CAC 40 increased 7.97 or 0.13% to 6,062.79
FTSE 100 increased 17.01 or 0.25% to 6,779.68
DAX 30 increased 178.91 or 1.23% to 14,775.52
The major Europe currency markets had a mixed day today:
EURUSD decreased 0.0065 or -0.54% to 1.19155
GBPUSD decreased 0.0065 or -0.47% to 1.39086
USDCHF increased 0.0078 or 0.84% to 0.93001
Some economic news from Europe today:
Swiss:
Trade Balance (Feb) decreased from 4.977B to 3.699B
PPI (YoY) (Feb) increased from -2.1% to -1.1%
PPI (MoM) (Feb) decreased from 0.3% to 0.0%
Italy:
Italian Trade Balance (Jan) decreased from 6.856B to 1.587B
Italian Trade Balance EU (Jan) increased from -1.19B to -0.19B
Norway:
Interest Rate Decision remain the same at 0.00%
Euro Zone:
Wages in euro zone (YoY) (Q4) increased from 2.20% to 3.50%
Labor Cost Index (YoY) (Q4) increased from 1.60% to 3.00%
Trade Balance (Jan) decreased from 29.4B to 6.3B
ECB LTRO increased from 50.4B to 330.5B
UK:
BoE MPC vote cut (Mar) remain the same at 0
BoE MPC vote hike (Mar) remain the same at 0
BoE MPC vote unchanged (Mar) remain the same at 9
BoE QE Total (Mar) remain the same at 875B
BoE Interest Rate Decision (Mar) remain the same at 0.10%
US/AMERICAS:
Total jobless claims for the week ending on March 13 unexpectedly rose to 770,000, according to the Labor Department's weekly report. Analysts had anticipated a loss of 700,000. However, the bigger picture is less pessimistic as the economy added 545,000 jobs since January 2021, pushing the unemployment rate down to 6.2%. As more states and businesses continue to reopen, many are anticipating a lower unemployment rate during Q2.
For the second year in a row, the Internal Revenue Service (IRS) and Treasury Department are extending the tax filing deadline. Americans will not have until May 17, opposed to April 15, to file their tax returns at the federal level but must check in with their individual states to ensure they are also postponing their deadlines as well.
The Biden administration is beginning their relationship with Russia on poor grounds after President Biden called Russian President Vladimir Putin a "killer" during a televised interview. President Biden also threatened a vague form of retaliation during the interview, stating, "The price he's going to pay, you'll see shortly." A Russian foreign ministry spokesperson stated that the American president's comments have caused "irreversible degradation" of relations with Russia and warned that America must "acknowledge the associated risks" of not maintaining a cordial relationship. Putin is now requesting to speak with Biden under a few conditions. "I want to offer President Biden to continue our discussion but on the condition that we do it live, online, without any delays but in an open, direct discussion," Putin stated.
The US is poised to share nearly 4 million doses of AstraZeneca's one-dose COVID vaccination. Mexico is set to acquire 2.5 million vaccinations from the US, while Canada will receive 1.5 million. Although AstraZeneca has a manufacturing plant in the US, the vaccine is not yet authorized for use in the country. The vaccine has come under controversy after numerous nations temporarily banned its use due to blood clots. Prime Minister Justin Trudeau has stated that he is not concerned with the potentially lethal side effect, stating that it was from a bad batch within the EU. Mexico has been accepting aid from China and Russia, which may be another push for the US to offer a hand to maintain diplomatic relations.
US Market Closings:
Dow declined 153.07 points or -0.46% to 32,862.3
S&P 500 declined 58.66 points or -1.48% to 3,915.46
Nasdaq declined 409.03 points or -3.02% to 13,116.17
Russell 2000 declined 68.81 points or -2.94% to 2,267.59
Canada Market Closings:
TSX Composite declined 146.63 points or -0.77% to 18,836.47
TSX 60 declined 6.27 points or -0.55% to 1,124.56
Brazil Market Closing:
Bovespa declined 1,714.01 points or -1.47% to 114,835.43
ENERGY:
The oil markets had a negative day today:
Crude Oil decreased 2.89 USD/BBL or -4.47% to 61.7100
Brent decreased 2.88 USD/BBL or -4.24% to 65.1200
Natural gas decreased 0.049 USD/MMBtu or -1.94% to 2.4790
Gasoline decreased 0.064 USD/GAL or -3.13% to 1.9831
Heating oil decreased 0.0699 USD/GAL or -3.67% to 1.8362
Top commodity gainers: Orange Juice (1.96%), Cocoa (0.91%), Coal (1.18%) and Palladium (5.74%)
Top commodity losers: Crude Oil (-4.47%), Brent (-4.24%), Heating Oil (-3.67%), and Gasoline (-3.13%)
The above data was collected around 11:05 EST on Thursday.
BONDS:
Japan 0.11%(+1bp), US 2's 0.17%(+0.036%), US 10's 1.73%(+9bps); US 30's 2.48%(+0.041%), Bunds -0.27% (+6bp), France -0.03% (+0bp), Italy 0.69% (-1bp), Turkey 13.78% (-5bp), Greece 0.96% (+0bp), Portugal 0.28% (+2bp); Spain 0.39% (+1bp) and UK Gilts 0.87% (+4bp).
US 4-Week Bill Auction decreased from 0.030% to 0.000%
US 8-Week Bill Auction decreased from 0.035% to 0.010%
French 3-Year BTAN Auction decreased from -0.60% to -0.61%
French 5-Year BTAN Auction increased from -0.50% to -0.48%
Spanish 3-Year Bonos Auction increased from -0.410% to -0.396%
Spanish 30-Year Obligacion Auction increased from 0.854% to 1.297%