Blog/Market Talk
Posted Mar 17, 2017 by Martin Armstrong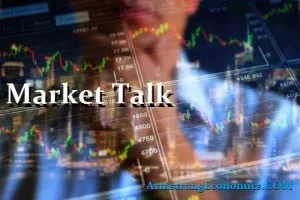 Given the mixed to small lower session seen in the US, the reaction it had on Asia was understandably a marginally weaker theme. Eventually, we saw losses in the Nikkei (-0.35%) and Shanghai (-0.95%) but gains for ASX (+0.25%) and Hang Seng (+0.1%). The geopolitical concerns are still present between China and Japan over the South China Seas and this was one reason provided for the ongoing strength in the Japanese Yen as we see it rally again to the mid 112's. There was more talk surrounding a weaker CNH as traders look for the crucial 6.900 level under pressure as we head towards month and quarter end. In late US trading, the Nikkei (futures) are slowing ground and are now around -0.5% lower on the day.
European trading was also quiet after an eventful week while it remains nervous ahead of G20 and April's French elections. One interesting meeting was between Wolfgang Schaeuble, the German finance minister and Treasury Secretary Steven Mnuchin. Schaeuble blamed the Euro and the Euro area for the German trade surplus as it is not their central bank or currency individually, but part of the group. This is something we have been stating for a long time and clarifies that a one size does not fit all. However, a long way to go yet as southern Europe continues to feel the pain while the FED hikes and ECB does what it can. The meeting between Trump and Merkel appeared an opportunity for President Trump to reiterate that he is not an isolationist but remained true to his word that others should pay their own fair share of the comfort he feels the US provides. NATO was mentioned and the two were far from the position Trump received when he met Theresa May the UK Prime Minister after she said they were 100% behind NATO.
It was a deceiving market as far as the US equity session went, despite extremely thin moves, the volumes were around 20% higher. This was due to the amount of option expiries this evening given many contracts have rolled and we approach quarter end. Gold has had a solid bounce the past couple of days but then oil/energy also saw a welcome bounce. It will be interesting to see the Q1 numbers on energy, metals and rates as they jockey for position.
US 2's closed 1.32% (-1bp), 10's at 2.50 (-3bp) a 2bp flatter curve. Bunds closed 0.43% (-2bp) closing the US/Germany spread at +207bp. France closed 1.10% (+2bp), Italy 2.35% (+0), Greece 7.2`% (+7bp), Turkey 10.70% (-10bp), Portugal 4.23% (+0bp) and UK Gilts 1.24% (-1bp).