Blog/Market Talk
Posted Mar 17, 2020 by Martin Armstrong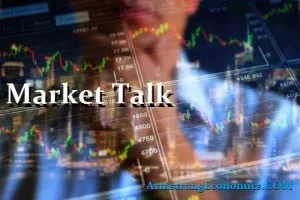 ASIA:
India closed the Taj Mahal, one of the world's premier tourist destinations, to counter the COVID-19 virus outbreak in the country. India has so far managed to keep cases low by responding fast and aggressively to the coronavirus and urging people to practice social distancing. India has reported 125 cases of the coronavirus.
India on Tuesday slammed China and Pakistan for reference to Jammu and Kashmir in a joint statement. India said it expects other countries not to comment on its internal matters and respect its sovereignty.
India's central bank, Reserve Bank of India (RBI), left markets disappointed when it announced to not cut the interest rates in the face of the coronavirus outbreak. In a statement released on Monday, RBI's governor Shaktikanta Das said that RBI's policy actions will be "considered and calibrated" and the timing of any interest rate action would be based on the "evolving situation."
The most recent signs suggest that coronavirus cases in China have now stabilized, WHO said but cautioned the public against reading too much into these numbers. Dr. Mike Ryan, executive director of WHO's emergencies program, said the slowing in cases is due in large to "the huge public health operation in China." While new cases appear to have slowed in recent days, Ryan said public health officials must still be vigilant in preparing for the virus to get worse.
China will expel US reporters from three major US news outlets — New York Times, Washington Post, and Wall Street Journal — in a hugely damaging attack on foreign media coverage of the country and an escalation of the showdown over the press between Washington and Beijing. The decision, announced just after midnight Beijing time, requires US citizens working for the New York Times, Washington Post, and Wall Street Journal to halt reporting and hand in their press cards within 10 days if their credentials expire before the end of 2020.
Japan will refrain from sending a delegation to the Olympic flame handover ceremony in Greece as a safety measure in response to the global coronavirus pandemic, Tokyo Games organizing committee President Yoshiro Mori said Tuesday.
The major Asian stock markets had a mixed day today:
NIKKEI 225 increased 9.49 points or 0.06% to 17,011.53
Shanghai decreased 9.61 points or -0.34% to 2,779.64
Hang Seng increased 200.16 points or 0.87% to 23,263.73
ASX 200 increased 291.40 points or 5.83% to 5,293.40
Kospi decreased 42.42 points or -2.47% to 1,672.44
SENSEX decreased 810.98 points or -2.58% to 30,579.09
The major Asian currency markets had a mixed day today:
AUDUSD decreased 0.0111 or -1.82% to 0.59980
NZDUSD decreased 0.01092 or -1.81% to 0.59328
USDJPY increased 1.4220 or 1.34% to 107.65
USDCNY increased 0.0199 or 0.28% to 7.02855
Precious Metals:
Gold increased 15.95 USD/t oz. or 1.06% to 1,524.35
Silver decreased 0.53 USD/t. oz or -4.10% to 12.4900
Some economic news from last night:
Australia:
House Price Index (QoQ) (Q4) increased from 2.4% to 3.9%
New Zealand:
Westpac Consumer Sentiment (Q1) decreased from 109.9 to 104.2
RBNZ Offshore Holdings (Feb) decreased from 49.80% to 48.90%
Singapore:
Non-Oil Exports (YoY) (Feb) increased from -3.30% to 3.00%
Non-Oil Exports (MoM) (Feb) decreased from 4.50% to -4.80%
Trade Balance decreased from 1.580B to 1.090B
Japan:
Reuters Tankan Index (Mar) decreased from -5 to -20
South Korea:
M2 Money supply (Jan) decreased from 7.80% to 7.70%
Some economic news from today:
Japan:
Capacity Utilization (MoM) (Jan) increased from -0.4% to 1.1%
Industrial Production (MoM) (Jan) decreased from 1.2% to 1.0%
Indonesia:
Car Sales (YoY) (Feb) decreased from -2.40% to -2.70%
New Zealand:
GlobalDairyTrade Price Index decreased from -1.2% to -3.9%
HongKong:
Unemployment Rate (Feb) increased from 3.4% to 3.7%
EUROPE/EMEA:
The European Union member nations have announced they have agreed to close their borders for 30 days. Freedom of travel between member states will still be allowed.
Brexit talks that were due to commence this week had to be postponed due to the virus. A spokesperson said that convening via video conferencing system was an option they are considering.
Volkswagen Group, the world's largest car maker, announced today that it will be shutting down plants across Europe and essentially grinding to a halt. Spain, Portugal, and Slovakian plants are expected to be halted by the end of the week.
Turkish President Erdogan has pleaded once more to the EU to provide funds to help keep out refugees from the union.
The major Europe stock markets had a green day today:
CAC 40 increased 110.32 points or 2.84% to 3,991.78
FTSE 100 increased 143.82 points, or 2.79% to 5,294.90
DAX 30 increased 196.85 points or 2.25% to 8,939.10
The major Europe currency markets had a mixed day today:
EURUSD decreased 0.0162 or -1.45% to 1.09970
GBPUSD decreased 0.0212 or -1.73% to 1.20526
USDCHF increased 0.0132 or 1.40% to 0.96103
Some economic news from Europe today:
UK:
Average Earnings ex Bonus (Jan) decreased from 3.2% to 3.1%
Average Earnings Index +Bonus (Jan) increased from 2.9% to 3.1%
Claimant Count Change (Feb) increased from -0.2K to 17.3K
Employment Change 3M/3M (MoM) (Jan) increased from 180K to 184K
Unemployment Rate (Jan) increased from 3.8% to 3.9%
Germany:
German ZEW Current Conditions (Mar) decreased from -15.7 to -43.1
German ZEW Economic Sentiment (Mar) decreased from 8.7 to -49.5
Euro Zone:
Wages in euro zone (YoY) (Q4) decreased from 2.60% to 2.30%
Labor Cost Index (YoY) (Q4) decreased from 2.60% to 2.40%
ZEW Economic Sentiment (Mar) decreased from 10.4 to -49.5
US/AMERICAS:
The White House is deliberating on ways to supplement income for Americans affected by the coronavirus. One proposal includes sending $1,000 to citizens making under $100,000 annually. "Americans need to get cash now and the president wants to get cash now, and I mean now— in the next two weeks," Secretary Mnuchin told reporters this Tuesday. President Trump has also proposed halting the payroll tax, but has received some bipartisan backlash over the idea.
US airlines are seeking a $58 billion relief package to offset the near halt to travel caused by the coronavirus. Airports are reportedly seeking $10 billion from the government. Boeing, who was already in trouble long before the coronavirus outbreak, plunged to a 52-week low during early trading. Later in the day, President Trump announced that Washington does plan to help Boeing but did not mention specifics. Boeing closed down -4.22% and is down -67.65% YoY.
Moderna Inc. has begun testing a coronavirus vaccine on live patients. In congruence with the US National Institutes of Health, the hope is that Moderna's vaccine can immunize people against the virus and thereby drastically reduce its spread. The vaccine employs synthetic messenger RNA (mRNA) to patients and therefore the public. Other companies are also working on vaccines, but Moderna has made the most headway. Shares of Moderna went up 6.38% today.
Uber announced it will temporarily suspend shared rides across the US and Canada in an effort to socially distance riders. This suspension only applies to the shared ride option in which riders can pool together and travel at a lower fare. The company anticipates a growing demand for Uber Eats delivery services as social distancing measures increase. Uber shares fell -6.80% this Tuesday.
US Market Closings:
Dow advanced 1,048.86 points or 5.2% to 21,237.38
S&P 500 advanced 143.06 points or 6% to 2,529.19
Nasdaq advanced 430.19 points or 6.23% to 7,334.78
Russell 2000 advanced 69.27 points or 6.68% to 1,106.88
Canada Market Closings:
TSX Composite advanced 324.81 points or 2.63% to 12,685.21
TSX 60 advanced 21.73 points or 2.91% to 767.73
Brazil Market Closing:
Bovespa advanced 3,449.19 points or 4.85% to 74,617.24
ENERGY:
Crude products continued to slide today; WTI is hovering around 27 USD per barrel and Brent is hanging onto the 30 USD a barrel region. Saudi Arabia has now boosted exports to an all-time high as there is no unity with the OPEC+ group.
The oil markets had a negative day today:
Crude Oil decreased 1.72 USD/BBL or -6.02% to 26.8500
Brent decreased 0.89 USD/BBL or -3.02% to 28.6200
Natural gas decreased 0.07 USD/MMBtu or -3.51% to 1.8440
Gasoline decreased 0.03 USD/GAL or -3.64% to 0.7487
Heating oil decreased 0.02 USD/GAL or -1.93% to 1.0571
Top commodity gainers: Rice (3.12%), Live Cattle (5.25%), Feeder Cattle (4.82%), and Lean Hogs (6.39%)
Top commodity losers: Crude Oil (-6.02%), Lumber (-4.00%), Silver (-4.10%), and Ethanol (-14.26%)
The above data was collected around 17.21 EST on Tuesday.
BONDS:
Japan -0.06%(-2bp), US 2's 0.48% (+11bps), US 10's 1.08%(+34bps); US 30's 1.64%(+35bps), Bunds -0.40% (+6bp), France -0.32% (-2bp), Italy 2.40% (+18bp), Turkey 12.40% (+25bp), Greece 3.70% (+114bp), Portugal 1.27% (+21bp); Spain 1.04% (+20bp) and UK Gilts 0.58% (+16bp).
UK 30-Year treasury Gilt Auction decreased from 1.289% to 1.029%