Blog/Market Talk
Posted Mar 16, 2020 by Martin Armstrong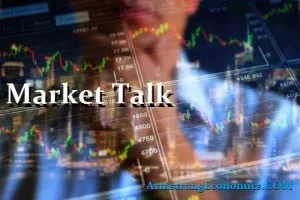 ASIA:
The Indian government on Monday prohibited entry of passengers from European Union (EU) countries, European Free Trade Association, Turkey and the United Kingdom into India as a step to combat the spread of COVID-19 in the country. The Directorate General of Civil Aviation (DGCA) said in a circular that no airlines shall board passengers from these nations with effect from 1200 GMT on March 18, 2020, adding that this measure is expected to be enforced till March 31, following which the situation will be reviewed again. The government has also extended a minimum quarantine period of 14 days to those Indian passengers coming through or from UAE, Qatar, Oman, and Kuwait from March 18 til March 31.
India's central bank, the Reserve Bank of India (RBI), has announced measures to boost liquidity in the foreign exchange and domestic markets. The bank stated India is not immune to the virus outbreak. RBI will conduct long-term repo operations worth USD 13 billion at the current policy rate and do another forex swap on March 23 to provide dollar liquidity to the market.
China's economic activity contracted sharply across the board in the first two months of the year amid Beijing's aggressive measures to contain the coronavirus epidemic. As per the data released by National Bureau of Statistics on Monday, industrial output declined 13.5% in the January-February period from a year earlier; retail sales tumbled 20.5% in the first two months of the year — typically a boom season for consumption — compared with growth of 8.0% in December; and urban unemployment rate rose to 5.7% in February from 5.2% in December. Roughly 5 million people in China lost their jobs amid the outbreak of the coronavirus in January and February.
The major Asian stock markets had a negative day today:
NIKKEI 225 decreased 429.01 points or -2.46% to 17,002.04
Shanghai decreased 98.17 points or -3.40% to 2,789.25
Hang Seng decreased 969.34 points or -4.03% to 23,063.57
ASX 200 decreased 537.30 points or -9.70% to 5,002.00
Kospi decreased 56.58 points or -3.19% to 1,714.86
SENSEX decreased 2,713.41 points or -7.96% to 31,390.07
The major Asian currency markets had a negative day today:
AUDUSD decreased 0.00519 or -0.84% to 0.61221
NZDUSD decreased 0.00144 or -0.24% to 0.60466
USDJPY decreased 2.15 or -1.99% to 105.85
USDCNY decreased 0.0020 or 0.03% to 7.0110
Precious Metals:
Gold decreased 37.05 USD/t oz. or -2.42% to 1,492.40
Silver decreased 1.994 USD/t. oz or -13.53% to 12.7430
Some economic news from last night:
New Zealand:
RBNZ Interest Rate Decision decreased from 1.00% to 0.25%
External Migration & Visitors (Jan) increased from -0.20% to 2.90%
Permanent/Long-Term Migration (Jan) increased from 5,400 to 6,490
China:
House Prices (YoY) (Feb) decreased from 6.3% to 5.8%
Fixed Asset Investment (YoY) (Feb) decreased from 5.4% to -24.5%
Industrial Production (YoY) (Feb) decreased from 6.9% to -13.5%
Chinese Industrial Production YTD (YoY) (Feb) decreased from 5.7% to -13.5%
Retail Sales (YoY) (Feb) decreased from 8.0% to -20.5%
Chinese Retail Sales YTD (YoY) (Feb) decreased from 8.05% to -21.09%
Chinese Unemployment Rate increased from 5.2% to 6.2%
Japan:
Core Machinery Orders (MoM) (Jan) increased from -11.9% to 2.9%
Core Machinery Orders (YoY) (Jan) increased from -3.5% to -0.3%
Some economic news from today:
Japan:
BoJ Interest Rate Decision remain the same at -0.10%
South Korea:
Interest Rate Decision (Mar) decreased from 1.25% to 0.75%
India:
WPI Food (YoY) (Feb) decreased from 11.51% to 7.79%
WPI Fuel (YoY) (Feb) decreased from 3.42% to 3.38%
WPI Inflation (YoY) (Feb) decreased from 3.10% to 2.26%
WPI Manufacturing Inflation (YoY) (Feb) increased from 0.34% to 0.42%
Indonesia:
Export Growth (YoY) (Feb) increased from -3.71% to 11.00%
Import Growth (YoY) (Feb) decreased from -4.78% to -5.11%
Trade Balance (Feb) increased from -0.87B to 2.34B
New Zealand:
Westpac Consumer Sentiment (Q1) decreased from 109.9 to 104.2
EUROPE/EMEA:
Global stocks crashed again today over the slowdown of businesses affected by the coronavirus. Spain today became the fourth most affected country in the world as cases spiked 34% in two days to around 8,000 cases.
The EU proposed a 30-day travel ban on non-essential travel for the whole of the European Union. The European Commission President Ursula von der Leyen said that less travel will provide more of a chance to contain the virus. The bill is expected to be voted on Tuesday.
Countries across Europe have started to impose strict measures. Latvia has blocked their borders. Germany blocked many parks and bars from being opened. The president of France has ordered citizens to stay at home for 15 days; with citizens being allowed to leave their homes for essential duties on midday Tuesday.
Italy has announced 25 billion euros to help the overwhelmed healthcare system and businesses recover from the economic impact of the virus.
The major Europe stock markets had a negative day today:
CAC 40 decreased 236.89 points or -5.75% to 3,881.46
FTSE 100 decreased 215.03 points, or -4.01% to 5,151.08
DAX 30 decreased 489.83 points or -5.31% to 8,742.25
The major Europe currency markets had a mixed day today:
EURUSD increased 0.00653 or 0.59% to 1.11703
GBPUSD decreased 0.00274 or -0.22% to 1.22476
USDCHF decreased 0.00373 or -0.39% to 0.94647
Some economic news from Europe today:
UK:
Rightmove House Price Index (MoM) increased from 0.8% to 1.0%
Swiss:
PPI (YoY) (Feb) decreased from -1.0% to -2.1%
PPI (MoM) (Feb) decreased from 0.0% to -0.9%
Italy:
Italian CPI (MoM) (Feb) decreased from 0.1% to -0.1%
Italian CPI (YoY) (Feb) decreased from 0.5% to 0.3%
Italian CPI Ex Tobacco (MoM) (Feb) decreased from 0.5% to 0.2%
Italian HICP (MoM) (Feb) increased from -1.8% to -0.5%
Italian HICP (YoY) (Feb) decreased from 0.4% to 0.2%
Euro Zone:
Reserve Assets Total (Feb) increased from 846.82B to 864.59B
Norway:
Trade Balance (Feb) decreased from 21.2B to 18.3B
US/AMERICAS:
US President Donald Trump addressed the public this afternoon to implement additional nation-wide measures to prevent the spread of the coronavirus. "We've made the decision to further toughen the guidelines…we'd much rather be ahead of the curve than behind it," the president stated. For the next 15 days, Americans are encouraged to avoid discretionary travel, gatherings of more than 10 people, and eating at restaurants or bars. Schools across the nation are to remain closed and businesses are encouraged to allow employees to work remotely. The president stressed that it is important to understand that while most may only experience mild symptoms, these measures will help those at risk such as the elderly and those with compromised immune systems. Worse, the president noted that it may take until July or August for the coronavirus to be contained.
The Federal Reserve shocked the world on Sunday after lowering rates by 100 bps to 0% to 0.25% to offset the economic impact of the coronavirus. The decision comes on the heels of Wall Street's worst-performing week in over 30 years. "The Committee expects to maintain this target range until it is confident that the economy has weathered recent events and is on track to achieve its maximum employment and price stability goals. This action will help support economic activity, strong labor market conditions, and inflation returning to the Committee's symmetric 2 percent objective," the Federal Reserve stated. Fed Chairman Jerome Powell has long advised against negative rates, and commented that he does not foresee another cut. The central bank is also pledging $700 billion of stimulus purchases of Treasury and mortgage-backed securities.
The Dow crashed nearly 3,000 points this Monday to 20,188.52, witnessing its worst perfomance since 1987. Boeing lost big this Monday after declining -23.85%, Travelers (-20.80%), Home Depot (-19.79%), and Intel (-18.04%) also contributed the Dow's downfall.
Stores across the US are reporting a shortage of supplies, namely toilet paper, as people scramble to hoard necessities. "Supply chains in the United States are strong, and it is unnecessary for the American public to hoard daily essentials," a White House spokesman commented on Sunday. The official also noted that not hoarding "can help Americans feel calm and safe when shelves are stocked with the items they need." Although certain US cities have been placed under quarantine, stores providing the necessities are still operating. The number of cities, and entire states, undergoing some form of a curfew and/or quarantine continue to rise.
Canada announced that it will close its borders to all non-residents except for US-residents. Canada will provide financial assistance to citizens looking to return home, but international flights will only be permitted to land in major airports located in Toronto, Montreal, Calgary, and Vancouver. Citizens will be asked if they are experiencing symptoms and screened within the airport. All citizens arriving from international locations will be asked to self-quarantine for two weeks.
US Market Closings:
Dow declined 2,997.10 points or -12.93% to 20,188.52
S&P 500 declined 324.89 points or -11.98% to 2,386.13
Nasdaq declined 970.28 points or -12.32% to 6,904.59
Russell 2000 declined 172.72 points or -14.27% to 1,037.42
Canada Market Closings:
TSX Composite declined 1,355.93 points or -9.89% to 12,360.40
TSX 60 declined 82.98 poinjts or -10.01% to 745.79
Brazil Market Closing:
Bovespa declined 11,509.86 points or -13.92% to 71,168.05
ENERGY:
OPEC+ failed to come to a consensus with Russia and Saudi Arabia at loggerheads about cutting productions. Wednesday's meeting of committee members is said to be canceled. WTI crude dropped below 30 USD per barrel with Brent closing above 30 USD, signifying a 10% move in the market.
The oil markets had a negative day today:
Crude Oil decreased 4.28 USD/BBL or -13.01% to 28.6200
Brent decreased 5.02 USD/BBL or -14.48% to 29.6500
Natural gas decreased 0.077 USD/MMBtu or -3.88% to 1.9070
Gasoline decreased 0.2212 USD/GAL or -23.09% to 0.7369
Heating oil decreased 0.12 USD/GAL or -10.15% to 1.0619
Top commodity gainers: Rice (3.16%), Rubber (2.66%), Oat (2.45%), and Steel (1.45%)
Top commodity losers: Bitumen (-18.08%), Brent (-14.48%), Platinum (-13.72%), and Gasoline (-23.09%)
The above data was collected around 16.11  EST on Monday.
BONDS:
Japan -0.06%(-2bp), US 2's 0.34% (-13bps), US 10's 0.72%(-30bps); US 30's 1.29%(-31bps), Bunds -0.59% (+16bp), France -0.32% (-2bp), Italy 2.22% (+41bp), Turkey 12.20% (+53bp), Greece 2.57% (+81bp), Portugal 1.05% (+25bp); Spain 0.89% (+25bp) and UK Gilts 0.42% (+1bp).
US 3-Month Bill Auction decreased from 0.390% to 0.290%
US 6-Month Bill Auction decreased from 0.400% to 0.300%
French 3-Month BTF Auction increased from -0.668% to -0.608%
French 6-Month BTF Auction increased from -0.672% to -0.615%
French 12-Month BTF Auction increased from -0.716% to -0.625%