Blog/Market Talk
Posted Mar 15, 2021 by Martin Armstrong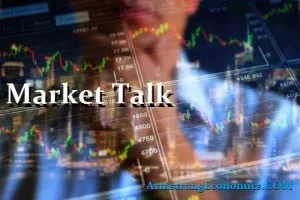 ASIA:
A Covid-19 vaccine developed by the Institute of Microbiology of Chinese Academy of Sciences (IMCAS) has obtained the green light for emergency use in China, the institute said on Monday, marking the country's fifth vaccine eligible for some scale of use. The ZF2001 vaccine, being tested in a late-stage clinical trial aiming to recruit 29,000 participants across China, Uzbekistan, Indonesia, Pakistan, and Ecuador has been approved for use in Uzbekistan earlier this month.
India will propose a law banning cryptocurrencies, fining anyone trading in the country or even holding such digital assets, Reuters reported. The bill, one of the world's strictest policies against cryptocurrencies, would criminalize possession, issuance, mining, trading, and transferring crypto-assets, said the official. Officials are confident of getting the bill enacted into law as Prime Minister Narendra Modi's government holds a comfortable majority in parliament.
The major Asian stock markets had a mixed day today:
NIKKEI 225 increased 49.14 points or 0.17% to 29,766.97
Shanghai decreased 33.13 points or -0.96% to 3,419.95
Hang Seng increased 94.04 points or 0.33% to 28,833.76
ASX 200 increased 6.20 points or 0.09% to 6,773.00
Kospi decreased 8.68 points or -0.28% to 3,045.71
SENSEX decreased 397.00 points or -0.78% to 50,395.08
Nifty50 decreased 101.45 points or -0.67% to 14,929.50
The major Asian currency markets had a mixed day today:
AUDUSD decreased 0.00478 or -0.62% to 0.77086
NZDUSD decreased 0.00055 or -0.08% to 0.71696
USDJPY increased 0.15 or 0.13% to 109.17
USDCNY increased 0.00872 or 0.13% to 6.50401
Precious Metals:
Gold decreased 0.71 USD/t oz. or -0.04% to 1,725.70
Silver increased 0.11 USD/t. oz or 0.43% to 26.025
Some economic news from last night:
China:
House Prices (YoY) (Feb) increased from 3.9% to 4.3%
Fixed Asset Investment (YoY) (Feb) increased from 2.9% to 35.0%
Industrial Production (YoY) (Feb) increased from 7.3% to 35.1%
Chinese Industrial Production YTD (YoY) (Feb) increased from 2.8% to 35.1%
Retail Sales (YoY) (Feb) increased from 4.6% to 33.8%
Chinese Retail Sales YTD (YoY) (Feb) increased from -4.78% to 33.78%
Chinese Unemployment Rate increased from 5.2% to 5.5%
Japan:
Core Machinery Orders (YoY) (Jan) decreased from 11.8% to 1.5%
Core Machinery Orders (MoM) (Jan) decreased from 5.3% to -4.5%
South Korea:
Exports (YoY) (Feb) remain the same at 9.5%
Imports (YoY) (Feb) increased from 13.9% to 14.1%
Trade Balance (Feb) decreased from 2.71B to 2.62B
Australia:
HIA New Home Sales (MoM) increased from -69.4% to 22.9%
New Zealand:
External Migration & Visitors (Jan) increased from -98.90% to -98.70%
Permanent/Long-Term Migration (Jan) increased from 255 to 631
Some economic news from today:
India:
WPI Food (YoY) (Feb) increased from -2.80% to 1.36%
WPI Fuel (YoY) (Feb) increased from -4.78% to 0.58%
WPI Inflation (YoY) (Feb) increased from 2.03% to 4.17%
WPI Manufacturing Inflation (YoY) (Feb) increased from 5.13% to 5.81%
Exports (USD) (Feb) increased from 27.67B to 27.93B
Imports (USD) (Feb) decreased from 40.55B to 40.54B
Trade Balance (Feb) increased from -12.88B to -12.62B
Japan:
Tertiary Industry Activity Index (MoM) decreased from -0.3% to -1.7%
Indonesia:
Car Sales (YoY) (Feb) decreased from -34.22% to -38.20%
Export Growth (YoY) (Feb) decreased from 12.24% to 8.56%
Import Growth (YoY) (Feb) increased from -6.49% to 14.86%
Trade Balance (Feb) increased from 1.96B to 2.01B
EUROPE/EMEA:
Britain's economic activity will return to its pre-coronavirus level at the end of this year following the country's vaccine rollout, Bank of England governor Andrew Bailey forecast on Monday. The earlier-than-expected recovery — the BoE's expectation had been for early 2022 — comes ahead of the central bank's latest interest rate decision on Thursday. Bailey added on Monday that the economy had displayed more resilience during the government's current third lockdown compared with the initial virus shutdown in the first half of 2020.
The major Europe stock markets had a negative day:
CAC 40 decreased 10.58 points or -0.18% to 6,035.97
FTSE 100 decreased 11.77 points or -0.17% to 6,749.70
DAX 30 decreased 40.97 points or -0.28% to 14,461.42
The major Europe currency markets had a negative day today:
EURUSD decreased 0.00322 or -0.27% to 1.19204
GBPUSD decreased 0.00417 or -0.30% to 1.38693
USDCHF decreased 0.00057 or -0.06% to 0.92875
Some economic news from Europe today:
Germany:
German WPI (YoY) (Feb) increased from 0.0% to 2.3%
German WPI (MoM) (Feb) decreased from 2.1% to 1.4%
Norway:
Trade Balance (Feb) increased from 22.4B to 25.1B
Euro Zone:
Reserve Assets Total (Feb) decreased from -34.22% to -38.20%
US/AMERICAS:
The week began on a bullish note on Wall Street after both the Dow and S&P 500 advanced to new record highs. The Dow gained over 170 points to reach 32,953.46 at close. McDonalds led the Dow performance after advancing 3.76%, followed by Walgreens (3.46%), Nike (3.16%), and 3M (2.58%). The S&P 500 reached 3,968.94 for the first time after advancing over 25 points this Monday. Entertainment and energy led the index's performance today with United Airlines posting a 8.26% gain from Friday's session and American Airlines advancing 7.70%. General Electric (5.8%), Enphase Energy (5.74%), and NRG Energy (5.68%) also added to today's record high.
Around 31% of young adults moved during the coronavirus pandemic, according to Bankrate.com. Gen Z (18 to 24) were the most likely to relocate with 32% reporting a move, followed by Millennials (25 to 40) with a 26% relocation rate. Those born under Gen X (41 to 56) and Baby  Boomers were the least likely to move, reporting relocation rates of 10% and 5%, respectively. The top reason for moving, according to 31% of those polled, was to be closer to family. Around 27% reported relocating to a more affordable area, 21% reported relocating for a job, 18% reported wanting more space, and 17% reported desiring to work from anywhere. Although it seems people are flocking to the suburbs, the poll shows that people are not moving far. People who relocated from Manhattan moved less than 15 miles away, while those who relocated from other major cities such as Dallas or Austin moved less than 30 miles away on average.
President Joe Biden may implement the first major tax hike since 1993. Although government debt was used to fund the latest coronavirus bill, many are anticipating major changes to the tax rate to cover future costs. The corporate tax rate could go from 21% to 28% under Biden's policy, and taxes will be raised on individuals earning over $400,000 annually. There are also discussions of widening the estate tax and raising the capital-gains tax for individuals earning over $1 million annually.
"There's absolutely no risk associated with the AstraZeneca vaccine. It's in fact safe," Quebec Premier François Legault stated this Monday. Despite Germany, Ireland, Iceland, France, Netherlands, Denmark, and other nations banning the AstraZeneca vaccine due to the risk of blood clots, the Canadian government insists the vaccine is still safe. In fact, Prime Minister Justin Trudeau claims that those who experienced side effects received a bad batch of the vaccination.
US Market Closings:
Dow advanced 174.82 points or 0.53% to 32,953.46
S&P 500 advanced 25.6 points or 0.65% to 3,968.94
Nasdaq advanced 139.84 points or 1.05% to 13,459.71
Russell 2000 advanced 7.38 points or 0.31% to 2,360.17
Canada Market Closings:
TSX Composite advanced 103.43 points or 0.55% to 18,954.75
TSX 60 advanced 6.37 points or 0.57% to 1,128.08
Brazil Market Closing:
Bovespa advanced 690.34 points or 0.6% to 114,850.74
ENERGY:
The oil markets had a negative day today:
Crude Oil decreased 1.03 USD/BBL or -1.57% to 64.5800
Brent decreased 1.07 USD/BBL or -1.55% to 68.1500
Natural gas decreased 0.109 USD/MMBtu or -4.19% to 2.4910
Gasoline decreased 0.0661 USD/GAL or -3.07% to 2.0839
Heating oil decreased 0.0382 USD/GAL or -1.94% to 1.9293
Top commodity gainers: Corn (1.81%), Bitumen (2.68%), Aluminum (2.47%) and Soda Ash (2.42%)
Top commodity losers: Canola (-3.43%), Natural Gas (-4.19%), Gasoline (-3.07%), and Heating Oil (-1.94%)
The above data was collected around 11:53 EST on Monday.
BONDS:
Japan 0.11%(-0bp), US 2's 0.15%(+0.002%), US 10's 1.60%(-4bps); US 30's 2.35%(-0.049%), Bunds -0.32% (+1bp), France -0.08% (-3bp), Italy 0.61% (-2bp), Turkey 13.74% (+6bp), Greece 0.83% (-0bp), Portugal 0.20% (-1bp); Spain 0.30% (-3bp) and UK Gilts 0.80% (-2bp).
US 3-Month Bill Auction decreased from 0.045% to 0.030%
US 6-Month Bill Auction decreased from 0.060% to 0.055%
French 3-Month BTF Auction increased from -0.621% to -0.607%
French 6-Month BTF Auction increased from -0.619% to -0.604%
French 12-Month BTF Auction increased from -0.610% to -0.605%