Blog/Market Talk
Posted Mar 15, 2018 by Martin Armstrong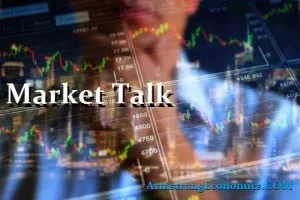 Asian markets were pretty mixed after yesterdays US sell-off complemented by the tech turnaround. With little activity in Asia the focus is turning to next weeks FED meeting and the outlook for rates and the US Dollar. The strip currently prices in three rate hikes for 2018 and roughly 1.5/2 for 2019. However, one measure of stress and liquidity that many traders look at is the 3M (month) LIBOR/OIS (London Interbank Offered Rate / Overnight Indexed Swap), but is not usually commonly publicized outside of the professional sphere. Today it was hotly debated across all trading zones with some trying to explain it away by claiming high T-Bill issuance. In short, it is an early alarm clock that something is wrong and for wherever reason being claimed, 3M edged higher yesterday closing last night at 2.12% – so the move has already started. What makes this a hot topic is it involves many trading desks from FX, Money Markets, Swaps desks and eventually hits funding costs (usually monitored by the Head of Trading and CIO/Treasurer) – so can be a big issue by the time it reaches board. Whilst the ECB is in no hurry to change its course of action the FED is already in play; if the perch is clear it may be worth looking on the bottom of the cage for this one.
Corporate earnings helped European confidence in todays trading, but we are starting to see the Euro drift (-0.5%) which may have also help prices. Some bank shares saw a small improvement after the ECB released long awaited bad bank debt guidelines. Not too convinced the release helped, but more because there's a reprieve for full implementation until 2021; probably why Italian bank shares bounced also. CAC and DAX both closed around +0.75% whilst the FTSE managed just +0.1% possibly uncertainty surrounding the diplomatic incident.
US opened well as the DOW Industrials saw a healthy bounce following yesterdays decline. Yesterdays Retail Sales number is having a detrimental affect, especially following rumours that infrastructure spending may not live up to expectations. Worth keeping a watchful eye on currency movements going into Q1 end to see how much of a demand there is for US Dollar.
Japan 0.045%, US 2's closed 2.28% (+3bp), 10's 2.82% (+1bp) a 4bp flattening of the curve, 30's 3.06% (u/c), Bunds 0.57% (-2bp), France 0.82% (-1bp), Italy 1.97% (-3bp), Greece 4.17% (+4bp), Turkey 12.43% (+17bp), Portugal 1.76% (-2bp), Spain 1.36% (-2bp) and Gilts 1.44% (u/c).