Blog/Market Talk
Posted Mar 14, 2022 by Martin Armstrong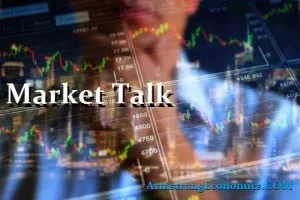 ASIA:
Japanese authorities ordered crypto exchanges on Monday not to process transactions involving crypto assets subject to asset-freeze sanctions against Russia and Belarus over the war in Ukraine. The Japanese government will strengthen measures against the transfer of funds using crypto assets that would violate the sanctions, the FSA and the Ministry of Finance said in a joint statement.
This step was taken after rising concern among Group of Seven (G7) that cryptocurrencies are being used by Russian entities as a loophole for financial sanctions imposed upon the country for invading Ukraine. Unauthorized payments to targets under sanctions, including through crypto assets, are subject to punishment of up to three years in prison or a 1 million yen ($8,487.52) fine, the FSA said on Monday. There were 31 crypto exchanges in Japan as of March 4, according to an industry association.
EUROPE/EMEA:
The major Asian stock markets had a mixed day today: • NIKKEI 225 increased 145.07 points or 0.58% to 25,307.85 • Shanghai decreased 86.21 points or -2.60% to 3,223.53 • Hang Seng decreased 1,022.13 points or -4.97% to19.531.66 • ASX 200 increased 85.80 points or 1.21% to 7,149.40 • Kospi decreased 15.63 points or -0.59% to 2,645.65 • SENSEX increased 935.72 points or 1.68% to 56,486.02 • Nifty50 increased 240.85 points or 1.45% to 16,871.30 The major Asian currency markets had a mixed day today: • AUDUSD decreased 0.00571 or -0.78% to 0.72320 • NZDUSD decreased 0.0019 or -0.28% to 0.67866 • USDJPY   increased 0.694 or 0.59% to 117.979 • USDCNY  increased 0.02862 or 0.45% to 6.38838 Precious Metals: • Gold decreased 29.77 USD/t oz. or -1.50% to 1,955.52 • Silver decreased 0.660 USD/t. oz or -2.56% to 25.142 Some economic news from last night: New Zealand: External Migration & Visitors (Jan) decreased from 4.40% to -26.00% Permanent/Long-Term Migration (Jan) decreased from -539 to -558 Singapore: Unemployment Rate (Q4) decreased from 2.4% to 2.3% Some economic news from today China: FDI (Feb) increased from 11.60% to 37.90% India: WPI Food (YoY) (Feb) decreased from 9.55% to 8.19% WPI Fuel (YoY) (Feb) decreased from 32.27% to 31.50% WPI Inflation (YoY) (Feb) increased from 12.96% to 13.11% WPI Manufacturing Inflation (YoY) (Feb) increased from 9.42% to 9.84% Exports (USD) (Feb) increased from 33.81B to 34.57B Imports (USD) (Feb) increased from 55.01B to 55.45B Trade Balance (Feb) increased from -21.19B to -20.88B CPI (YoY) (Feb) increased from 6.01% to 6.07%
Ukraine's economy is expected to contract by 10% in 2022 as a result of Russia's invasion, but the outlook could worsen sharply if the conflict lasts longer, the International Monetary Fund said in a staff report released on Monday. The report, prepared ahead of the IMF's approval of $1.4 billion in emergency financing, said Ukraine's economic output could shrink by 25% to 35%, based on real wartime gross domestic product data from Iraq, Lebanon, and other countries at war. The $1.4 billion already approved in emergency financing is the maximum Ukraine can borrow under current IMF rules, but the loan is having a "catalytic" effect in encouraging other donors, the official said.
The major Europe stock markets had a green day: • CAC 40 increased 109.69 points or 1.75% to 6,369.94 • FTSE 100 increased 37.83 points or 0.53% to 7,193.47 • DAX 30 increased 301.00 points or 2.21% to 13,929.11 The major Europe currency markets had a green day today: • EURUSD increased 0.00743 or 0.68% to 1.09863 • GBPUSD increased 0.0018 or 0.14% to 1.30542 • USDCHF increased 0.00084 or 0.09% to 0.93565 Some economic news from Europe today: Germany: German WPI (MoM) (Feb) decreased from 2.3% to 1.7% German WPI (YoY) (Feb) increased from 16.2% to 16.6% France: French Current Account (Jan) increased from -7.00B to -1.80B French Exports (Jan) increased from 44.2B to 47.3B French Imports (Jan) decreased from 55.6B to 55.3B French Trade Balance (Jan) increased from -11.4B to -8.0B Spain: Spanish Retail Sales (YoY) (Jan) increased from -2.4% to 4.0%
US/AMERICAS:
Alaska Gov. Mike Dunleavy is urging President Biden to begin drilling domestically to combat the growing energy crisis. Dunleavy stated Alaska is "awash in energy, but not able to capitalize on it." The Willow Master Development Plan, led by ConocoPhillips Alaska, was the first to discover oil in the area. The project was suspended last year under Biden. Dunleavy said the project is "nearly shovel ready," and could be completed by 2025 to supply 160,000 bpd.
Senator Joe Manchin is splitting with the Democratic Party once more after he announced that he would not support President Biden's pick for vice chair of the Federal Reserve. Sarah Bloom Raskin will now need at least one Republican senator to vote in favor of her appointment, which does not seem likely. Manchin stated that Raskin has "failed to satisfactorily address my concerns about the critical importance of financing an all-of-the-above energy policy to meet our nation's critical energy needs," and therefore, cannot offer his vote.
US Market Closings:
Dow advanced 1.05 points or 0% to 32,945.24
S&P 500 declined 31.2 points or -0.74% to 4,173.11
Nasdaq declined 262.59 points or -2.04% to 12,581.22
Russell 2000 declined 37.95 points or -1.92% to 1,941.72
Canada Market Closings:
TSX Composite declined 281.05 points or -1.31% to 21,180.78
TSX 60 declined 13.31 points or -1.02% to 1,286.29
Brazil Market Closing:
Bovespa declined 1,785.45 points or -1.6% to 109,927.62
ENERGY:The oil markets had a negative day today: • Crude Oil decreased 7.38 USD/BBL or -6.75% to 101.9500 • Brent decreased 7.39 USD/BBL or -6.56% to 105.2800 • Natural gas decreased 0.154 USD/MMBtu or -3.26% to 4.5710 • Gasoline decreased 0.1762 USD/GAL or -5.32% to 3.1359 • Heating oil decreased 0.1475 USD/GAL or -4.32% to 3.2701 The above data was collected around 12:13 EST on Monday   • Top commodity gainers: Methanol (1.42%) and Orange Juice (1.44%), Feeder Cattle(1.99%), Live Cattle (2.55%) • Top commodity losers: Oat (-9.14%), Palladium(-14.88%), Crude Oil(-6.75%) and Brent(-6.56%) The above data was collected around 12:18 EST on Monday.BONDS:  Japan 0.2150%(+3bp), US 2's 1.82% (+0.074%), US 10's 2.1188% (+12.18bps); US 30's 2.47% (+0.113%), Bunds 0.373% (+10.3bp), France 0.843% (+11.2bp), Italy 1.9610% (+9.4bp), Turkey 24.58% (+33bp), Greece 2.702% (+11.1bp), Portugal 1.225% (+9bp); Spain 1.355% (+10.7bp) and UK Gilts 1.609% (+11.7bp).