Blog/Market Talk
Posted Mar 14, 2019 by marty armstrong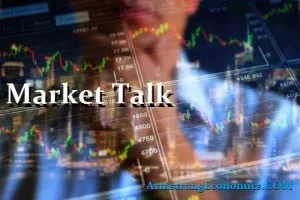 Asia:
The much-anticipated trade deal between China and the U.S. may be pushed back once again, according to a new Bloomberg report. Chinese President Xi Jinping and U.S. President Donald Trump were expected to meet in Mar-a-Lago, Florida, later this month to discuss terms. However, reports are that the meeting may not take place until sometime in April.
Elsewhere, Huawei pleaded "not guilty" in U.S. court this Thursday. The company has been accused of violating U.S.-imposed sanctions on Iran. This further complicates U.S.-China relations, as the U.S. holds reservations that the Chinese company may pose an active security threat, especially as it moves closer to 5G. Huawei is expected to return to court on April 4.
Thursday was a mixed day for major Asian stock markets: SENSEX increased 10 points (+0.03%) to 37,762; KOSPI increased 9 points (+0.42%) to 2,158; Hang Seng and ASX 200 increased 43.94 points (+0.15%) to 28,851 and 18,40 points (+0.30%) to 6,180 respectfully. However, Shanghai and NIKKEI 225 took the opposite route, decreasing 37 points (-1.22%) to 2,990 and 3,22 points (-0.02%) to 21,287.
The major Asian currency markets also had a mixed day. The USDJPY added 0.5740 or 0.52% to 111.7240, followed by the USDCNY, which increased 0.0222 or 0.33% to 6.7228. The AUDUSD and the NZDUSD took the opposite route, decreasing 0.0029 or 0.41% to 0.7059 and 0.0039 or 0.56% to 0.6819 respectfully.
Both gold and silver closed in the red today: gold decreased 15.23 (-1.16%) to 1292,49 and silver decreased 0.279 (-1.81%) to 15.2005.
India, China, and Japan posted new economic data this Thursday:
India's WPI Food (YoY) (Feb) increased from 2.34% to 4.28%
India's WPI Fuel (YoY) (Feb) increased from 1.85% to 2.23%
India's WPI Inflation (YoY) (Feb) increased from 2.76% to 2.93%
India's WPI Manufacturing Inflation (YoY) (Feb) decreased from 2.61% to 2.25%
China's Fixed Asset Investment (YoY) (Feb) increased from 5.9% to 6.1%
China's Industrial Production (YoY) (Feb) dropped from 5.7% to 5.3%
China's Retail Sales (YoY) (Feb) remain the same at 8.2%
Chinese Unemployment Rate increased from 4.9% to 5.3%
Japan's Foreign Bonds Buying decreased from 456.1B to 245.7B
Japan's Foreign Investments in Japanese Stocks decreased from -340.5B to -1,158.6B
Europe:
The on-going Brexit debate continued to shake the European marketplace this Thursday. Today, MPs voted 412 to 202 to extend the deadline to depart the EU (which had been set the end of this month), but reject a second referendum (at least for now). The ball is now in the EU's court to officially accept or deny UK's request to extend their exit. Prime Minister Theresa May is now set up to attempt a third vote for her Brexit deal (the same deal that has been rejected twice already). It's anyone's guess how this all plays out from here.
Most major European stock markets closed in the green this Thursday: FTSE 100 increased over 26 points or +0.37% to 7185.43; The CAC 40 was relatively flat, closing 5349.7i; The DAX increased over 15 points (+0.13%) to 11587.47.
The major European currency markets had a mixed day. The EURUSD decreased 0.0030 or -0.26% to 1.1302, while the GBPUSD decreased 0.0009 or -0.07% to 1.3277. However, the USDCHF took the opposite route, increasing +0.0005 or 0.05% to 1.0043.
Some economics news from Europe:
UK's RICS House Price Balance (Feb) decreased from -22% to -28%
Germany's CPI (MoM) (Feb) decreased from 0.5% to 0.4%
Germany's CPI (YoY) (Feb) decreased from 1.6% to 1.5%.
Germany's HICP (YoY) (Feb) remain the same at 1.7%
Germany's HICP (MoM) (Feb) remain the same at 0.5%
Swiss PPI (YoY) (Feb) decreased from -0.5% to -0.7%
Swiss PPI (MoM) (Feb) increased from -0.7% to 0.2%
French CPI (YoY) increased from 1.2% to 1.3%
French CPI (MoM) (Feb) increased from 0.0% to 0.1%
French HICP (YoY) (Feb) increased from 1.5% to 1.6%
French HICP (MoM) (Feb) remain the same at 0.1%
U.S./Americas:
Wall Street experienced a mixed trading session this Thursday, leaving most major indexes slightly down from Wednesday's session. The Dow closed at 25709.94 (+0.03%); the S&P 500 narrowly ended its three-day winning streak, but still maintained the 2800 mark (-0.09%, 2808.48 close); the Nasdaq Composite also ended its winning streak (-0.16%, 7630.91 close); the Russell 2000 had the worst day of the bunch, closing down over 6 points (-0.40%, 1549.64 close).
Facebook shares dipped nearly 2% after its WhatsApp and Instagram platforms experienced outages, and the news that its Chief Product Officer and Vice President of WhatsApp were both leaving the company. The New York Times also reported that federal prosecutors are conducting a criminal investigation into data deals Facebook made with other companies.
Meanwhile, the Commerce Department released weak housing data for January, noting a -6.9% drop in new housing sales, but this was not a big surprise. Housing prices appear to be on the decline as well, dropping -3.8% in January.
In Washington, the Senate rebuked President Trump's national emergency declaration this Thursday. Trump's campaign promise to secure the southern U.S. border by building a wall has been at the route of conflict on both sides of the political spectrum. The U.S economy is still recovering from the 35-day government shutdown that occurred after lawmakers were unable to agree on a proposed budget for funding the multi-billion dollar project. The president took to Twitter this afternoon to proclaim he would "VETO!", leading to further uncertainty.
The USD Index rose +0.22% (last reading 96.76); the USD/CAD rose +0.2% (last reading 1.3331).
Major Canadian indexes closed in negative territory this Thursday. The TSX Composite dropped over 62 points (-0.39%, 16087.55 close), while the TSX fell just over 3 points (-0.31%, 959.68 close).
Brazil's Bovespa had another down day, declining nearly 300 points (-0.30%, 98604.67 close).
Energy:
Crude oil increased 0.30 USD/BBL or +0.51% to 58.57 and natural gas increased 0.03 USD/MMBtu or +0.92% to 2.84. Brent, gasoline, and heating oil all declined this Thursday. Brent decreased 0.20 USD/BBL or -0.30% to 67.31; gasoline decreased 0 USD/GAL or -0.07% to 1.86, and heating oil decreased 0.01 USD/GAL or 0.56% to 1.98.
Top commodity gainers were wheat (+1.93%), lean hogs (+2.17%), and aluminum (+1.71%). The biggest losers were silver (-1.68%), cotton (-1.72%), and copper (-1.53%).
Bonds:
Japan -0.04%(+0bp), US 2's 2.47% (+0bps), US 10's 2.63%(+1bps), US 30's 3.01%(+2bps), Bunds 0.08% (+1bp), France 0.46% (-1bp), Italy 2.49% (+2bp), Turkey 15.67% (+6bp), Greece 3.80% (-42bp), Portugal 1.33% (-0bp), Spain 1.18% (-3bp) and UK Gilts 1.23% (+4bp)
US 4-week Bill Auction increased from 2.405% to 2.420%
US 8-week Bill Auction remain the same at 2.400%
UK's 30-year Treasury Gilt Auction decreased from 1.910% to 1.739%