Blog/Market Talk
Posted Mar 13, 2017 by Martin Armstrong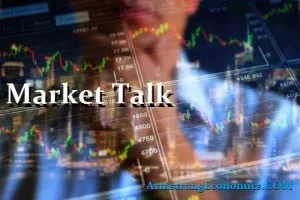 Core Asian markets performed well today on what has potential to be an extremely volatile week. The Nikkei bounced from early weakness but was more playing off-set from currency moves. The mood did not start so well for Japan after January Machinery Orders came in way below estimate (-3.2% against forecasts of +0.5%). This obviously hit morning sentiment, but was almost forgotten by close of business and with higher prices. Shanghai and Hang Seng both closed strong. The announcement by HSBC certainly helped momentum with its shares closing +2.5% higher on the day. In India, Modi elections were a strong success which propelled both the INR and the NIFTY (+2.6%). We have plenty to get excited about this week from central banks to political jitters all lining up ready to move.
With the exception of the IBEX, all core indices closed higher on the day but admittedly only small gains. FTSE, DAX and CAC were around +0.2% better on the day but ahead of such an active week there is still plenty to play for. This week we see BOE, SNB, BOJ on top of the much anticipated hike by the Federal Reserve on Wednesday. The BOE may be interesting as we should know the next chapter in the BREXIT movement by then. Scotland's SNP leader, Nicola Sturgeon, launched proposal for a fresh (second) independence referendum, but interestingly GBP traded higher upon the news. We also have the Dutch elections on Thursday, and Wilders is the wild card here for hampering European plans. All this and we see the G20 kick off its two day meeting on Friday. Hearing more issuance along the TLAC line and this time from UBS. Rumoured to be benchmark size a floater with a call feature.
US stocks were also a bit of a non-event with volumes light and a sideways movement. Even gold was in a sideways play for the majority of Mondays trading, but Copper rallied around 1.25% on rumours of Chinese buying interest. The only market that continued its recent trend was fixed-income with treasuries closing below recent support. The US 10's closed the day at 2.61% (+3bp from Friday) while 2's rose 2bp closing 1.37%, a 1bp flatter curve. In Germany the Bund actually closed better at 0.47%, closing the spread at +214bp (+4bp). France 10's closed 1.08% (-3bp), Italy 2.35% (+1bp), Greece 6.98% (-2bp), Turkey 11% (+3bp), Portugal 3.96% (-5bp) and UK Gilts 1.24% (+1bp).