Blog/Market Talk
Posted Mar 12, 2020 by Martin Armstrong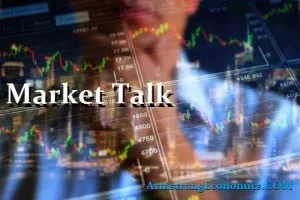 ASIA:
Chinese Foreign Ministry spokesman Zhao Lijian said that the US military could have been to blame for bringing the virus to Wuhan. The comment was said in more of a retaliatory context after the US accused China of being slow to react to containing the virus. China bounced back, asking the US to reveal their data regarding the virus and accusing them of lacking transparency. "We wish that a few officials in the US would at this time concentrate their energy on responding to the virus and promoting cooperation, and not on shifting the blame to China." He said.
The first Indian national died today due the coronavirus. India has announced they will ban visas temporarily until the 15th of April. Saudi Arabia has extended their own travel bans to Pakistan and India.
Japan is touting the idea of canceling the Olympics this year. Analysts have predicted that a cancellation will cause a 1.5% contraction to the GDP.
The major Asian stock markets had a negative day today:
NIKKEI 225 decreased 856.43 points or -4.41% to 18,559.63
Shanghai decreased 45.03 points or -1.52% to 2,923.49
Hang Seng decreased 922.54 points or -3.66% to 24,309.07
ASX 200 decreased 421.30 points or -7.36% to 5,304.60
Kospi decreased 73.94 points or -3.87% to 1,834.33
SENSEX decreased 2,919.26 points or -8.18% to 32,778.14
The major Asian currency markets had a mixed day today:
AUDUSD decreased 0.0159 or 2.46% to 0.6317
NZDUSD decreased 0.0117 or 1.87% to 0.6144
USDJPY increased 0.7160 or 0.68% to 105.3180
USDCNY increased 0.0462 or 0.66% to 7.0264
Precious Metals:
Gold decreased 66.15 USD/t oz. or -4.03% to 1,576.80
Silver decreased 1.02 USD/t. oz or -6.08% to 15.7700
Some economic news from last night:
Australia:
MI Inflation Expectations remain the same at 4.0%
Japan:
BSI Large Manufacturing Conditions (Q1) decreased from -7.8 to -17.2
Foreign Bonds Buying increased from -489.7B to 4,240.3B
Foreign Investments in Japanese Stocks increased from -745.0B to -514.8B
PPI (MoM) (Feb) decreased from 0.1% to -0.4%
PPI (YoY) (Feb) decreased from 1.5% to 0.8%
Singapore
Unemployment Rate (Q1) remain the same at 2.3%
Some economic news from today:
India:
Balance of Payments (USD) (Q4) increased from 5.100B to 21.600B
Current Account % of GDP (QoQ) (Q4) increased from -0.90% to -0.20%
Current Account (USD) (Q4) increased from -6.30B to -1.40B
Trade Balance (USD) (Q4) increased from -38.100B to -34.600B
M3 Money Supply decreased from 9.6% to 9.4%
CPI (YoY) (Feb) decreased from 7.59% to 6.58%
Cumulative Industrial Production (Jan) remain the same at 0.50%
Industrial Production (YoY) (Jan) increased from 0.1% to 2.0%
Manufacturing Output (MoM) (Jan) increased from -0.7% to 1.5%
EUROPE/EMEA:
The global markets sank today after US President Donald Trump barred 26 European countries of the Schengen agreement (excluding the UK and Ireland) visitation rights due to the coronavirus. The restriction was passed for 30 days. Trump later defended his decision as global markets suffered one of their worst days in history, by stating the markets will bounce back. "It's not important compared to life and death," the president stated.
Across Europe many countries have added restrictions on citizens; Germany has canceled school and events in an attempt to contain the virus. Italy was on a complete lockdown this week where more than 1000 people have died. Italian police have warned patients who do not self-isolate could be charged with murder and 21 years in prison.
The US military has denied bombing an Iranian backed Iraqi militia in the eastern part of Syria. Wednesday night, 26 people died due to the bombings. Meanwhile, the Iranian foreign minister said that the US must stop this "economic terrorism" and lift the sanctions.
The major Europe stock markets had a negative day today:
CAC 40 decreased 565.98 points or -12.28% to 4,044.26
FTSE 100 decreased 639.04 points, or -10.87% to 5,237.48
DAX 30 decreased 1,277.55 points or -12.24% to 9,161.13
The major Europe currency markets had a mixed day today:
EURUSD decreased 0.00759 or -0.67% to 1.11831
GBPUSD decreased 0.0230 or -1.80% to 1.2586
USDCHF increased 0.0065 or 0.69% to 0.9459
Some economic news from Europe today:
UK:
RICS House Price Balance (Feb) increased from 18% to 29%
Italy:
Italian Quarterly Unemployment Rate decreased from 9.8% to 9.7%
Euro Zone:
Industrial Production (MoM) (Jan) increased from -1.8% to 2.3%
Industrial Production (YoY) (Jan) increased from -3.6% to -1.9%
Deposit Facility Rate (Mar) remain the same at -0.50%
ECB Marginal Lending Facility remain the same at 0.25%
ECB Interest Rate Decision (Mar) remain the same at 0.00%
US/AMERICAS:
Level one of the circuit breaker was triggered for the second time this week within the first few minutes of trading after the S&P 500 plummeted -7%. New York Stock Exchange President Stacey Cunningham said, "It's working as it's designed to function so that the market can absorb what news was out over night, how investors are reacting so they can make decisions and everyone gets a chance to see what's happening." Losses continued immediately after trading resumed. Level one of the so-called circuit breaker is triggered once the S&P 500 plunges by -7% and results in a 15-minute pause in trading. Level two occurs when the index declines -13% and results in a 15-minute halt if the drop happens before 3:25 PM ET. Level three indicates a -20% nose-dive and would result in trading ceasing for the day.
The Dow experienced its worst performing session since 1987 after plummeting -10%. For the first time in 11 years, the Nasdaq and S&P 500 slipped into a bear market after both indexes fell over -20% beneath recent highs.
President Donald Trump issued a level three travel advisory for Americans to avoid non-essential travel to Europe. Europeans wishing to visit the US will need to wait 30 days before doing so. Travel from China was banned immediately after the virus began to spread, an action which many attribute to lower rates of COVID-19 in the US.
Cruiselines were hit hard this Thursday, which comes as no surprise given the recent outbreaks aboard ships. Norwegian (-35.80%), Royal Caribbean (-31.78%), and Carnival (-31.17%) all experienced significant losses.
The Senate voted 45-4 this Thursday to repeal aerospace business tax breaks. The move will help Washington state comply with World Trade Organization (WTO) rules which may help the US avoid EU tariffs on aerospace-related imports. In a statement, Boeing said that this move is "further emphasizing our commitment to free and fair trade." Boeing's stock plunged -18.11% this Thursday, albeit not solely due to this ruling.
US Market Closings:
Dow declined -2,352.60 points or -9.99% to 21,200.62
S&P 500 declined 260.74 points or -9.51% to 2,480.64
Nasdaq declined 750.25 points or -9.43% to 7,201.80
Russell 2000 declined 141.37 points or -11.18% to 1,122.93
Canada Market Closings:
TSX Composite declined 1,761.64 points or -12.34% to 12,508.45
TSX 60 declined 106.92 points or -12.51% to 747.75
Brazil Market Closing:
Bovespa declined 12,588.60 points or -14.78% to 72,582.53
ENERGY:
It is heating up in the oil markets with Saudi Arabia taking a stab at Russia by attempting to gain some European market share by selling light sweet crude at a discount. It is said that the Saudis are selling as low as 25 USD per barrel. WTI and Brent dropped 6.12% and 8.77% respectively.
The oil markets had a negative day today:
Crude Oil decreased 1.86 USD/BBL or -5.62% to 31.2500
Brent decreased 2.89 USD/BBL or -8.07% to 32.9000
Natural gas decreased 0.03 USD/MMBtu or -1.51% to 1.9570
Gasoline decreased 0.1609 USD/GAL or -14.45% to 0.9523
Heating oil decreased 0.0705 USD/GAL or -5.66% to 1.1750
Top commodity gainers: Rice (1.01%), Tea (8.19%), Bitumen (3.14%), and Oat (0.29%)
Top commodity losers: Gasoline (-14.45%), Platinum (-9.61%), Lumber (-11.35%), and Palladium (-20.61%)
The above data was collected around 15.22 EST on Thursday.
BONDS:
Japan -0.06%(-2bp), US 2's 0.40% (-12bps), US 10's 0.71%(-17bps); US 30's 1.28%(-9bps), Bunds -0.75% (+5bp), France -0.32% (-2bp), Italy 1.89% (+69bp), Turkey 11.81% (+29bp), Greece 1.76% (+17bp), Portugal 0.75% (+41bp); Spain 0.56% (+30bp) and UK Gilts 0.26% (-1bp).
US 4-Week Bill Auction decreased from 0.925% to 0.395%
US 8-Week Bill Auction decreased from 0.820% to 0.290%
US 30-Year Bond Auction decreased from 2.061% to 1.320%
Italian 3-Year BTP Auction increased from -0.10% to 0.74%
Italian 7-Year BTP Auction increased from 0.48% to 0.92%
Italian 10-Year BTP Auction increased from 1.00% to 1.29%