Blog/Market Talk
Posted Mar 12, 2019 by marty armstrong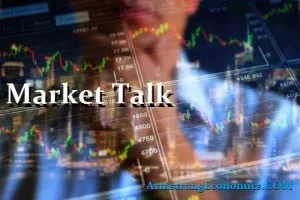 Asia:
Most of the major Asian markets closed in the green today. Increases were led by NIKKEI 225 (+378.60 points, +1.79%, 21,504 close), followed by Hang Seng (+417.57 points, +1.47%, 28,921 close). SENSEX and Shanghai increased +481.56 points (+1.30%, 37,536 close) and +33.31 points (+1.1%, 3,060 close) respectfully. KOSPI also increased +19.08 points (+0.89%, 2,157 close). ASX 200 took the opposite route after decreasing -5.40 points (-0.09%, 6,175 close).
The Asian currency markets had a mixed day. The USDJPY increased 0.0890 or 0.08% to 111.2790. The AUDUSD and the NZDUSD increased 0.0018 or 0.25% to 0.7087 and 0.0038 or 0.56% to 0.6867. The USDCNY took the opposite approach and decreased 0.0250 or 0.37% to 6.7069.
Both gold and silver performed well today after increasing 7.57 USD/t oz. or 0.59% to 1,303.98 and 0.12 USD/t. oz and 0.78% to 15.44.
Some economic news from Asia and Pacific area:
India's CPI (YoY) (Feb) increased from 1.97% to 2.57%;
India's Cumulative Industrial Production (Jan) decreased from 4.6% to 4.4%
India's Industrial Production (YoY) (Jan) dropped from 2.6% to 1.7%
India's Manufacturing Output (MoM) (Jan) decreased from 3.0% to 1.3%
Singapore's Retail Sales (YoY) (Jan) increased from -5.8% to 7.6%
Singapore's Retail Sales (MoM) (Jan) increased from -2.3% to 0.2%
Europe:
For the second time, Theresa May's EU withdrawal deal was rejected. Labour Party leader Jeremy Corbyn accused May of attempting to "run down the clock," adding that "the clock has been run out on her." May's defeat leaves the UK exposed to leaving the EU without a defined deal or risks the possibility of a second Brexit referendum. On Wednesday, MPs will have the opportunity to vote on whether to leave the EU without a deal in place.
CAC 40 increased 12 points or 0.24% to 5277 and the FTSE 100 increased 28 points or 0.39% to 7,158. However, DAX took the opposite approach and decreased 9 points or 0.08% to 11523.
The European currency markets varied in performance today as well. The EURUSD increased 0.0051 or 0.45% to 1.1298. The USDCHF decreased 0.0035 or 0.34% to 1.0069. The GBPUSD fell 0.5% to $1.308
France and the UK released economic data this Tuesday:
French Non-Farm Payrolls (QoQ) (Q4) increased from 0.1% to 0.2%
UK's GDP (MoM) increased from -0.4% to 0.5%
UK's Manufacturing Production (MoM) (Jan) increased from -0.7% to 0.8%
UK's Monthly GDP 3M/3M Change increased from 0.4% to 0.5%
UK's Industrial Production (MoM) (Jan) increased from -0.5% to 0.6%
UK's Trade Balance (Jan) dropped from -12.69B to -13.08B
UK's Trade Balance Non-EU (Jan) dropped from -4.37B to -4.98B
Both UK's NIESR GDP Estimate and UK's NIESR Monthly GDP Tracker decreased from 0.2% to 0.1%
U.S./Americas:
Wall Street had a relatively positive day, with the exception of the Dow – which was dragged into the red once again (-0.38%, 25554.66 close) by another bad day from Boeing as it deals with aftermath of Ethiopian Airlines crash over the weekend that killed 157 people (Dow would actually have been positive if not for Boeing). Up until this week, Boeing had been the best performing stock in the Dow Industrials.
Boeing plunged another 6.15% during Tuesday's session after the E.U. temporarily grounded use of 737 MAX 8 aircrafts, but in the U.S. the FAA has so far stated it has no basis to do so. This weekend's crash follows a Lion Airlines crash back in October, killing 189 people. President Trump took to Twitter today, claiming newer aircrafts may be too complex to safely fly, but this is of course a debatable point of view. We'll see what the investigation turns up, and what the similarities are with the Lion Air crash.
The Nasdaq lead other U.S. indices today, rising +0.44% (7591.03 close), while the S&P 500 continued to move closer to the 2800 mark (+0.30%, 2791.52 close) and the Russell 2000 was relatively unchanged from Monday's session (+0.06%, 1549.83 close).
The USD Index declined by another -0.21% this Tuesday (97.01 last reading). The USD/CAD followed a similar pattern after declining -0.28% (last reading 1.3352).
Canada experienced a relatively quiet session. The TSX Composite rose by +0.19% (16136.66 close) while the more narrow TSX 60 rose by +0.17% (962.13 close).
Brazil's Bovespa lost some of the gains earned on Monday, declining -0.20% on the day (97828.03 close).
Energy:
The energy sector was led by Crude and Brent which increased 0.12 USD/BBL or 0.21% to 57 and 0.16 USD/BBL or 0.24% to 66.68 respectfully.
Natural gas, gasoline, and heating oil closed in the red today. Natural gas decreased 0 USD/MMBtu or 0.11% to 2.76; gasoline and heating oil decreased 0.01 USD/GAL or 0.51% to 1.82 and 0.01 USD/GAL or 0.46% to 1.98 respectfully.
Top commodity gainers were orange juice (+7.30%), wheat (+5.62%), and cotton (+1.86%). The biggest losers today were coffee (-2.29%), live cattle (-1.71%), and lumber (-1.02%).
Bonds:
Japan -0.03%(-0bp), US 2's 2.46% (-1bps), US 10's 2.62%(-2bps), US 30's 3.01%(-2bps), Bunds 0.06% (-1bp), France 0.48% (+0bp), Italy 2.55% (-1bp), Turkey 15.25% (+30bp), Greece 3.87% (-8bp), Portugal 1.34% (+1bp), Spain 1.18% (+2bp) and UK Gilts 1.17% (-1bp).
Spanish 3-month Letras Auction decreased from -0.405% to -0.411%
Italian 12- month BOT Auction decreased from 0.181% to 0.060%
US 10-year Note Auction decreased from 2.689% to 2.615%